Beautiful Early Television certificate from the Western Television Corporation issued in 1932. This historic document was printed by Columbian Bank Note Company and has an ornate border around it with a vignette of an allegorical woman standing between broadcast towers. This item has the signatures of the Company's President, Clement Wade and Secretary and is over 81 years old.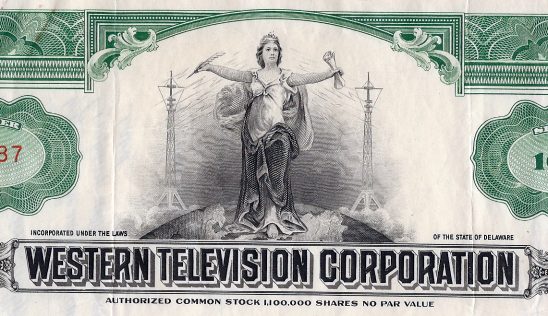 Certificate Vignette
Ulysses A. Sanabria became the technology lead behind Clement Wade's Western Television Corporation. Western Television acquired Echophone, and manufactured mechanical television sets at Echophone's Waukegan, Illinois plant. Unfortunately, the Great Depression made these elegant sets a luxury purchase. Precious few could afford a Western set. Fortunately, many stores and bars bought sets, and entertained customers with the early TV programs. For about six years, many major cities hosted mechanical TV stations. During this period between 1928 and about 1934, US television stations operated on experimental licenses. All such licenses required callsigns incorporating the letter "X." Some of these stations such as New York's W2XBS, concentrated solely on test transmissions. Others, such as W9XAP in Chicago, W2XAB in New York and W1XAV in Boston, originated groundbreaking programming for the new medium. In Chicago, Ulysses A. Sanabria transmitted 48 and 45-line television starting in 1928. Shortly thereafter, Clement Wade, Sanabria, and several associates formed Western Television. Two Western stations aired periodic entertainment telecasts from Chicago. Chicago television wasn't just local entertainment. Viewers hundreds of miles away reported picking up the Western broadcasts. The party didn't last. Chicago's last two mechanical television transmitters, W9XAO and W9XAP, shut down by 1934. In the US, most other mechanical TV transmitters followed suit. Only educational television stations persisted, but even they finally closed in 1939. In England, John Baird's 30-line service quit on September 11, 1935. Western Television Corporation Visionette, 1932 (U.S.A.) Western Television Corporation played a significant role in the evolution of television in North America. Canada's first experimental television station, which was operated by the Montreal newspaper La Presse and radio station CKAC, was supplied with Western Television equipment. The Canadian public witnessed Western Television's technology through a special mechanical projection apparatus, which was demonstrated at Eaton's and department stores in Toronto, Montreal and Winnipeg during 1933. In the U.S., Western's travelling demonstrations included a 9-day run at Macy's in New York that was witnessed by over 200,000 people. The Western Television Corporation drew on the talents of television pioneer Ulysses A. Sanabria, who is known for his use of interlaced scanning. Interlacing improved picture quality by reducing flicker. This television utilizes an interlaced aluminum scanning wheel and 3" magnifying lense. It was among the last and most advanced mechanical home televisions to be in use before the electronic sets began to show greater promise. In 1930, Western Television Corporation, a company run by Sanabria, using the mechanical television scanning equipment designed by him, joined with Nelson Brothers Bond and Mortgage Company and began experimental telecasting that was reported as being seen as far as 450 miles away. The video portion aired on Western's W9XAO on the 2000-2100 KHz short-wave frequency and the audio was transmitted via Nelson's AM outlet WIBO. By 1931, regular telecasting had begun with about three hours of programming a night including by that fall, football games on Saturday night. On January 12th 1930, W9XAO telecast its first drama The Maker Of Dreams, starring Irene Walker. In January of 1931, the two stations teamed up to present a program made especially for television- Their Television Honeymoon, a musical comedy. By 1933, both W9XAO and WIBO were both off the air due to a FRC ruling which forced WIBO (and WPCC, another AM station sharing it's 560 KHz frequency) to shut down to make way for a Gary Indiana station, WIND (which is still on the air today). Without the use of WIBO, W9XAO had nowhere to go but off the air. This would not be the only time the government would step in and force stations off the air due to changes in frequency allocation. Western Television Corporation was also a casualty of this decision. In Western's case, the days of mechanical television were numbered. Electronic television was just around the corner. Although short-lived, the first television boom was not without its gems. The most popular station at the time was W9XAP, owned first by The Chicago Daily News, and later by NBC. W9XAP used the 2100-2200 frequency to broadcast its video signal using Western Television equipment and the audio went out over The Daily News' AM station, clear channel WMAQ. W9XAP began broadcasting on August 27, 1930 using a 1000 watt transmitter located at the newspaper's headquarters at 400 West Madison St. W9XAP lasted until August 31, 1933. It marked the end of the mechanical era but not the end of television. History from
OldCompany.com
(old stock certificate research service).