Beautiful certificate from the American Express Company issued in 1866 during the Civil War. This historic document was printed by J. H. Duyckinck Stationer and has an ornate border around it with a vignette of a dog with Safety and Dispatch below it, a sailing ship, train and horse drawn carriage in front of a terminal building. "Capital Stock 18,000 Shares" type with red overprint, with the colorful blue border and 5 cent revenue stamp. This item is hand signed by the Company's President ( Henry Wells ) and Secretary ( James C. Fargo ) and Treasurer ( Alex Holland ) and is over 153 years old. Nice condition with bold signatures.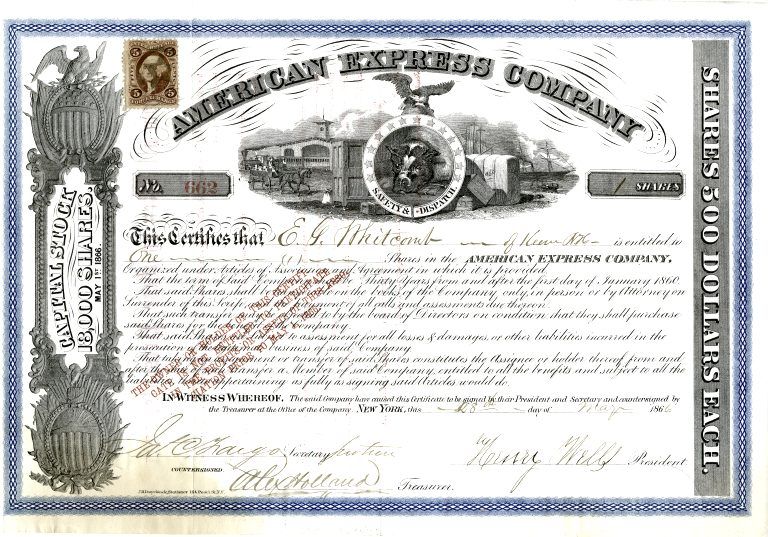 Certificate
Henry Wells, James C. Fargo and Alex Holland Signatures
Early in 1850, Henry Wells formed Wells, Butterfield & Company with John Butterfield as the successor of Butterfield & Wasson. The same year the American Express Company was formed as a consolidation of Wells & Company; Livingston, Fargo & Company; and Wells, Butterfield & Company. Wells was president of American Express from 1850 to 1868. About the time the company was formed, he relocated in Aurora, New York, which remained his home for the rest of his life. There he built a grand residence, called Glen Park. It was designed by noted architect A.J. Davis, with grounds by Andrew Jackson Downing, another notable architect. The property later became part of Wells College, which Wells founded. When John Butterfield and other directors of American Express objected to extending the company's service to California, Wells organized Wells, Fargo & Company on March 18, 1852, to undertake the venture. Edwin B. Morgan of Aurora was the company's first president, and Wells, William Fargo, Johnston Livingston and James McKay were on the boards of both Wells Fargo and American Express. In September 1853, Wells Fargo & Company acquired Livingston, Wells & Company, which had been its express and banking correspondent in England, France and Germany. By the spring of 1854, some of the directors of Wells Fargo had become convinced that the purchase had been brought about through unspecified misrepresentations by Wells, Johnston Livingston, William N. Babbitt and S. De Witt Bloodgood. Wells and his associates made good any losses to Wells Fargo, and Livingston, Wells & Company wound up its affairs when its Paris office was closed in October 1856. Wells was president in 1855 of the New Granada Canal & Steam Navigation Company. In Aurora he was president of the First National Bank of Aurora and in 1867 also the first president of the Cayuga Lake Railroad.
---
James Congdell Strong Fargo (May 5, 1829 February 8, 1915) was a president of the American Express Company for 30 years, and the brother of American Express Company and Wells Fargo co-founder, William Fargo. In 1845, when he was fifteen, he moved to Buffalo, New York to work for his brother William, who was running express lines between Buffalo, Detroit, Michigan and Albany, New York. Originally a clerk, Fargo was eventually tasked with the delivery of money packages. In 1847, Fargo was granted control of operations in Detroit. Four years later, when the company was organized as Wells Fargo & Company, Fargo was named Superintendent of Virginia operations. In 1855, Fargo was appointed agent of Chicago, Illinois for the American Express Company, the successor to Wells, Fargo & Co. He was then promoted to General Superintendent of the Northwest Division for the company. He left for New York City, New York in 1867 to assume the position of General Manager of the American Express Company. He became the third president of American Express after William's death in 1881, with former U.S. Representative Theodore M. Pomeroy remaining vice-president. James was also a co-founder, along with William Fargo, of American Express. He was succeeded as president in 1914 by George Chadbourne Taylor. Alexander Holland was the son-in-law of John Butterfield.