Beautifully engraved certificate from the Anchor Cap Corporation issued in 1936. This historic document was printed by the American Banknote Company and has an ornate border around it with a vignette of an allegorical woman and child surrounded by the fruits of their labor. This item has the printed signatures of the Company's President, and Treasurer, and is over 75 years old.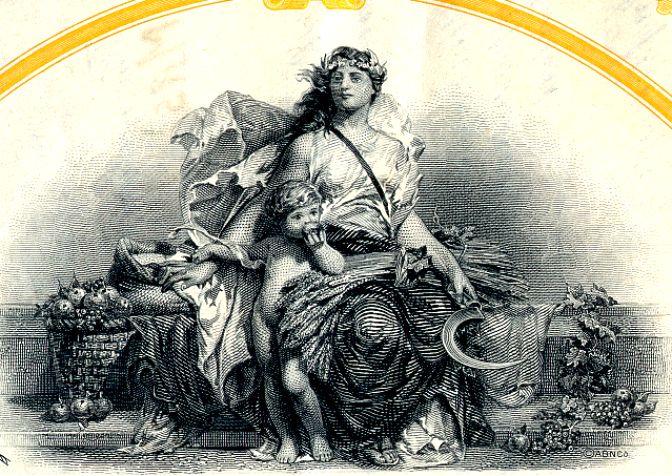 Certificate Vignette
The Anchor Hocking Glass Corporation came into existence on December 31, 1937, when the Anchor Cap and Closure Corporation and its subsidiaries and the Hocking Glass Company merged. The Anchor Cap and Closure Corporation had closure plants in Long Island City, New York and Toronto, Canada, and glass container plants in Connelsville, Pennsylvania and Salem, New Jersey. At the time, their total employment had reached 6,000 employees and the company produced a wide range of glass tableware, glass containers, closures and sealing machinery. It was after this merger that a new mixture of glass, that would not crack or break when placed in a oven at high tempatures, went into production.