Beautiful certificate from the Automatic Gas Machine Co issued in 1864. This historic document was printed by Cutter, Tower & Company and has an ornate border around it with a vignette of two allegorical women next to an eagle. This item has the signatures of the Company's President, I. D. Sargent and Treasurer, Chas. W. Lewis and is over 144 years old.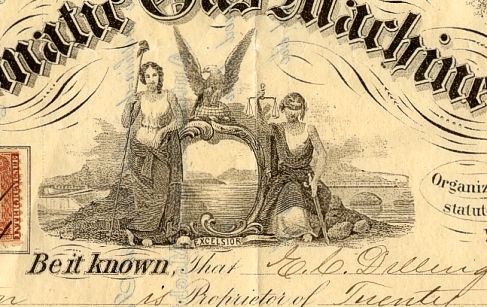 Certificate Vignette
SILVER MEDAL WINNER TENTH EXHIBITION FANUEIL AND QUINCY HALLS, IN THE CITY BOSTON SEPTEMBER AND OCTOBER, 1885. Automatic Gas Machine Company was constructed with a revolving pump to supply the air, like what is called a " wet meter," which is operated by means of a weight and geared wheels. Upon the same shaft, and revolving with it, are two circular disks of metal, pierced with numerous holes, and separated as far apart upon the shaft as the size of the Machine will permit ; through these holes cotton wicking is passed to and fro, so as to form a kind of cylinder of wicking. The lower part of this is always immersed in the " gasoline," and as it revolves the saturated wicking is exposed to the air as it is forced into the Machine, and the gasoline is thus vaporized, mixed with the air, and passes off from the Machine as illuminating gas. The light from this Machine was clear, steady, and more brilliant than that from the ordinary gas. This Machine, in its construction, was the original of its class, and the inventor deserves great credit for his persistence, energy and ingenuity in rendering his Machine simple, safe and efficient, and with his recent improvements in dispensing with water, it is exceedingly well adapted for illuminating purposes.