Beautiful certificate from the Barnard Copper Company issued in 1855. This historic document was printed by D. Felt & Hosford and has an ornate border around it with a vignettes of an allegorical man, women and a train. This item has been hand signed by the Company's President, and Secretary, Edward M. Johnson, and is over 156 years old. Certificate shiows some signs of wear.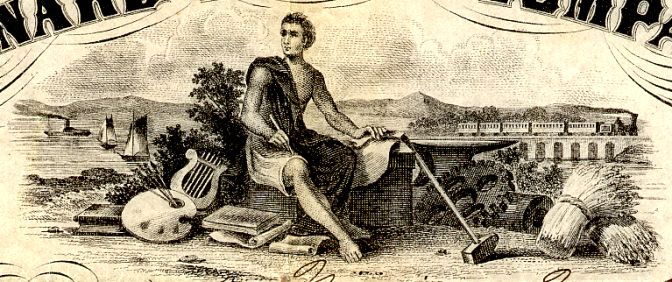 Certificate Vignette
Reported in The Vermont Historical Gazetteer - 1871 Nine miles north of the mine in Vershire, is another in the town of Coriulb, owned and worked by the "Corinth Copper Company," which was chartered by the Vermont Legislature in 1855, with a capital of $500,000. Work upon this mine was commenced in 1S54, but soon abandoned. And nothing dona but surface work. In 1SG3 the work was renewed upon a systematic plan, by sinking shafts and driving adits, and the results have exceeded anything before realized by copper mines. The shaft was sunk and the adit driven on the vein (10 feet thick), which has proved so rich that the ore raised from the shaft and obtained in the adit has more than defrayed the whole expense incurred in opening the mine. They are now mining about 150 tons of ore per month at this mine. It will doubtless prove one of the richest mines in the State. The stock of this company is principally owned in New York. In 1853, Henry Barnard of Morristown, NY, purchased the original Richardson farm property including the Tyson mine workings and several adjacent parcels. The Vermont Copper Mining Company was incorporated in 1853 to work the deposit. In 1854, Henry Barnard purchased land north of the Corinth Copper Company, incorporating as the Eureka Mining Company in 1855. Incorporators of the various companies invested in the Ely Mine as well. The mines were not worked seriously until the Civil War, when underground work likely commenced with Cornish miners who had come to Vermont with the Vershire copper boom. In 1863, the Corinth Copper Company had 40 workers and shipped its ore to the east coast smelters. In 1863, the Union Copper Mining Company was formed to work the area north of the Barbour prospects, and included Smith Ely as one of the incorporators .