Beautifully engraved RARE SPECIMEN certificate from the Chicago and Southern Air Lines, Inc.printed in the 1940's. This historic document was printed by the Security Banknote Company and has an ornate border around it with a vignette of the company's logo. This item has the signatures of the Company's President, Sidney A. Stewart and Secretary, S. S. Maurer.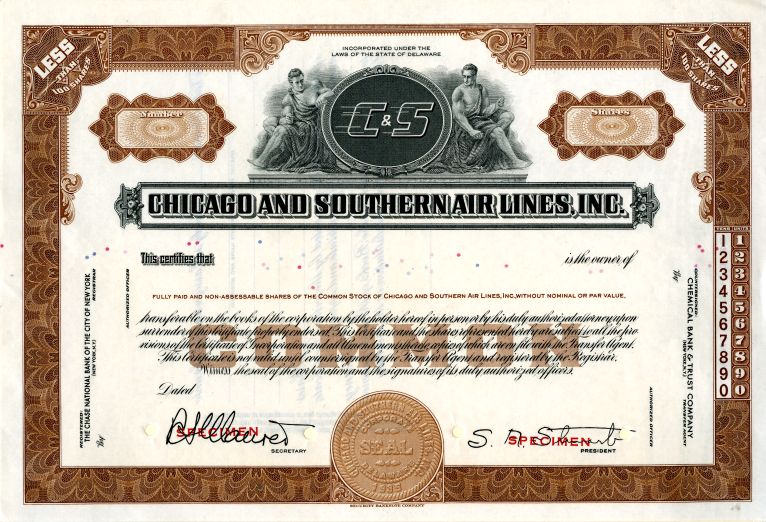 Certificate
Chicago and Southern Air Lines started life as Pacific Seaboard Air Lines, which was organized on June 15, 1933. The first service was on June 23 in Carleton Putnam's Bellanca CH-300 "Miss San Jose." Putnam held a Transport Pilot's license. Three Bellanca CH-300s were used in the California operation. The new airline only flew passengers on the West Coast of California on "The Scenic Route." This route was up the coast of California from Los Angeles (Grand Central Air Terminal at Glendale) to San Francisco'sMills Field. Stops were made at seven cities near the Pacific Ocean. For a short period, Pacific Seaboard Air Lines flew from San Francisco to the capital of California, Sacramento. The competition, on the LA-SF route, was United Airlines with twin-engine, ten-passenger, Boeing 247s. United, who flew the valley route, had the Air Mail contract and more comfortable aircraft. Putnam decided the only way he could stay in business was to get a U.S. Air Mail contract. In four months and oneweek, 1113 passengers were carried. On February 9, 1934, President Franklin D. Roosevelt canceled all the U.S. Mail contracts. The U.S. Army operated the air postal service for a few weeks and then the government called for a new bidding of the Air Mail routes. Mr. Putnam bid on and received the Air Mail route between Chicago and New Orleans by way of Peoria, Springfield, St. Louis, Memphis and Jackson (Air Mail Route 8). Two more Bellanca CH-300s were purchased, bringing that fleet to five aircraft. He had to start service in 30 days or he would forfeit his $50,000 performance bond. Air Mail service started June 3, 1934, and passenger service started June 13 with the five Bellancas on "The Valley Level Route." The airline changed its name to Chicago & Southern Air Lines in 1935. In 1953, Delta Air Lines merged with Chicago and Southern Airlines, giving it access to a Great Lakes route system in the upper Midwest and, importantly, to points in the Caribbean Sea.
---
About Specimens
Specimen Certificates are actual certificates that have never been issued. They were usually kept by the printers in their permanent archives as their only example of a particular certificate. Sometimes you will see a hand stamp on the certificate that says "Do not remove from file". Specimens were also used to show prospective clients different types of certificate designs that were available. Specimen certificates are usually much scarcer than issued certificates. In fact, many times they are the only way to get a certificate for a particular company because the issued certificates were redeemed and destroyed. In a few instances, Specimen certificates we made for a company but were never used because a different design was chosen by the company. These certificates are normally stamped "Specimen" or they have small holes spelling the word specimen. Most of the time they don't have a serial number, or they have a serial number of 00000. This is an exciting sector of the hobby that grown in popularity and realized nice appreciation in value over the past several years.