Beautifully engraved certificate from the Compressed Air Company issued in 1904. This historic document was printed by the American Banknote Company and has an ornate border around it with a vignette of a trolly. This item has been hand signed by the Company's President, H. Monkhouse and Secretary, and is over 107 years old.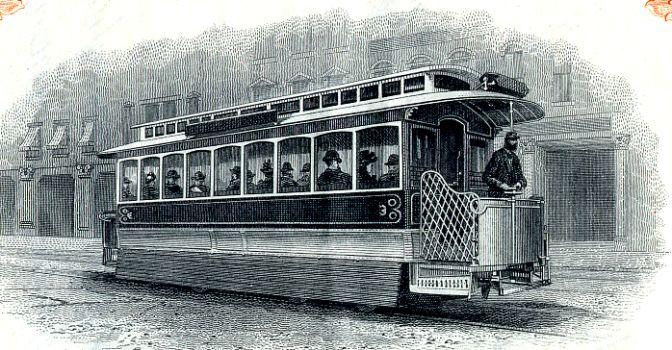 Certificate Vignette
United States investor, Volume 14 - 1903 COMPRESSED AIR COMPANY. The Compressed Air Company, which for some years operated cars on the crosstown lines of the Metropolitan street railway, and which at the present time is in a rather bad financial condition, is to be taken over by the Continental Railway & Equipment Company, organized to purchase the stocks of the Commercial Railway Co., and of the Compressed Air Company. This plan, under the provision of which no commissions are paid to any one. contemplates the assessment of the Compressed Air stock which is deposited. $3 per share, the funds raised in this manner to be devoted towards discharging the obligations of the company and of the Rome Locomotive & Machine Works, which it owns. Upon payment of the specified sum and on deposit of the stock, negotiable receipts will be given which in turn may be exchanged for stock of the new company. Under the plan, the Continental Railway & Equipment Com panv will have a capitalization of $8,250,500, $3,250,000 of which will be set aside to take up the $6,000,000 capital stock of the Commercial Railway Equipment Company, with its subsidiary companies, and $3,584,000 to take up the $755,000 preferred and $6,413,000 common stock of the Compressed Air Company. Should all the Compressed Air stock be deposited the stockholders of this latter company will control the situation through the ownership of the majority of the new stock. Three directors will be elected to represent each company, a seventh to be selected by those elected. In support of the plan it is pointed out that the stockholders of the Compressed Air Company will save the Rome Locomotive & Machine Works and the bonds and securities hypothecated and become allied with a going manufacturing concern, the Commercial Railway Equipment Company with a plant in Manchester, Va., which has been operated profitably since 1899, employing about 125 men and running night and day. This company does a general railway, equipment and contractors' supply business. It has a sufficient independent capital for its own needs. Among its assets are valuable high grade iron ore properties on the Chesapeake & Ohio railroad contiguous to the Low Moore Iron Furnaces. The interests promoting the plan point out, further, that the present great development of steam and traction railways is creating increased demand for railway equipments and supplies. The combination of the two interests as planned will place them in a strong position to do a large and profitable business. Stock research by
OldCompany.com
(old stock certificate research service).