Beautiful engraved specimen certificate from the Craig Corporation incorporated in 1960. This historic document was printed by Jeffries Bank Note Company and has an ornate border around it with a vignette of an allegorical woman. This item has the printed signatures of the Company's President, James J. Cotter and Secretary.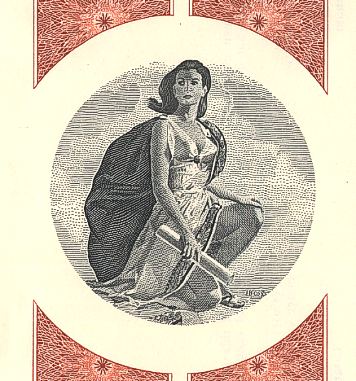 Certificate Vignette
In 1985, James J. Cotter took control Craig Corporation. Craig Corporation was known primarily for its involvement in eight-track stereos and for developing an early version of what Sony Corporation unveiled as the Sony Walkman, but Cotter had different ideas for the publicly traded company. When he took the helm in 1985, Cotter converted Craig Corporation to a shell corporation to invest in other companies, emulating the model of famed investor Warren Buffet and his holding company, Berkshire Hathaway. "When you buy Craig today," an analyst remarked in a May 22, 1995 interview with the Los Angeles Business Journal, "you are really betting on Jim Cotter." Cotter used Craig Corporation to acquire stakes in a variety of companies, including a 50 percent interest in Stater Bros, a California-based supermarket chain. By the mid-1990s, Cotter's investments, held by Craig Corporation, included a 47 percent stake in Reading Company. Cotter also held an equity position in another company, the third member of the 2001 merger that created Reading International, Citadel Holding Corporation. Citadel was a holding company similar to Cotter's Craig Corporation. The company was formed in 1983, counting as its major asset a Glendale, California-based savings and loan, or thrift, named Fidelity Federal Bank. Fidelity Federal's main line of business was in real estate, specifically owning and operating commercial real estate. The thrift also provided real estate advisory services. One of its clients was Reading, which by this point described itself as a Pennsylvania-based real estate development company. History from Wikipedia and OldCompany.com (old stock certificate research service).
---
About Specimens
Specimen Certificates are actual certificates that have never been issued. They were usually kept by the printers in their permanent archives as their only example of a particular certificate. Sometimes you will see a hand stamp on the certificate that says "Do not remove from file". Specimens were also used to show prospective clients different types of certificate designs that were available. Specimen certificates are usually much scarcer than issued certificates. In fact, many times they are the only way to get a certificate for a particular company because the issued certificates were redeemed and destroyed. In a few instances, Specimen certificates we made for a company but were never used because a different design was chosen by the company. These certificates are normally stamped "Specimen" or they have small holes spelling the word specimen. Most of the time they don't have a serial number, or they have a serial number of 00000. This is an exciting sector of the hobby that grown in popularity over the past several years.