Beautifully engraved RARE Specimen External Loan Bond certificate from the Credit Foncier de France printed in 1959. This historic document was printed by the American Banknote Company and has an ornate border around it with a vignette of an allegorical woman. This item has the printed signatures of the Company's Governor and Director. 40 coupons attached on right side.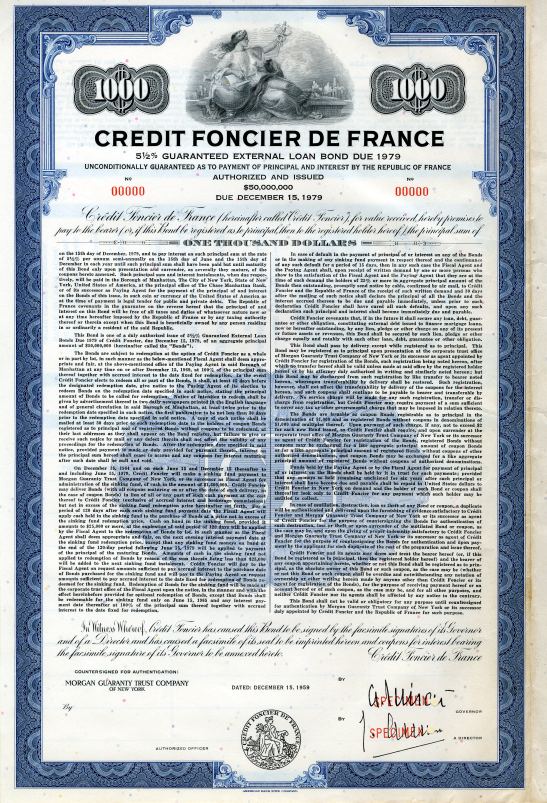 Certificate
Crédit Foncier de France is a national mortgage bank of France. A subsidiary of the BPCE, its headquarters is located in Charenton, 100 metres outside the Paris city limits. The current CEO is Bruno Deletré. History The Crédit Foncier (English: landed credit) initially made loans to communes. The movement was initiated by Louis Wolowski, and sanctioned by Emperor Napoléon III in 1852 in an attempt to modernize the medieval French banking system and expand French investment outside Europe. Its name became the "Banque Foncière of Paris." Similar institutions at Nevers and Marseilles were amalgamated into one under the title of "Crédit Foncier de France." The amount of the loan could not exceed half of the value of the property pledged or hypothecated, and that the repayment of the loan was by an annuity, which included the interest and part of the principal, terminable at a certain date. The Crédit Foncier had a monopoly on mortgages. In modern banking terminology a "credit foncier" loan is a loan for a fixed period with regular repayments where each repayment includes components of both principal and interest, such that at the end of the period the principal will have been entirely repaid. This is to be contrasted with an "interest only" loan where the repayments are of interest only. History from Wikipedia and
OldCompany.com
(old stock certificate research service)
About Specimen Certificates
Specimen Certificates are actual certificates that have never been issued. They were usually kept by the printers in their permanent archives as their only example of a particular certificate. Sometimes you will see a hand stamp on the certificate that says "Do not remove from file". Specimens were also used to show prospective clients different types of certificate designs that were available. Specimen certificates are usually much scarcer than issued certificates. In fact, many times they are the only way to get a certificate for a particular company because the issued certificates were redeemed and destroyed. In a few instances, Specimen certificates were made for a company but were never used because a different design was chosen by the company. These certificates are normally stamped "Specimen" or they have small holes spelling the word specimen. Most of the time they don't have a serial number, or they have a serial number of 00000. This is an exciting sector of the hobby that has grown in popularity over the past several years.