Beautifully engraved RARE specimen certificate from the Dennison Manufacturing Company printed in 1927. This historic document was printed by the American Banknote Company and has an ornate border around it with a vignette of Eliphalet Whorf Dennison.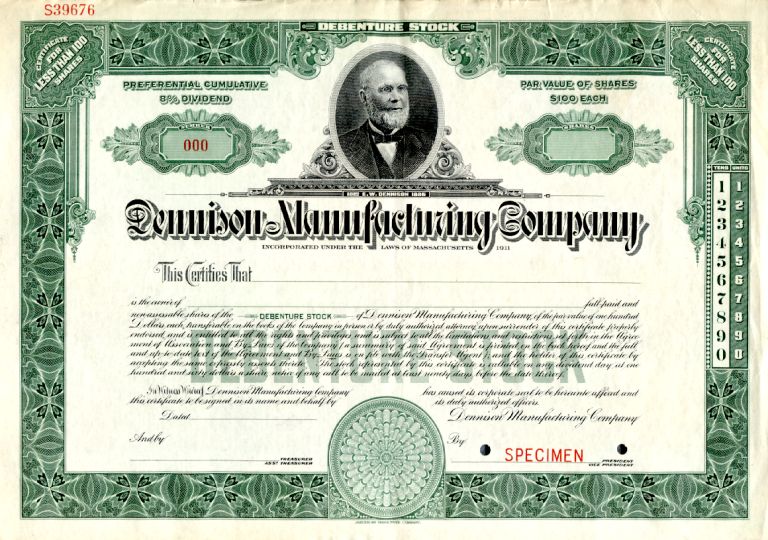 Certificate
The Dennison Manufacturing Company was founded by Andrew Dennison and his son Aaron Lufkin Dennison, residents of Brunswick. Maine, in 1844, as a jewelry- and watch-box manufacturing company located in the Dunlap Block of Maine Street. Five years later Aaron turned the Dennison Manufacturing Company over to his younger brother, Eliphalet Whorf Dennison, who took over and developed the company into a significant-size industrial enterprise. It was in 1898 that the business moved to a location in Framingham, Massachusetts. (Aaron Dennison went on to co-found the Waltham Watch Company in 1850, a leader in the American system of watch manufacturing using interchangeable parts.) Avery International Corporation became Avery Dennison after the company merged with the Dennison Manufacturing Company in 1990. History from Wikipedia, Encyberpedia and
OldCompany.com
(old stock certificate research service)
About Specimen Certificates
Specimen Certificates are actual certificates that have never been issued. They were usually kept by the printers in their permanent archives as their only example of a particular certificate. Sometimes you will see a hand stamp on the certificate that says "Do not remove from file". Specimens were also used to show prospective clients different types of certificate designs that were available. Specimen certificates are usually much scarcer than issued certificates. In fact, many times they are the only way to get a certificate for a particular company because the issued certificates were redeemed and destroyed. In a few instances, Specimen certificates were made for a company but were never used because a different design was chosen by the company. These certificates are normally stamped "Specimen" or they have small holes spelling the word specimen. Most of the time they don't have a serial number, or they have a serial number of 00000.