Beautifully engraved certificate from GAF Corporation issued in 1986. This historic document was printed by the American Banknote Company and has an ornate border on top with a vignette of a goddess standing next to a marble blockade with Mercury. This item has the printed signatures of the Company's Chairman of the Board and Chief Executive Officer, Rizta and Secretary, Edward E. Shea, and is over 25 years old.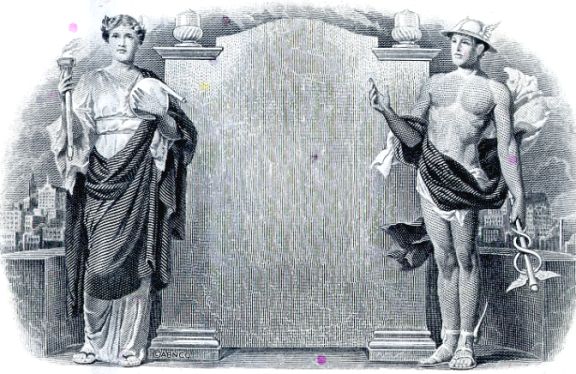 Certificate Vignette
The GAF Corporation of the late 1990s essentially consisted of its GAF Materials Corporation subsidiary, the largest manufacturer of residential and commercial roofing products in the United States. GAF Chemicals Corporation, a maker of specialty chemicals, was the company's other major subsidiary, until it was taken public in 1991 as International Specialty Products, Inc. (ISP), with GAF retaining an 80 percent stake. ISP was subsequently distributed to GAF shareholders in 1997, leaving GAF with no interest in its former subsidiary. GAF's rich history covers more than 150 years and includes separate ownership by German chemical giants Frederick Bayer & Company and I.G. Farben; seizures of the company by the U.S. government during World War I and World War II; a 23-year period of control by the U.S. government starting in 1942; sale to the public in 1965 in one of the largest competitive auctions in Wall Street history; a 1983 proxy takeover led by Samuel J. Heyman; being taken private in 1989; and the 1990s spinoff of the specialty chemicals operations. Heyman still owns most of GAF Corporation and remains the company chairman. History from Wikipedia and
OldCompany.com
(old stock certificate research service).