Beautifully engraved SPECIMEN certificate from the H.D. Lee Company, Inc. This historic document was printed by the Security Banknote Company in the 1940's and has an ornate border around it with a vignette of an eagle.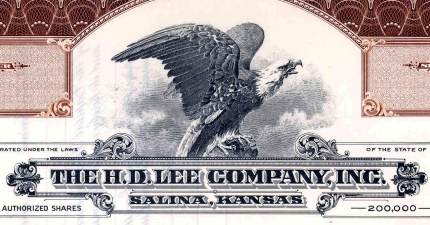 Certificate Vignette
Company Information Lee Jeans is a leading international retailer and manufacturer of workwear, western wear and casual wear. Lee's products fall under the Lee Jeans, Riveted by Lee, Lee Dungarees, and Lee Pipes brand names. Headquartered in Merriam, Kansas, near Kansas City, Lee Jeans currently employs over 400 people across the United States. The VF Corporation, Lee Jeans parent company, is the largest publicly held apparel company in the world. It is traded on the New York Stock Exchange under the symbol VFC. Henry David Lee was born in Vermont on Dec 9, 1849. Moving to Ohio at the age of 16, Lee became a successful merchant in the town of Galion with the Central Oil Co. of Galion. Selling out to John D. Rockefeller, Lee moved to Salina, KS and started the wholesale grocer Lee Mercantile Company in 1889. By 1915 he had opened a factory in Kansas City with an apparel line that included overalls, work jackets and blue denim pants. Although Lee died March 15, 1928, the company retained his name becoming The H.D. Lee Company in 1942.