Beautiful certificate from the Helen Hayes in the Wister Trees at Colonial Theater printed in 1950. This historic document has an ornate graphics, images and pictures featured throughout the booklet. This item has the original signatures of the cast and is over 63 years old. Signatures include: Helen Hayes, Kent Smith, Vinie Burrows, Ossie Davis, Walter Abel, Douglas Watson, Bethel Leslie and Georgia Burke.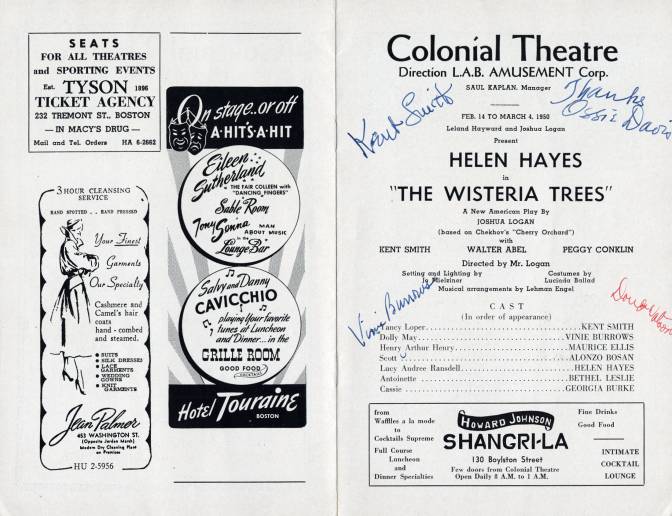 Inside Pages with Signatures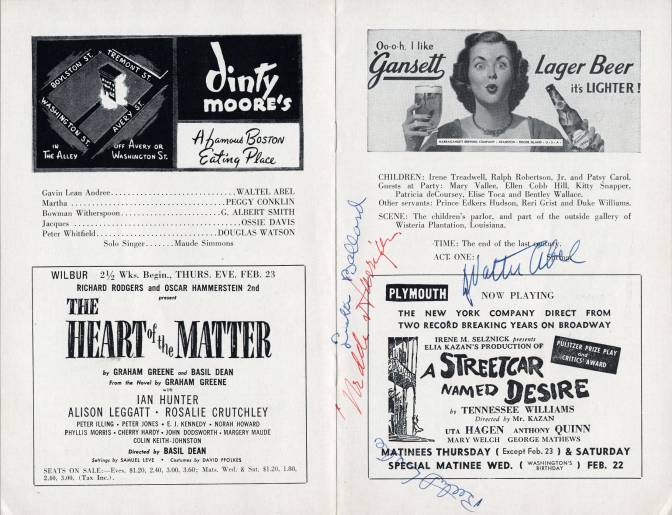 Inside Pages with Signatures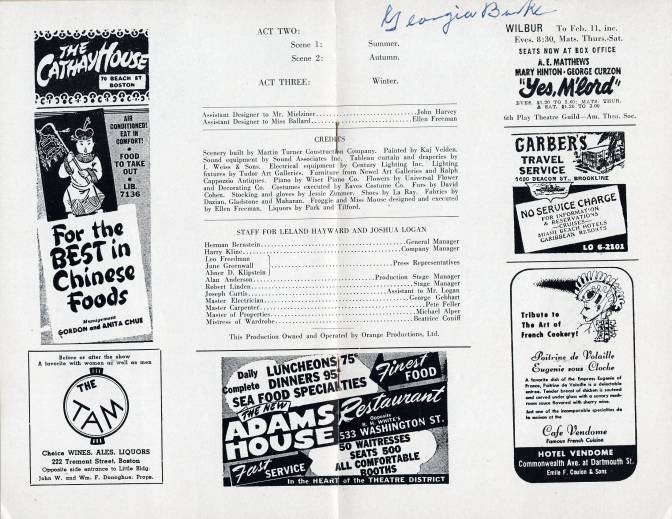 Inside Pages with Signatures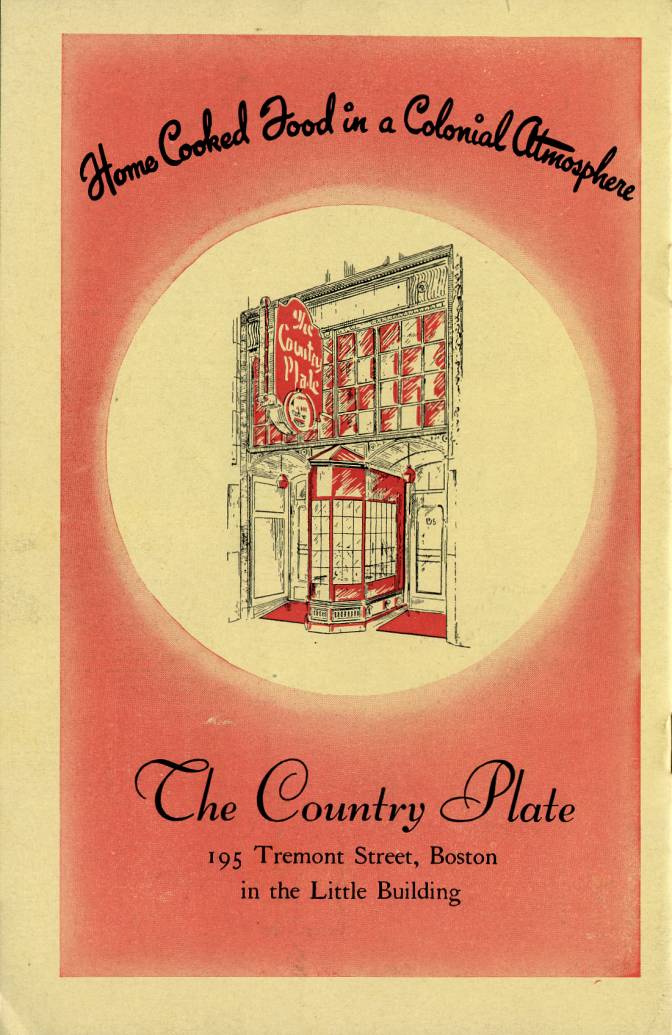 Back
Helen Hayes Brown (October 10, 1900 March 17, 1993) was an American actress whose career spanned almost 70 years. She eventually garnered the nickname "First Lady of the American Theatre" and was one of eleven people who have won an Emmy, a Grammy, an Oscar and a Tony Award (an EGOT). Hayes also received the Presidential Medal of Freedom, America's highest civilian honor, from President Ronald Reagan in 1986.[1] In 1988, she was awarded the National Medal of Arts. The annual Helen Hayes Awards, which have recognized excellence in professional theatre in the greater Washington, D.C. area since 1984, are her namesake. In 1955 the former Fulton Theatre on 46th Street in New York City's Broadway Theater District was renamed the Helen Hayes Theatre. When that venue was torn down in 1982, the nearby Little Theatre was renamed in her honor. Kent Smith (March 19, 1907 April 23, 1985) was an American actor who had a lengthy career in film, theater, and television. Born Frank Kent Smith in New York, New York, Smith made his acting debut on Broadway in 1932 in Men Must Fight and, after spending a few years there, moved to Hollywood, California, where he made his film debut in The Garden Murder Case. Initially, he was groomed to play leading roles in "B" pictures, usually as solid and dependable types, or as the friend or rival for the heroine's affections in more prestigious films. As he aged quickly, turning grey quite young, he moved into character roles. His biggest successes occurred during the 1940s in films such as Cat People (1942), Hitler's Children (1943), This Land Is Mine (1943), Three Russian Girls (1943), Youth Runs Wild (1944), The Curse of the Cat People (1944), The Spiral Staircase (1946), Nora Prentiss (1947), Magic Town (1947), The Fountainhead (1949), My Foolish Heart (1949), and The Damned Don't Cry! (1950). He continued acting in supporting roles from the 1950s in films such as A Distant Trumpet and made his final film appearance in Billy Jack Goes to Washington (1977).