Historic four page land agreement signed by John Jacob Astor III and Chancey Depew dated 1887. The agreement is for the sale of a number of lots of land in New York by Chancey Depew to John Jacob Astor III for $500,000. Splits and reinforced. The agreement makes reference to the Town of Morris, West Farms, Morrisania, County of Westchester, Property of James Morris, West Morrisania, Twenty Third Ward, New York and more. Twenty-Third Ward From 1670, the land of the neighborhood was the estate of the Morris family in Westchester County. The area was sparsely populated until 1840, when Gouverneur Morris Jr., son of the famous congressional delegate and grandson of Lewis, allowed a railroad to be built across the property. In 1848, he sold the land next to the line for the development of a new town called Morrisania Village. In 1855, additional settlements along the rail line became the town of Morrisania, with its political center in the original 1840 village. At first the village was an early forerunner of today's bedroom communities, populated by people who worked in Manhattan, but it quickly developed their own local industries and craftsmen as it developed into a full-fledged town (Jackson, 1995). In 1874, the area was annexed to New York City (then consisting only of Manhattan) as part of the Twenty-Third Ward. In 1887, the Third Avenue Elevated was extended to area and provided easy and quick access to and from Manhattan. By the time the New York City Subway was extended to the area in 1904, a large influx of European immigrants had given the neighborhood an urban character, with tenements replacing houses as the dominant form of dwelling.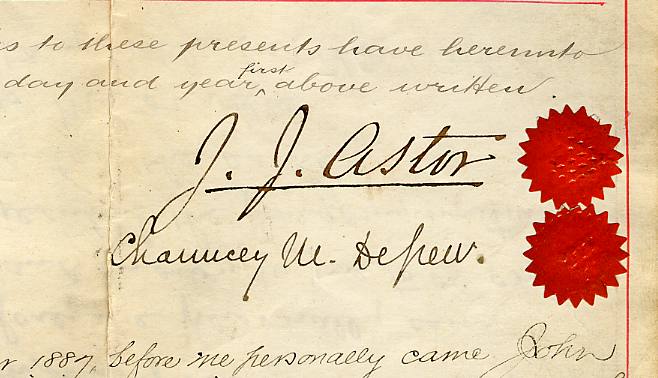 Certificate Vignette
Certificate Vignette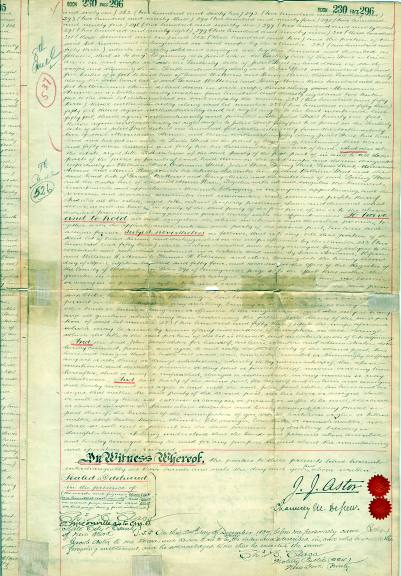 Certificate Vignette
John Jacob Astor III (June 10, 1822 February 22, 1890) was the elder son of William Backhouse Astor, Sr. and the wealthiest member of the Astor family in his generation. Astor studied at Columbia College and Göttingen, following which he went to Harvard Law School. He was on the staff of General McClellan and received a field promotion to Brigadier General for the Peninsular Campaign. As a businessman, he dabbled in railroad investment, but was forced to yield control of the original New York Central Railroad line (from Albany to Buffalo) to Cornelius Vanderbilt. His principal business interest was of course the vast Astor Estate real estate holdings in New York City, which he managed profitably and parsimoniously. He was the wealthiest Astor of his generation. In 1846, he married Charlotte Augusta Gibbes (c. 1825-1887) of South Carolina and in 1859 he built a home at 350 Fifth Avenue, which is today the street address of the Empire State Building. Later, he added an imposing vacation home, Beaulieu, in Newport, Rhode Island. John Jacob Astor III had little inclination to do much in the way of charitable works beyond continuing gifts made by his ancestors to the Metropolitan Museum of Art, Trinity Church, and the Astor Library. However, his deeply religious wife had quite a different attitude. Charlotte Astor supported the newly formed Children's Aid Society and sat on the board of the Women's Hospital of New York, an institution that to her dismay refused to accept cancer patients. Deciding to do something about it, she persuaded her husband to donate the money to erect the New York Cancer Hospital's first wing, the "Astor Pavilion." Aristocratic by inclination, he increasingly visited London in his later years, and his only child, William Waldorf Astor, would move there permanently with his family in 1891. John Jacob Astor III died on February 22, 1890 and was interred in the Trinity Church Cemetery in Manhattan, New York.