Beautiful certificate from the Mars Consolidated Gold Mining Company issued in 1899. This historic document was printed by Frank Myers in Victor, Colo. and has an ornate border around it with a vignette of the head of a female deity with hair blowing from behind. This item has the original signatures of the Company's President, and Secretary, and is over 113 years old.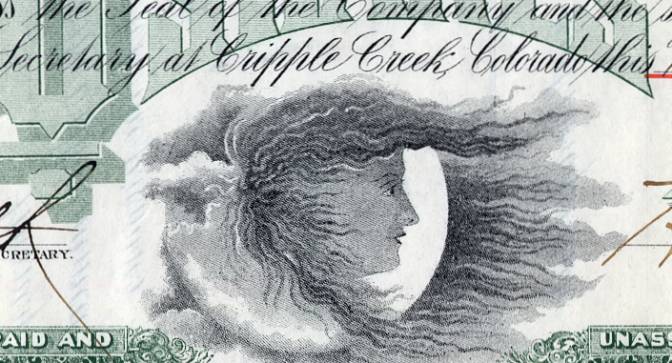 Certificate Vignette
The mine was located in Cripple Creek and it was noted that there were about 50 squatters houses on the property in 1900. The mine was located just east of the Colorado Midland RR terminal. The claims crossed Main and Aspen streets just below Carr and Lode Avenues. In 1899 Hills was correct in speculating that Stratton had gained control of the property. (Hills, p. 316, H&M, p. 48) Research history from Holabird.