Beautiful certificate from the Maryland Smokeless Coal Company issued in 1903. This historic document was printed by the Goes Company and has an ornate border around it with a vignette of a couple of miners working underground. This item has the signatures of the Company's President, and Secretary, and is over 110 years old.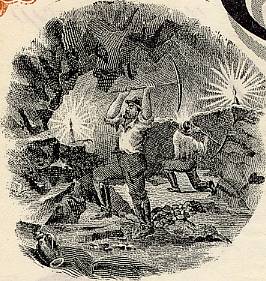 Certificate Vignette
WESTERN MARYLAND RAILROAD COMPANY HOLDINGS By the acquisition of the West Virginia Central and Pittsburg Railway Company and its coal lands in 1902, the control of the Davis Coal and Coke Company, and the purchase of the Maryland Smokeless Coal Company stock in 1905, the Western Maryland Railroad Company acquired control of 138,000 acres of coal land in West Virginia and Maryland.