Beautifully engraved specimen certificate from the McGrory Stores Corporation. This historic document was printed by the Republic Banknote Company and has an ornate border around it with a vignette of a young woman sitting on a base overlooking a city.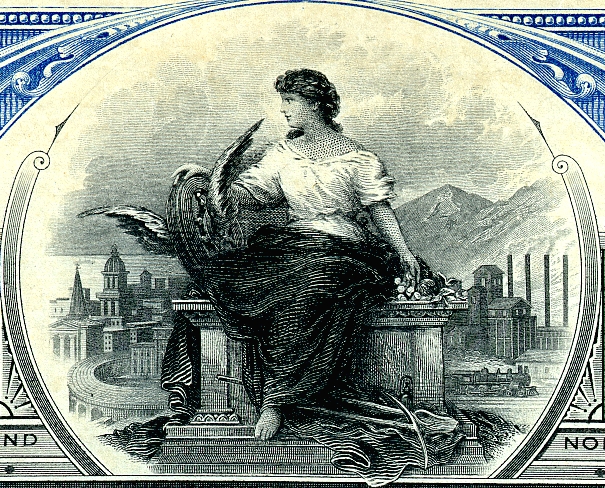 Certificate Vignette
McCrory Stores Corporation was a five and dime which became insolvent during the Great Depression, filing for bankruptcy in 1933. The chain store competed successfully with the F.W. Woolworth Company and S.H. Kress during the 1920s McCrory Stores Corporation was incorporated in 1915 as a successor to the J.G. McCrory Company. Its primary offices were at 1107 Broadway (Manhattan). One of the firm's policies was to acquire locations whenever property could be found at a reasonable purchase price. In November 1925 approximately 2/3 of its stores were leased, with the remainder owned by a subsidiary, the McCrory Realty Corporation. The retailer's gross sales approached $30,000,000 by the mid 1920s, when it operated 187 stores. With 244 retail units in its chain, the company admitted bankruptcy in January 1933. Aside from New York City, McCrory's maintained stores in Philadelphia, Pennsylvania, Pittsburgh, Pennsylvania, Washington, DC, and other eastern United States and southern United States cities. The Irving Trust Company of Newark, New Jersey was named an ancillary receiver (legal) for McCrory's on January 16, 1933. History from Wikipedia and
OldCompany.com
(old stock certificate research service).
---
About Specimen Certificates
Specimen Certificates are actual certificates that have never been issued. They were usually kept by the printers in their permanent archives as their only example of a particular certificate. Sometimes you will see a hand stamp on the certificate that says "Do not remove from file". Specimens were also used to show prospective clients different types of certificate designs that were available. Specimen certificates are usually much scarcer than issued certificates. In fact, many times they are the only way to get a certificate for a particular company because the issued certificates were redeemed and destroyed. In a few instances, Specimen certificates were made for a company but were never used because a different design was chosen by the company. These certificates are normally stamped "Specimen" or they have small holes spelling the word specimen. Most of the time they don't have a serial number, or they have a serial number of 00000. This is an exciting sector of the hobby that has grown in popularity over the past several years.