Beautiful certificate from the Melbourne & Suburban Railway Company issued in 1859. This historic document has an ornate header with a vignette of two explorers holding open the curtains of the frontier connected by railway. This item has the signature of the Company's Secretary and is over 152 years old.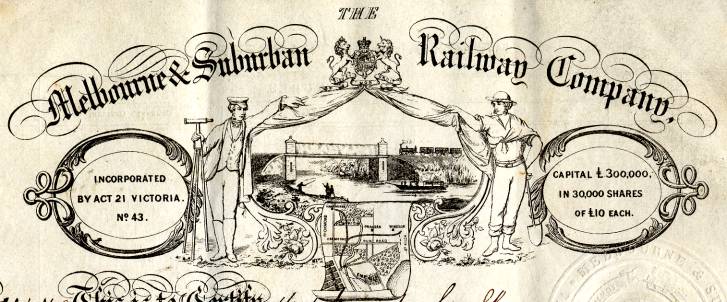 Certificate Vignette
The Melbourne & Suburban Railway Company was originally formed in June 1857 to build Melbourne's first suburban railways to Hawthorn and Brighton, capitalising on the success of the Melbourne & Hobsons Bay Railway Company which had successfully opened Australia's first steam railway between Flinders Street and Port Melbourne (then Sandridge) on 12 September, 1854. Based on plans prepared by the prominent Melbourne engineer, A.K. Smith, the company received parliamentary authorisation in November 1857 and began construction of two lines from a new terminal station at Princes Bridge (opposite Flinders Street Station). The routes required the construction of two massive iron bridges across the Yarra River at Cremorne and Hawthorn, the cost of which were to cripple the company, which was under capitalised from the start. Services opened as far as Chapel Street (now Windsor Station) in December 1860 and to Hawthorn in April 1861, but construction costs had totalled £475,000 and the company failed to operate at a profit. In 1865, it merged with the Hobsons Bay Railway Company to form the Melbourne & Hobson's Bay United Railway Company, which did operate profitably but was subsequently acquired by the government owned Victorian Railways in 1878. One of the problems that contributed to the demise of the Melbourne & Suburban Railway Company was that it effectively was competing directly with the rival St Kilda & Brighton Railway Company, also formed in June 1857, with plans to build a much lower cost railway to Brighton from the St Kilda terminus of the Melbourne & Hobsons Bay Railway Company. The line which crossed St Kilda Road on a long timber viaduct, opened on 19 December 1859, using borrowed locomotives and rollingstock. It too failed to make a profit, with operations being taken over by the Melbourne & Suburban Railway Company in May 1862, and the assets being purchased by the Melbourne & Hobsons Bay United Railway Company in September 1865.Description:Printed on both sides in black ink on off-white stock. Embossed with company seal, including image of a train travelling around a globe of the world. The share scrip is illustrated with a vignette featuring a steam locomotive and passenger train crossing an impressive iron-girder railway bridge with masonry abutments over a river on which their is a steamboat. Flanking either side of this are two figures - a surveyor or engineer and a railway construction worker or navy. Above is the British coat of arms and below a partially rolled plan showing the company's planned railway routes. History from the Museum Victoria.