Beautiful certificate from the Navarre Hotel Company issued in 1909. This historic document was printed by Broun-Green Company and has an ornate border around it with a vignette of two allegorical women, an eagle, a seal. This item has the signatures of the Company's President, George Lowe Sanborn and Secretary, Edgar T. Smith and is over 100 years old.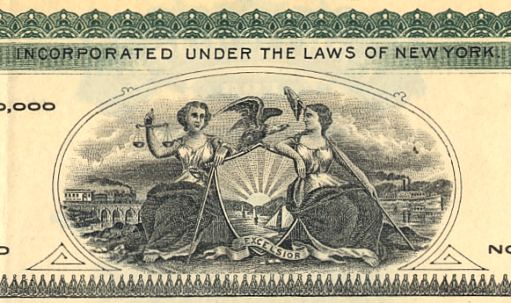 Certificate Vignette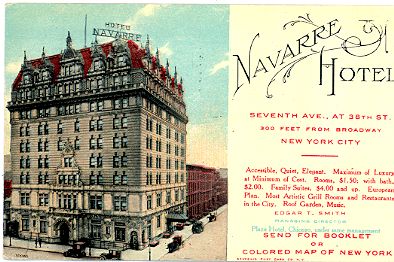 Postcard shown for illustrative purposes
On the corner of Seventh Ave., at 38th St., is the NAVARRE HOTEL, most conveniently located. 300 ft. from Broadway. Constructed in the French Renaissance style of architecture, it is one of the handsomest structures of its kind, not only in this countrv. but in the world. It is built and maintained strictly fire-proof throughout, with its ten stately stories of steel construc- tion, stone and brick walls, red-tiled roof and marble mosaic and terrazzo floors. Among many hostelries of a great city, the Navarre stands unique in this respect. It truly offers the maximum of comfort and luxury at minimum cost. Its richness and high-class appointments, while aftording all that is attainable as to the substantial and elegant in hotel service, are to be enjoyed at rates reasonable beyond ordinary expectations.