Beautifully engraved unissued Certificate from the famous Philadelphia Bourse dated 189_. This historic document was printed by the E. A. Wright Banknote Company and has an ornate border around it with a vignette of a group of old business people sitting on a rock with a harbor scene in the background. This item is over 105 years old.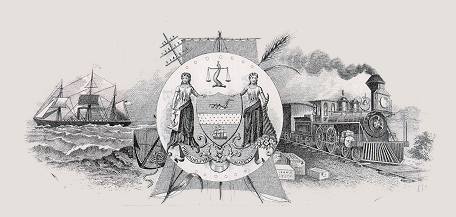 Certificate Vignette
A Bourse is a stock exchange. The Philadelphia Bourse was the first in the world to house simultaneously a stock exchange, maritime exchange, and grain-trading center. Under the guidance of Philadelphia businessman George Bartol, the exchange thrived. However, as the business community moved westward in the city the sun started setting on the Bourse. In 1982, the Bourse was renovated to a combination shopping mall and office complex.