Beautifully engraved SPECIMEN certificate from the Playboy Enterprises, Inc. printed in 1972. This historic document was printed by the American Banknote Company and has an ornate border around it with a vignette Miss February 1971, Willy Rey and the Playboy bunny logo. This item has the printed signatures of the Company's President ( Hugh Hefner ) and Executive Vice President and is over 36 years old. The brown certificate was for less than 100 shares, the blue certificate was for 100 shares and the green certificate was for greater than 100 shares.
Certificate Vignette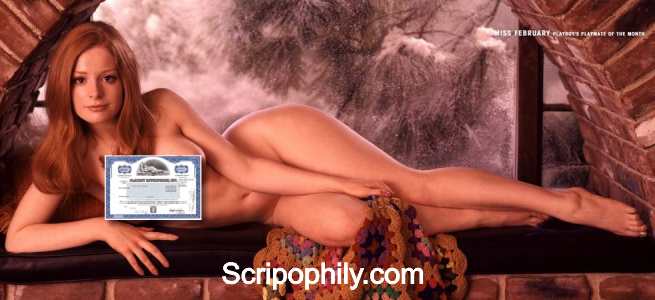 Actual Willy Rey Centerfold
(Certificate Added)
Playboy is an American men's lifestyle and entertainment magazine. It was founded in Chicago in 1953, by Hugh Hefner and his associates, and funded in part by a $1,000 loan from Hefner's mother. Notable for its centerfolds of nude and semi-nude models (Playmates), Playboy played an important role in the sexual revolution and remains one of the world's best-known brands, having grown into Playboy Enterprises, Inc. (PEI), with a presence in nearly every medium. In addition to the flagship magazine in the United States, special nation-specific versions of Playboy are published worldwide.
The front cover of the first issue of Playboy, featuring Marilyn Monroe, December 1953 After a year-long removal of most nude photos in Playboy magazine, the March–April 2017 issue brought back nudity.
Playboy
Editor-in-chief Hugh Hefner
Categories Men's magazines
Frequency Monthly
Publisher Playboy Enterprises Total circulation (2014) 800,000
Year founded October 1, 1953; 62 years ago
First issue December 1953
Country United States
Language English, many others
Playboy is an American men's lifestyle and entertainment magazine. It was founded in Chicago in 1953 by Hugh Hefner and his associates, and funded in part by a $1,000 loan from Hefner's mother. Notable for its centerfolds of nude and semi-nude[4] models (Playmates), Playboy played an important role in the sexual revolution[5] and remains one of the world's best known brands, having grown into Playboy Enterprises, Inc., with a presence in nearly every medium.[6] In addition to the flagship magazine in the United States, special nation-specific versions of Playboy are published worldwide.
The magazine has a long history of publishing short stories by notable novelists such as Arthur C. Clarke,[7] Ian Fleming,[7] Vladimir Nabokov,[8] Saul Bellow, Chuck Palahniuk, P. G. Wodehouse,[7] Haruki Murakami, and Margaret Atwood.[7] With a regular display of full-page color cartoons, it became a showcase for notable cartoonists, including Harvey Kurtzman, Jack Cole,[9] Eldon Dedini,[10] Jules Feiffer,[11] Shel Silverstein,[12] Erich Sokol,[7] Roy Raymonde,[13] Gahan Wilson, and Rowland B. Wilson.[14] Playboy features monthly interviews of notable public figures, such as artists, architects, economists, composers, conductors, film directors, journalists, novelists, playwrights, religious figures, politicians, athletes and race car drivers. The magazine generally reflects a liberal editorial stance, although it often interviews conservative celebrities.[15]
Centerfold of Marilyn Monroe from the first issue of Playboy, December 1953
By spring 1953, Hugh Hefner—a 1949 University of Illinois psychology graduate who had worked in Chicago for Esquire magazine writing promotional copy; Publisher's Development Corporation in sales and marketing; and Children's Activities magazine as circulation promotions manager[16]—had planned out the elements of his own magazine, that he would call Stag Party.[17] He formed HMH Publishing Corporation, and recruited his friend Eldon Sellers to find investors.[17] Hefner eventually raised just over $8,000, including from his brother and mother.[18] However, the publisher of an unrelated men's adventure magazine, Stag, contacted Hefner and informed him it would file suit to protect their trademark if he were to launch his magazine with that name.[16][19] Hefner, his wife Millie, and Sellers met to seek a new name, considering "Top Hat", "Gentleman", "Sir'", "Satyr", "Pan" and "Bachelor" before Sellers suggested "Playboy".[19]
The first issue, in December 1953, was undated, as Hefner was unsure there would be a second. He produced it in his Hyde Park kitchen. The first centerfold was Marilyn Monroe, although the picture used originally was taken for a calendar rather than for Playboy.[20] Hefner chose what he deemed the "sexiest" image, a previously unused nude study of Marilyn stretched with an upraised arm on a red velvet background with closed eyes and mouth open.[21] The heavy promotion centered around Marilyn's nudity on the already famous calendar, together with the teasers in marketing, made the new Playboy magazine a success.[22][23] The first issue sold out in weeks. Known circulation was 53,991.[24] The cover price was 50¢. Copies of the first issue in mint to near mint condition sold for over $5,000 in 2002.
The novel Fahrenheit 451, by Ray Bradbury, was serialized in the March, April and May 1954 issues of Playboy.
An urban legend started about Hefner and the Playmate of the Month because of markings on the front covers of the magazine. From 1955 to 1979 (except for a six-month gap in 1976), the "P" in Playboy had stars printed in or around the letter. The legend stated that this was either a rating that Hefner gave to the Playmate according to how attractive she was, the number of times that Hefner had slept with her, or how good she was in bed. The stars, between zero and 12, actually indicated the domestic or international advertising region for that printing.[25]
From 1966 to 1976, Robie Macauley was the Fiction Editor at Playboy. During this period the magazine published fiction by Saul Bellow, Sean O'Faolain, John Updike, James Dickey, John Cheever, Doris Lessing, Joyce Carol Oates, Vladimir Nabokov, Michael Crichton, John le Carré, Irwin Shaw, Jean Shepherd, Arthur Koestler, Isaac Bashevis Singer, Bernard Malamud, John Irving, Anne Sexton, Nadine Gordimer, Kurt Vonnegut and J. P. Donleavy, as well as poetry by Yevgeny Yevtushenko.[26] Macauley also contributed all of the popular Ribald Classics series published between January 1978 and March 1984.
Since reaching its peak in the 1970s, Playboy saw a decline in circulation and cultural relevance due to competition in the field it founded—first from Penthouse, then Oui (which was published as a spin-off of Playboy) and Gallery in the 1970s; later from pornographic videos; and more recently from lad mags such as Maxim, FHM, and Stuff. In response, Playboy has attempted to re-assert its hold on the 18–35 male demographic through slight changes to content and focusing on issues and personalities more appropriate to its audience—such as hip-hop artists being featured in the "Playboy Interview".
Christie Hefner, daughter of the founder Hugh Hefner, joined Playboy in 1975 and became head of the company in 1988. She announced in December 2008 that she would be stepping down from leading the company, effective in January 2009, and said that the election of Barack Obama as the next President had inspired her to give more time to charitable work, and that the decision to step down was her own. "Just as this country is embracing change in the form of new leadership, I have decided that now is the time to make changes in my own life as well," she said.[27] Post-2000
The magazine celebrated its 50th anniversary with the January 2004 issue. Celebrations were held at Las Vegas, Los Angeles, New York, and Moscow during the year to commemorate this event.
The magazine runs several annual features and ratings. One of the most popular is its annual ranking of the top "party schools" among all U.S. universities and colleges. For 2009, the magazine used five considerations: bikini, brains, campus, sex and sports in the development of its list. The top ranked party school by Playboy for 2009 was the University of Miami.[28]
In June 2009, the magazine reduced its publication schedule to 11 issues per year, with a combined July/August issue and on August 11, 2009. London's Daily Telegraph newspaper reported that Hugh Hefner had sold his English Manor house (next door to the famous Playboy Mansion) for $18 m ($10 m less than the reported asking price) to another American Daren Metropoulos the President and co-owner of Pabst Blue Ribbon. Also that due to significant losses in the company's value (down from $1 billion in 2000 to $84 million in 2009) the Playboy publishing empire is up for sale for $300 million.[29] In December 2009, they further reduced the publication schedule to 10 issues per year, with a combined January/February issue.
On July 12, 2010, Playboy Enterprises Inc. announced Hefner's $5.50 per share offer ($122.5 million based on shares outstanding on April 30 and the closing price on July 9) to buy the portion of the company he did not already own and take the company private with the help of Rizvi Traverse Management LLC. The company derives much of its income from licensing rather than the magazine.[30] On July 15, Penthouse owner FriendFinder Networks Inc. offered $210 million (the company is valued at $185 million), though Hefner, who already owned 70 percent of voting stock, did not want to sell.[31] In January 2011, the publisher of Playboy magazine agreed to an offer by Hefner to take the company private for $6.15 per share, an 18 percent premium over the price of the last previous day of trading.[32] The buyout was completed in March 2011.[33]
In October 2015, Playboy announced that starting with their March 2016 issue, the magazine will no longer feature full nudity.[34] Playboy CEO Scott Flanders acknowledged the magazine's inability to compete with freely available Internet pornography and nudity; according to him, "You're now one click away from every sex act imaginable for free. And so it's just passé at this juncture".[35] Hefner agreed with the decision.[36] The redesigned Playboy, however, will still feature a Playmate of the Month and pictures of women, but they will be rated as not appropriate for children under 13.[36] The move will not affect PlayboyPlus.com (which features nudity at a paid subscription), but it is currently unknown what will happen to the "special" issues.[37] Josh Horwitz of Quartz argues that the motivation for the decision to remove nudity from the magazine is to give Playboy Licensing a less deviant image in India and China, where the brand is a popular item on apparel and thus generates significant revenue.[38]
The best-selling Playboy edition was the November 1972 edition, which sold 7,161,561 copies. One-quarter of all American college men were buying or subscribing to the magazine every month.[39] On the cover was model Pam Rawlings, photographed by Rowland Scherman.
Perhaps coincidentally, a cropped image of the issue's centerfold (which featured Lena Söderberg) became a de facto standard image for testing image processing algorithms. It is known simply as the "Lenna" (also "Lena") image in that field.[40]
In 1970, Playboy became the first gentleman's magazine to be printed in braille.[41] It is also one of the few magazines whose microfilm format was in color, not black and white.[42]
Playboy's iconic and enduring mascot, a stylized silhouette of a rabbit wearing a tuxedo bow tie, was created by Playboy art director Art Paul for the second issue as an endnote, but was adopted as the official logo and has appeared ever since.[43][44] A running joke in the magazine involves hiding the logo somewhere in the cover art or photograph. Hefner said he chose the rabbit for its "humorous sexual connotation", and because the image was "frisky and playful".
In an interview Hefner explained his choice of a rabbit as Playboy's logo to the Italian journalist Oriana Fallaci:
The rabbit, the bunny, in America has a sexual meaning; and I chose it because it's a fresh animal, shy, vivacious, jumping - sexy. First it smells you then it escapes, then it comes back, and you feel like caressing it, playing with it. A girl resembles a bunny. Joyful, joking. Consider the girl we made popular: the Playmate of the Month. She is never sophisticated, a girl you cannot really have. She is a young, healthy, simple girl - the girl next door . . . we are not interested in the mysterious, difficult woman, the femme fatale, who wears elegant underwear, with lace, and she is sad, and somehow mentally filthy. The Playboy girl has no lace, no underwear, she is naked, well-washed with soap and water, and she is happy. — "Hugh Hefner: 'I am in the center of the world,'" by Oriana Fallaci, LOOK Magazine, January 10, 1967
The jaunty rabbit was quickly a popular symbol of extroverted male culture, becoming a lucrative source of merchandizing revenue for Playboy.[45] In the 1950s, it was adopted as military aircraft insignia for the Navy's VX-4 fighter-evaluation squadron.
Besides its centerfold, a major part of Playboy for much of its existence has been the Playboy Interview, an extensive (usually several thousand-word) discussion between a notable individual and an interviewer (historian Alex Haley, for example, served as a Playboy interviewer on a few occasions; one of his interviews was with Martin Luther King Jr.; he also interviewed Malcolm X and American Nazi Party founder George Lincoln Rockwell in the April 1966 issue,[46] then coauthored his autobiography). One of the magazine's most notable interviews was a discussion with then-presidential candidate Jimmy Carter in the November 1976 issue in which he stated "I've committed adultery in my heart many times."[47][48] David Sheff's interview with John Lennon and Yoko Ono appeared in the January 1981 issue, which was on newsstands at the time of Lennon's murder; the interview was later published in book format.
Another interview type section, entitled "20Q" (a play on the game of Twenty Questions), was added in October 1978. Cheryl Tiegs was the first interviewee for the section.[49] Rock the Rabbit
"Rock the Rabbit" was an annual music news and pictorial feature published in the March edition.[50] The pictorial featured images of rock bands photographed by music photographer Mick Rock. Fashion designers participated in the Rock the Rabbit event by designing T-shirts inspired by Playboy's rabbit head logo for each band. The shirts were sold at Playboy's retailers and auctioned off to raise money for AIDS at LIFEbeat: The Music Industry Fights AIDS.[50] Notable bands who were featured include: MGMT, Daft Punk, Iggy Pop, Duran Duran, Flaming Lips, Snow Patrol, and The Killers.[51] Photographers
Many notable photographers have contributed to Playboy, including Ken Marcus,[52] Richard Fegley,[53] Arny Freytag,[54] Ron Harris,[55] Tom Kelley,[52] David Mecey,[56] Russ Meyer,[57] Pompeo Posar,[58] Suze Randall,[59] Herb Ritts,[60] Stephen Wayda,[60][61] Sam Wu,[62] Mario Casilli,[63] Annie Leibovitz,[60] Helmut Newton,[60] and Bunny Yeager.[64] Celebrities
For a full listing, please see List of people in Playboy 1953–1959, 1960–1969, 1970–1979, 1980–1989, 1990–1999, 2000–2009, 2010–2019.
Many celebrities (singers, actresses, models, etc.) have posed for Playboy over the years. This list is only a small portion of those who have posed. Some of them are:
Film:
Jayne Mansfield (February 1955)
Mara Corday (October 1958)
Ursula Andress (June 1965)
Carol Lynley (March 1965)
Margot Kidder (March 1975)
Kim Basinger (February 1983)
Terry Moore (August 1984)
Janet Jones (March 1987)
Drew Barrymore (January 1995)
Denise Richards (December 2004)
Music:
La Toya Jackson (March 1989/Nov 1991)
Fem2Fem (December 1993)
Nancy Sinatra (May 1995)
Samantha Fox (October 1996)
Joey Heatherton (April 1997)
Linda Brava (April 1998)
Belinda Carlisle (August 2001)
Tiffany (April 2002)
Carnie Wilson (August 2003)
Debbie Gibson (March 2005)
Sports:
Svetlana Khorkina (November 1997 Russian edition)
Katarina Witt (December 1998)
Tanja Szewczenko (April 1999 German Edition)
Joanie Laurer (November 2000 and January 2002)
Gabrielle Reece (January 2001)
Kiana Tom (May 2002)
Torrie Wilson (May 2003 and March 2004 [the latter with Sable])
Amy Acuff (September 2004)
Amanda Beard (July 2007)
Ashley Harkleroad (August 2008)[65]
Television:
Linda Evans (July 1971)
Suzanne Somers (February 1980 and December 1984)
Dian Parkinson (December 1991 and May 1993)
Shannen Doherty (March 1994 and December 2003)
Farrah Fawcett (December 1995 and July 1997)
Women of Baywatch (June 1998)
Claudia Christian (October 1999)
Shari Belafonte (September 2000)
Brooke Burke (May 2001 and November 2004)
Susie Feldman (August 2008)
Karina Smirnoff (May 2011)
History from Wikipedia, Encyberpedia and
OldCompany.com
(old
stock certificate research service)
---
About Specimens
Specimen Certificates are actual certificates that have never been issued. They were usually kept by the printers in their permanent archives as their only example of a particular certificate. Sometimes you will see a hand stamp on the certificate that says "Do not remove from file".
Specimens were also used to show prospective clients different types of certificate designs that were available. Specimen certificates are usually much scarcer than issued certificates. In fact, many times they are the only way to get a certificate for a particular company because the issued certificates were redeemed and destroyed. In a few instances, Specimen certificates we made for a company but were never used because a different design was chosen by the company.
These certificates are normally stamped "Specimen" or they have small holes spelling the word specimen. Most of the time they don't have a serial number, or they have a serial number of 00000. This is an exciting sector of the hobby that grown in popularity over the past several years.