Beautiful certificate from the Prentice-Hall, Inc. issued in 1934. This historic document was printed by the American Bank Note Company and has an ornate border around it with a vignette of an eagle. This item has the printed signatures of the Company's President, and Treasurer, and is over 79 years old. The certificate was issued to Richard Prentice and is endorsed by him on the back.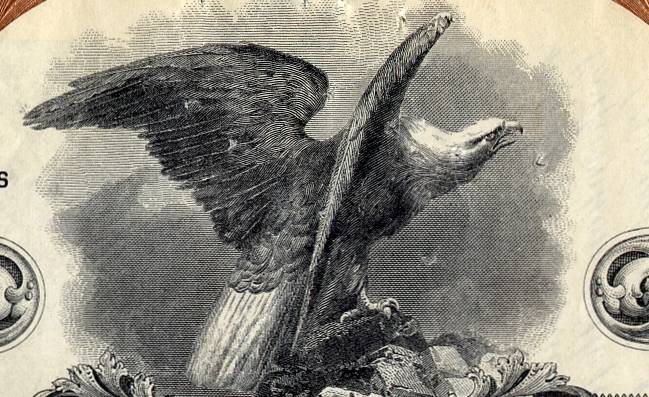 Certificate Vignette

Richard Prentice's printed Signature on front

Richard Prentice's Signature on back
Richard Prentice Ettinger graduated from a New York City high school and decided on a law career. Because of limited funds, he took a $4-a-day job in the law offices of C.W. Gerstenberg and studied in the evenings. In 1913, Gerstenberg wrote a book entitled Materials of Corporation Finance and was anxious to get it published. He and Ettinger formed Prentice-Hall, Inc. in order to publish the book. Neither of them had capital, but Ettinger found a printer who was willing to publish the book on credit. The young company not only paid its debts but was able to finance further growth. The company and its wholly owned subsidiaries became an empire, reported to be the largest publisher of original books in the world. Ettinger coauthored Credits and Collections, considered a standard work on the subject. Richard Prentice Ettinger was married to Elsie P. Ettinger. He earned his law degree from New York University at age 18 and, too young to take the bar exam in New York, he began his career teaching finance at his alma mater. As a professor he recognized the need for more effective teaching materials in his field, so he wrote a textbook on creditors' rights. As an author and teacher, Mr. Ettinger realized there was a need for additional high-quality college texts. As a result, he and one of his teaching peers-using their grandmothers' maiden names-founded Prentice-Hall Publishing. 1913 Prentice - Hall, Inc. was incorporated in Delaware 1975 Simon & Schuster merged into Gulf and Western Industries 1984 Prentice - Hall, Inc. Merged in Gulf and Western Industries 1989 Gulf and Western Industries name changed to Paramount in 1989 1994 Paramount merged in Viacom in 1994 1998 Pearson buys Viacom's Simon & Schuster and Prentice - Hall, Inc. History from
OldCompany.com
(old stock certificate research service).