Beautifully engraved Rare Specimen certificate from the Procter & Gamble Company printed around 1920. This historic document was printed by the American Banknote Company and has an ornate border around it with a vignette of the Moon and Stars Logo. This item has the printed signatures of the Company's officers, Vice President, H. G. French and Secretary, Ralph F. Rogan and is over 90 years old. This is the earliest Stock Certificate we have seen from the Procter & Gamble Company.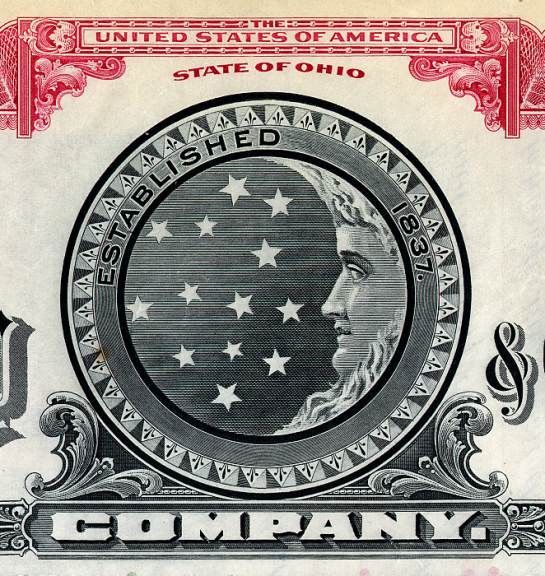 Certificate Vignette
P&G markets 250 brands to five billion consumers in 140 countries. P&G invests nearly $2 billion a year to develop and improve its products -- leading the way in R&D globally among consumer products companies. P&G's Global Licensing and External Business Development organization is charged with ensuring the company maximizes the value of its technologies and know-how by selling, licensing and, in some cases, donating technologies. The unit is also responsible for licensing select P&G brand trademarks. P&G's brands include Pampers, Tide, Ariel, Always, Whisper, Pantene, Bounty, Pringles, Folgers, Charmin, Downy, Lenor, Iams, Olay, Clairol Nice 'n Easy, Herbal Essences, Crest, Vicks and Actonel. P&G employs nearly 106,000 people in more than 80 countries worldwide. History of the Moon and Stars Trademark P&G's trademark originated around 1851, when many products did not carry a visible brand name. Even people who could not read could see P&G's trademark and know they would get consistent quality.
---
THE, MANUAL OF STATISTICS STOCK EXCHANGE HAND-BOOK THE NEW 1920 EDITION PROCTER A GAMBLE CO., (THE) Incorporated in Ohio May 5, 1905, succeeding a New Jersey corporation, of the same name, organized January 12, 1899, which acquired the soap, candle and glycerine business of the firm Procter & Gamble, Cincinnati, O. In 1910, purchased the soap manufacturing plant of D. S. Brown & Co., New York City- Controls the Buckeye Cotton Oil Co.; the TRANSFER OFFICE, Company's office, Cincinnati, O. REGISTRAR OF STOCK, Central Trust & Safe Deposit Co., Cincinnati, O. OFFICERS--William Cooper Procter, President; J. N. Gamble, Vice-President; J. J. Burchenal, Vice-President; W. E. McCaw, Vice-President; H. G. French, Vice-President; A. E. Anderson, Vice-President; R. F. Rogan, Secretary; Geo. S. Woodward, Treasurer, Cincinnati, O. DIRECTORS--W. C. Procter, J. N. Gamble, William S. Rowe, W. E. McCaw, A. E. Anderson, H. G. French, F. Steingrube, J. J. Burchenal, Cincinnati, O.; D. B. Gamble. Pasadena, Cal.; William Procter, C. L. Fink, New York; F. M. Sells, Kansas City, Kan. MAIN OFFICE AND CORPORATE OFFICE--Sixth and Main Sts., Cincinnati. O. ANNUAL MEETING, second Wednesday in October at Cincinnati, O. LISTED, Cincinnati Stock Exchange.
---
About Specimen Certificates
Specimen Certificates are actual certificates that have never been issued. They were usually kept by the printers in their permanent archives as their only example of a particular certificate. Sometimes you will see a hand stamp on the certificate that says "Do not remove from file". Specimens were also used to show prospective clients different types of certificate designs that were available. Specimen certificates are usually much scarcer than issued certificates. In fact, many times they are the only way to get a certificate for a particular company because the issued certificates were redeemed and destroyed. In a few instances, Specimen certificates were made for a company but were never used because a different design was chosen by the company. These certificates are normally stamped "Specimen" or they have small holes spelling the word specimen. Most of the time they don't have a serial number, or they have a serial number of 00000. This is an exciting sector of the hobby that has grown in popularity over the past several years.