Beautifully engraved uncancelled stock certificate from Rockefeller Center Properties, Inc. issued in 1985. This historic document was printed by the American Banknote Company and has an ornate border around it. This item has the printed signatures of David Rockefeller and the Company's Secretary, and is over 36 years old. This is the first time we have had this certificate for sale.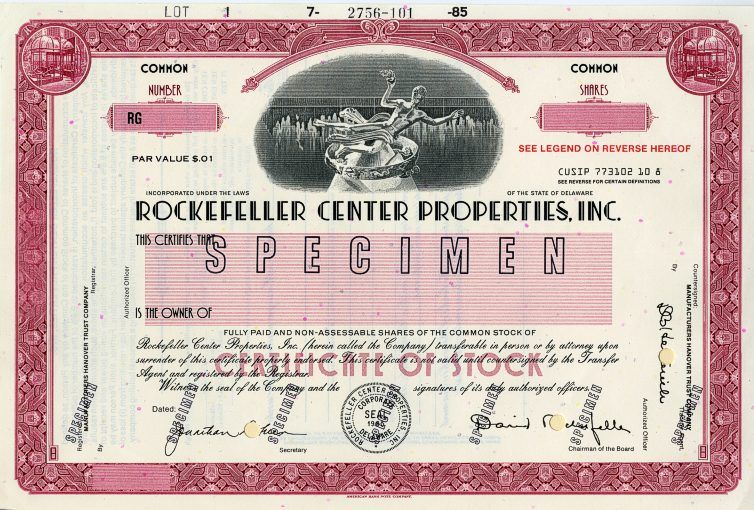 Specimen Certificate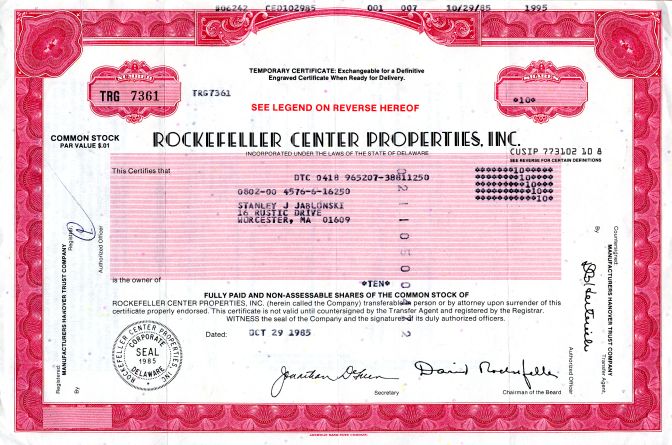 Issued Certificate
Rockefeller Center or Rockefeller Plaza is a complex of 19 commercial buildings covering 22 acres (89,000 m2) between 48th and 51st streets in New York City, United States. Built by the Rockefeller family, it is located in the center of Midtown Manhattan, spanning the area between Fifth Avenue and Sixth Avenue. It was declared a National Historic Landmark in 1987.
---
About Specimen Certificates
Specimen Certificates are actual certificates that have never been issued. They were usually kept by the printers in their permanent archives as their only example of a particular certificate. Sometimes you will see a hand stamp on the certificate that says "Do not remove from file". Specimens were also used to show prospective clients different types of certificate designs that were available. Specimen certificates are usually much scarcer than issued certificates. In fact, many times they are the only way to get a certificate for a particular company because the issued certificates were redeemed and destroyed. In a few instances, Specimen certificates were made for a company but were never used because a different design was chosen by the company. These certificates are normally stamped "Specimen" or they have small holes spelling the word specimen. Most of the time they don't have a serial number, or they have a serial number of 00000. This is an exciting sector of the hobby that has grown in popularity over the past several years.