Beautifully engraved certificate from the Las Vegas Sands Corporation. This historic document was printed by the American Banknote Company and has an ornate border around it with a vignette of the company's logo. This item has the printed signatures of the Company's Chairman, Sheldon Adelson and Secretary.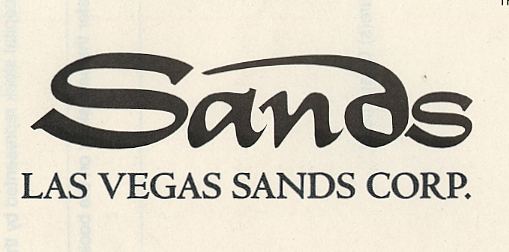 Certificate Vignette
Sheldon Gary Adelson August 4, 1933 – January 11, 2021) was an American businessman, investor, political donor and philanthropist. He was the founder, chairman and chief executive officer of Las Vegas Sands Corporation, which owns the Marina Bay Sands in Singapore, and the parent company of Venetian Macao Limited, which operated The Venetian Las Vegas and the Sands Expo and Convention Center before selling the properties in early 2022. He owned the Israeli daily newspaper Israel Hayom, the Israeli weekly newspaper Makor Rishon, and the American daily newspaper the Las Vegas Review-Journal.
Las Vegas Sands Corp. (NYSE: LVS) is a casino resort company based in Las Vegas, Nevada. At one point in 2007, it had a market capitalization of $43.7 billion, making its majority shareholder, Sheldon Adelson, one of the world's richest men. Since then, its total market capitalization has fallen to $2.49 billion[1]. In early November, 2008, Las Vegas Sands announced that it might default on outstanding bonds, signaling its possible bankruptcy. Chinese investors have reported that they will be financing them through the hardships, to avoid defaulting on the loans.[2]
In November 2008, the company announced it will be halting all construction on all properties worldwide and has turned its attention to raising operating capital. In the same month the company announced that it had secured $2 Billion in capital-funding commitments. As of November 12, 2008, the stock with a 52 Week high of $122.96 was listed at $5.10. It was announced that Moody's cut the credit rating of the company stock to "B2" from Ba3". The two notch drop in classification has now placed the company stock further into "junk" territory. Properties include the: The Venetian Resort-Hotel-Casino Las Vegas, Nevada May 3, 1999 venetian.com Sands Expo and Convention Center Las Vegas, Nevada 1990 sandsexpo.com Sands Macao Macau, China May 18, 2004 sands.com.mo The Palazzo Resort-Hotel-Casino Las Vegas, Nevada December 30, 2007 palazzolasvegas.com The Venetian Macao Resort-Hotel Macau, China August 28, 2007 venetianmacao.com Sands BethWorks Bethlehem, Pennsylvania May 22, 2009 pasands.com Marina Bay Sands Marina Bay, Singapore December 2009 marinabaysands.com Founded in 1988, the company was the owner and operator of the Sands Hotel, which was demolished in 1996 to make room for The Venetian, which opened in 1999. In February 2008, the company announced that it has acquired two L-1011 aircraft which it plans to use to bring gamblers from Asia to its Las Vegas properties. The aircraft will be equipped with baccarat tables that can be played while over international waters using established lines of credit. According to gaming officials, the Nevada gaming tax will not apply to these wagers. The original Sands Hotel in Las Vegas - closed on June 30, 1996 and was demolished on November 26 of the same year. Sands Atlantic City - filed for bankruptcy in 1998; sold to Carl Icahn in 2000, who in turn sold it to Pinnacle Entertainment in 2006. Closed on November 11 of the same year, and imploded on October 18, 2007. In September 2005, the company entered into an agreement with the city of Zhuhai, Guangdong, China to develop a 1,300-acre (5.3 km2) resort destination on Hengqin Island. In December 2006 the company received final approval to begin construction of the project. On May 26, 2006, Las Vegas Sands was awarded the license to construct an "Integrated Resort" (casino resort), tentatively named The Marina Bay Sands, in Marina Bay, Singapore. The company is currently[citation needed] constructing its trademarked Cotai Strip in the Cotai area of Macau. Las Vegas Sands' first casino in the Strip will be The Venetian Macao and opened on August 28, 2007.
Las Vegas Sands is currently in development stages of several resort areas around the world. Las Vegas Sands has under construction The Venetian Macau, which will anchor their other properties under development along the Cotai Strip in Macau, China. The Venetian Macau adds to their other property in Macau - The Sands Macau - and the revenue expected to be produced by the Cotai strip has already surpassed the Las Vegas Strip, and many investors have already bought into the company's stock to reap the benefits of the potential of this gaming Mecca. Moving on to the South of Asia, LVS is in preliminary development stages of a plot they were awarded in Singapore. Many gaming companies bid for the rights to build in this lucrative market and Las Vegas Sands came out on top and were awarded the rights to develop the land. The Resort is currently known as The Marina Bay Sands and is forecast to open in 2009. This resort will be the first casino allowed in Singapore in the last 40 years. Lastly, the las Vegas Sands has development plans for a resort on Hengqin Island, China, along with a gambling hall in Pennsylvania. Reports also indicate an interest in a new casino resort in Marlboro, MA. There is also speculation that LVS has bids for places in Europe and this shows the vast array of development sites that Las Vegas Sands has proposed.
On September 29, 2007, Las Vegas Sands Corp.'s Sheldon Adelson announced that it will open its 2nd hotel, the Sands Macao Hotel in Macau on October. Mark Brown, president of Sands Macao and the Venetian Macau Resort Hotel stated: "We are now uniquely positioned in Macau to offer all the integrated amenities necessary as a destination to attract a diverse range of multi-night visitors." Approximately 90% of LVS stock is held by company insiders, with CEO Sheldon Adelson presently owning approximately 65%. As of October 2007, the company's market capitalization was $49 billion. However, because of general market declines and overall concern of the short-term financial health of the gambling industry, the market capitalization sank to approximately $3 billion as of October 23, 2008. On November 6, 2008 the company stock was trading at $4.70 from a one year high of $122.96. With the threat of default, Sheldon Adelson and his wife, Miriam Adelson, loaned the company $475 million through a 6.5% convertible note due in 2013. Due to even further loses and with the potential of default and bankruptcy, on November 11, 2008, the company announced that it will be receiving an additional investment of $525 Million from Sheldon Adelson and his family in hopes to raise operating capital. "The Adelsons agreed to buy 5.25 million shares of preferred stock and warrants to purchase about 87.5 million shares of common stock at an exercise price of $6 each." History from Wikipedia and OldCompany.com (old stock certificate research service).