Beautifully engraved uncancelled stock certificate from the MGM Mirage Hotel. This historic document was printed by the American Banknote Company and has an ornate border around it with a vignette of the famous Leo the Lion logo. This item has the printed signatures of the Company's President and Secretary.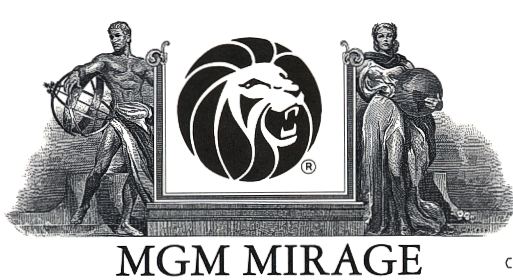 Certificate Vignette
MGM Mirage (NYSE: MGM) is a Las Vegas, Nevada-based business engaged in the development, ownership and operation of hotels and casinos throughout the world. The company began operations on May 31, 2000 after the completion of a merger of MGM Grand Inc. and Mirage Resorts, Inc. It is currently the second largest gaming company in the world.[2] Armenian Billionaire Kirk Kerkorian and his Tracinda Corporation are currently the majority owners of MGM Mirage. Kerkorian was also the former owner of the Metro-Goldwyn-Mayer movie studio, from which the predecessor corporation MGM Grand, Inc. derived its name. As of 2005, the company owneds 831 acres (3.4 km²) of property on the Las Vegas Strip. Its yearly revenue is around $7.4 billion USD. The company also owns the recently completed MGM Grand Detroit, in downtown Detroit, Michigan and recently opened MGM Grand Macau in December 2007, owned and operated through a 50/50 partnership between MGM Mirage and Pansy Ho Chiu-king. The company began operations on May 31, 2000 after the completion of a US$6.4 billion merger, the largest ever in the industry. At the time of the merger, MGM Mirage was the largest gambling company in the world (although it was subsequently succeeded by Harrah's Entertainment). Before the merger, MGM Grand had been in operation since the 1960s and Mirage Resorts (formerly Golden Nugget Companies, Inc.) had been in operation since the 1970s. On January 26, 2004, MGM Mirage completed the sale of its two Golden Nugget casinos -- the Golden Nugget Las Vegas and the Golden Nugget Laughlin. The former, in downtown Las Vegas, was the first casino owned by Steve Wynn, and was the foundation on which he built the MGM Mirage predecessor corporation Mirage Resorts. The Golden Nugget properties were purchased by the Las Vegas-based private investment firm Poster Financial Group, Inc. for approximately $215 million. On June 4, 2004, MGM Mirage announced a bid to acquire one of its major competitors, Mandalay Resort Group, for $68 per share plus assumption of debt. The ensuing negotiations between the two companies included at one point an announcement that the Mandalay board was rejecting the offer because of antitrust concerns. On June 15, 2004, however, both companies' boards approved a revised offer of $71 per share. The agreement called for MGM Mirage to pay $4.8 billion and to assume $2.5 billion in debt. The transaction was completed on April 26, 2005 for $7.9 billion. On June 23, 2004 MGM Mirage completed its $140 million sale of the MGM Grand Darwin to SKYCITY Entertainment Group. Announced on November 10, 2004, Project CityCenter on the Las Vegas Strip, is a 76 acre (600,000 m²), $7 billion, project on the site of the Boardwalk Hotel and Casino and adjoining land is planned as a multi use project. It will consist of hotel, casino, condo, retail and other uses. The first elements of this project are expected to be available in 2009. On May 31, 2005 MGM Mirage started construction on the MGM Grand Macau. On April 25, 2006, MGM Mirage announced with Foxwoods Resort and Casino a joint partnership in developing an expansion plan at Foxwoods that will include a casino using the MGM Grand brand. On October 16, 2006, MGM Mirage announced that it planned to sell the Colorado Belle Hotel & Casino and Edgewater Hotel and Casino to a partnership of Anthony Marnell III and Sher Gaming. The sale price was $200 million. The sale closed on June 1, 2007. On October 31, 2006, MGM Mirage announced plans to sell Primm Valley Resorts to Herbst Gaming for $400 million. The proposed sale would not include the Primm Valley Golf Club.[6] The sale closed on April 10, 2007. On April 19, 2007 the company announced that it planned to purchase a 7.6-acre (31,000 m2) site from Concord Wilshire Partners for $130 million and a 25.8-acre (104,000 m2) site from Gordon Gaming for $444 million. The two parcels give the company complete control of the southwest corner of the Sahara and Las Vegas Boulevard intersection. When combined with underused parts of the Circus Circus site, the company will have a 68-acre (280,000 m2) site for future development. The Concord site had been the proposed location for the Maxim Casino. On August 22, 2007, Dubai World said it will buy a 9.5 percent stake in MGM for about $2.4 billion. It will also invest about $2.7 billion to acquire a 50 percent stake in MGM's CityCenter project, a $7.4 billion, 76-acre (310,000 m2) Las Vegas development of hotels, condos and retail outlets due to open in 2009. Dubai World will pay MGM Mirage an additional $100 million if the project opens on time and on budget. The investment firm will buy 14.2 million shares from MGM Mirage at $84 each, a premium of about 13 percent over Tuesday's closing price. The firm will also issue a public tender for an additional 14.2 million shares at the same price. The public tender is due to begin during the week of Aug. 27. On October 29, 2008, MGM Mirage halted a $5 billion Atlantic City project, which would have risen on land next to the Borgata. The announcement came on the same day MGM Mirage reported a 67 percent plunge in third-quarter earnings, largely because of sluggish revenue from its properties on the Las Vegas strip. "We continue to believe Atlantic City represents an important market for further development," Terry Lanni, MGM's chairman and CEO, said in a statement. "We intend to resume development at such time as economic conditions and capital markets are sufficiently improved to enable us to go forward on a reasonable basis." On December 16, 2008, MGM Mirage announced the sale of its Las Vegas Treasure Island resort and casino to billionaire Phil Ruffin. The sale was completed on March 20, 2009, where Ruffin took possession of the property and its operations. $600 million in cash was wired to MGM Mirage with a $175 million secured note bearing interest at 10% payable not later than 36 months after closing, for a total sale price of $775 million. [9] On March 23, 2009 Dubai World the United Arab Emirates domestic and international investment arm of the Dubai emirate government announced that it and a wholly-owned subsidiary Infinity World have filed a lawsuit in the Delaware Chancery Court claiming that MGM Mirage breached it's CityCenter joint venture agreement after the company filed it's 10-K report with the U.S. Securities and Exchange Commission which states in part "There is substantial doubt about our ability to continue as a going concern." and "it cannot provide assurance that its business would generate sufficient cash flow from operation." Dubai World through Infinity World owns 9.5% of MGM Mirage's stock and has invested a significant amount of funding into CityCenter giving it part ownership of the project are asking the court to relieve it of any obligations under the agreement. Billionaire investor Kirk Kerkorian and his Tracinda Corporation were, until 2009, the majority shareholders of MGM Mirage; Kerkorian was the former owner of the Metro-Goldwyn-Mayer movie studio, from which MGM Grand derived its name. Following a one-billion-dollar stock offering by MGM Mirage amidst the global credit crunch, Tracinda's shares were diluted from 53.8 percent to 39 percent. On June 15, 2010, shareholders voted for MGM Mirage to change its name to "MGM Resorts International", which emphasizes the brand's global scope and increased non-gaming strategy. In 2013, MGM won state licenses to build a $1-billion resort in National Harbor, Maryland and a $950-million resort in downtown Springfield, Massachusetts.In May 2014, MGM broke ground on a $375-million arena on the Las Vegas Strip with sports and entertainment company AEG. MGM Resorts is the majority owner of MGM Growth Properties LLC , a real estate investment trust that owns ten casino properties and leases them to MGM Resorts. It became a separate, publicly traded company in April 2016. History from Wikipedia and OldCompany.com (old stock certificate research service).