Beautiful certificate from the Signature Resorts, Inc dated in 2000. This historic document was printed by United States Banknote Company and has an ornate border around it with a vignette of the company logo. This item has the signatures of the Company's President and Secretary.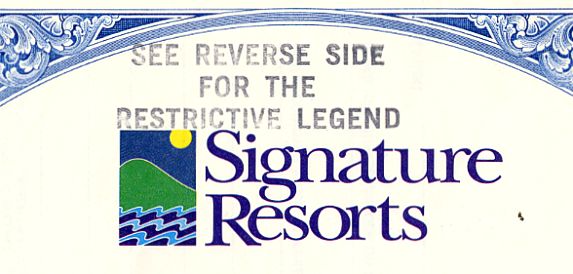 Certificate Vignette
SAN MATEO, Calif., July 6, 1998 - Signature Resorts, Inc. (NYSE: OWN) announced today that it will change its corporate name to Sunterra Corporation, effective July 15, 1998, to create a stronger brand identity connection between the Company and its "Sunterra Resorts" and "Club Sunterra" brand names. Shareholders approved the name change at the 1998 annual meeting. The Company will continue to trade under the symbol "OWN" on the New York Stock Exchange. "Our corporate and marketing activities are focused on building the Sunterra vacation ownership brand name in anticipation of the roll out of our worldwide Club Sunterra points-based vacation exchange system this fall. Aligning our corporate identity with our brand name is an integral part of that process," said Steven C. Kenninger, President. "We believe a proactive branding strategy will enable us to more fully capitalize on our extensive portfolio of high quality resorts in desirable vacation destinations around the world, further strengthening our leading position in the vacation ownership industry," said James E. Noyes, Chief Operating Officer. "Going forward, we intend to offer an increasing variety of innovative products and resort choices through our Club Sunterra brand. The vacation ownership industry is poised for dramatic growth as vacation ownership evolves into an increasingly preferred way of vacationing and we are at the forefront of this market. Our prospects for growth remain excellent as we further develop our presence in the U.S. and Europe and directly address market desires with the introduction of Club Sunterra." Signature Resorts, Inc. was the world's largest vacation ownership company with 85 resort locations around the world and more than 200,000 owner families. Through its Marc Hotels Resorts subsidiary, Signature manages units at an additional 22 resorts in Hawaii.