Beautifully engraved certificate from the Texaco Oil Company issued from 1974 - 1978. This historic document was printed by the American Banknote Company and has an ornate border around it with a vignette of oil derricks, factories, and a seaport with a ship next to the dock. This item has the printed signatures of the Company's President and Secretary.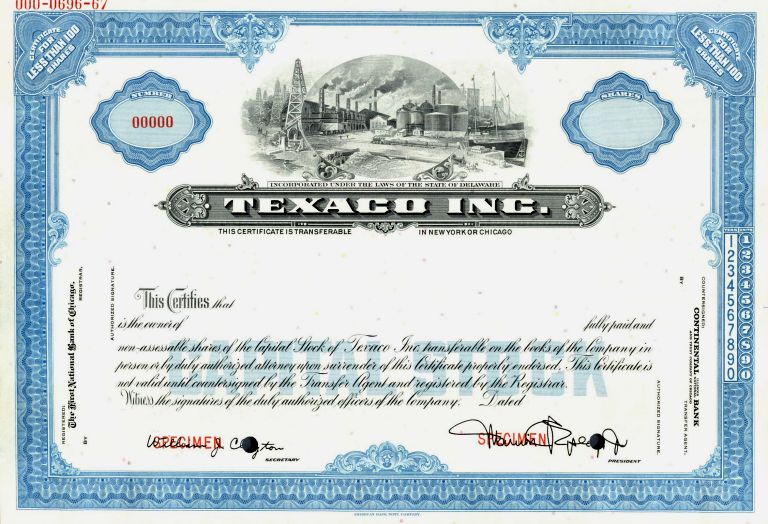 Certificate
Company History 1901 Joseph S. "Buckskin Joe" Cullinan and Arnold Schlaet found The Texas Fuel Company. 1902 The Texas Fuel Company opens its first office in Beaumont, Texas. 1902 As a result of The Texas Fuel Company's need for greater capital to increase operations, Cullinan and Schlaet found The Texas Company, officially located in Corsicana, Texas. A month later, The Texas Company absorbs The Texas Fuel Company and inherits the latter's office in Beaumont, Texas. 1903 The Texas Company's third oil well drilled at Sour Lake, Texas, comes in as a gusher, saving the company from bankruptcy. 1911 The Texas Company opens its first filling station in Brooklyn, New York, and introduces Texaco Auto Gasoline. 1912 The Texas Company introduces Texaco Motor Oil. 1931 Through the acquisition of Indian Refining Company, The Texas Company gains the rights to the Havoline brand name. 1932 The Texas Company replaces Texaco New and Better Gasoline with Texaco Fire Chief Gasoline, which has an octane rating higher than government standards for fire engines. 1936 The Texas Company and Standard Oil Company of California (later Chevron) form the California Texas Oil Company, Limited (later Caltex) to unite The Texas Company's extensive eastern hemisphere marketing network with Standard's production operations in the Middle East. 1959 The Texas Company officially changes its corporate name to Texaco Inc. 1984 Texaco purchases Getty Oil Company, acquiring 1.9 billion barrels of proven crude oil reserves and natural gas liquids. 2000 Chevron Corporation and Texaco Inc. announce a merger that will create ChevronTexaco Corporation. 2001 Chevron Corp. and Texaco Inc. complete their merger following stockholder approvals of both companies. ChevronTexaco enters the global marketplace as the second-largest U.S.-based energy company and the fifth largest in the world. History from Wikipedia, Encyberpedia and
OldCompany.com
(old stock certificate research service)
About Specimen Certificates
Specimen Certificates are actual certificates that have never been issued. They were usually kept by the printers in their permanent archives as their only example of a particular certificate. Sometimes you will see a hand stamp on the certificate that says "Do not remove from file". Specimens were also used to show prospective clients different types of certificate designs that were available. Specimen certificates are usually much scarcer than issued certificates. In fact, many times they are the only way to get a certificate for a particular company because the issued certificates were redeemed and destroyed. In a few instances, Specimen certificates were made for a company but were never used because a different design was chosen by the company. These certificates are normally stamped "Specimen" or they have small holes spelling the word specimen. Most of the time they don't have a serial number, or they have a serial number of 00000.