Beautifully engraved certificate from the Trump Hotels and Casino Resorts, Inc. . This historic document was printed by the Northern Banknote Company and has an ornate border around it with a vignette of Donald Trump (with a full head of hair) and a beachfront hotel in the background. This item has the printed signature of the company's Chairman, Donald Trump. Issued to Fred Fuld.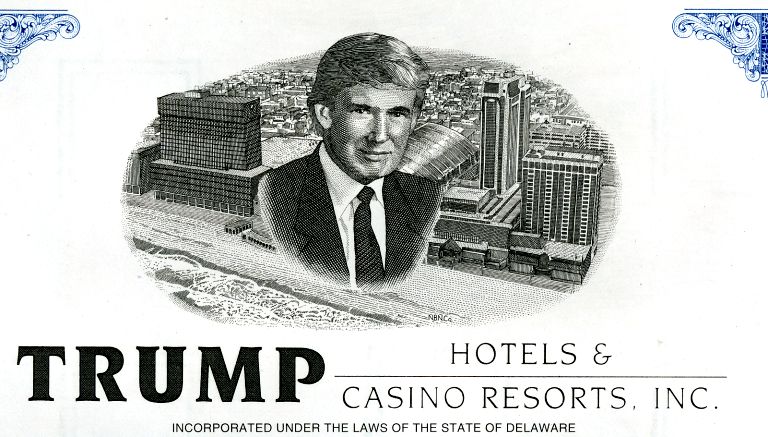 Certificate Vignette
Trump Hotels & Casino Resorts owned and managed the Trump Plaza, Trump Marina (formerly Trump's Castle), and Trump Taj Mahal casino hotels in Atlantic City, New Jersey. Two of the properties are on the famed Atlantic City Boardwalk, while Trump Marina is on the waterfront. They also owned the Indiana Riverboat, a casino at Buffington Harbor on Lake Michigan. Combined, the properties have more than 350,000 sq. ft. of gaming space, 10,000 slot machines, 440 table games, and 3,000 hotel rooms. In 2004, Trump Hotels & Casino Resorts explored various options for restructuring its debt, amid speculation that it might file for bankruptcy. A possible arrangement with Credit Suisse First Boston was not completed because the bondholders rejected it. On October 21, 2004, the company announced a preliminary agreement with its investors. Trump, who has been the majority owner, would reduce his stock ownership from 56 percent to 27 percent. Bondholders would surrender some of their debt in exchange for stock. On October 27, the company announced that Morgan Stanley would be the joint lead arranger for a financing of $500 million financing as part of the restructuring plan. On November 21, the company filed for bankruptcy. Trump said the filing was "really just a technical thing" as the best way to implement the restructuring plan. The plan was submitted to the Bankruptcy Court on December 16, 2004. After the 2004 bankruptcy filing, the company changed its name to Trump Entertainment Resorts.
---
RESTATED CERTIFICATE OF INCORPORATION OF TRUMP HOTELS & CASINO RESORTS, INC. * * * * * * * * Trump Hotels & Casino Resorts, Inc., a corporation organized and existing under the laws of the State of Delaware, does hereby certify that: FIRST: The name of the corporation is Trump Hotels & Casino Resorts, Inc. (the "Corporation"). SECOND: The Corporation's original Certificate of Incorporation was filed with the Secretary of State of the State of Delaware on March 28, 1995. THIRD: By order dated April 5, 2005 (the "Order") of the United States Bankruptcy Court for the District of New Jersey (the "Court"), having jurisdiction over the Corporation pursuant to Title 11 of the United States Code (the "Bankruptcy Code"), the Court has authorized the adoption of this Restated Certificate of Incorporation pursuant to the provisions of Sections 1123 and 1129 of the Bankruptcy Code and Section 303 of the General Corporation Law of the State of Delaware. FOURTH: This Restated Certificate of Incorporation has been duly adopted pursuant to that certain Plan of Reorganization of the Corporation confirmed by the Order of the Court and in accordance with Sections 242, 245 and 303 of the General Corporation Law of the State of Delaware. FIFTH: The Certificate of Incorporation of the Corporation, as amended and in effect as of the date hereof, is hereby restated and further amended to read in its entirety as follows, effective at 10:00 a.m., Eastern Daylight Time, on May 20, 2005 (the "Effective Time"): ARTICLE I NAME The name of the corporation (the "Corporation") is: Trump Entertainment Resorts, Inc. ARTICLE II REGISTERED OFFICE AND AGENT The address of the Corporation's registered office in the State of Delaware is 1209 Orange Street in the City of Wilmington, County of New Castle. The name of the Corporation's registered agent at such address is The Corporation Trust Company. ARTICLE III PURPOSE The nature of the business or purposes to be conducted or promoted by the Corporation is to engage in any lawful act or activity for which corporations may be organized under the General Corporation Law of the State of Delaware (the "DGCL"). ARTICLE IV CAPITAL STOCK A. Authorized Capitalization. The total number of shares of stock that the Corporation shall have authority to issue is 76,001,000 shares of all classes of stock, consisting of 1,000,000 shares of Preferred Stock, $1.00 par value ("Preferred Stock"), 75,000,000 shares of Common Stock, $.001 par value ("Common Stock") and 1,000 shares of Class B Common Stock, $.001 par value ("Class B Common Stock"). The Corporation shall not be authorized to issue any non-voting capital stock to the extent prohibited by Section 1123(a)(6) of the Title 11 of the United States Code (the "Bankruptcy Code"); provided, however, that the provisions of this paragraph shall have no further force or effect beyond that required by Section 1123 of the Bankruptcy Code. B. Reverse Stock Split. At the Effective Time, pursuant to Section 103(d) of the DGCL, every one thousand (1,000) shares of Common Stock of the Corporation either issued and outstanding or held in treasury by the Corporation immediately prior to the Effective Time (the "Old Common Stock"), shall automatically be consolidated (the "Reverse Stock Split"), and without any action on the part of the holder thereof or otherwise, into one share of Common Stock (the "New Common Stock"). No fractions of a share of New Common Stock shall be issued, but, subject to the limitation provided below, any fraction of a share shall be rounded up to a whole share of New Common Stock. Certificates representing shares of Old Common Stock outstanding immediately prior to the Effective Time (the "Old Stock Certificates") shall, from and after the Effective Time, represent the number of shares of New Common Stock into which the shares of Old Common Stock represented by such Old Stock Certificate shall have been consolidated by this Certificate of Incorporation and the Reverse Stock Split. Each holder of record of an Old Stock Certificate shall receive, upon surrender of such certificate to the Corporation's transfer agent (the "Transfer Agent"), a new certificate (a "New Stock Certificate") representing the number of shares of New Common Stock into which the shares of Old Common Stock represented by such Old Stock Certificate shall have been so consolidated pursuant to the Reverse Stock Split; provided that the Old Stock Certificates surrendered for exchange shall be properly endorsed and otherwise in proper form for transfer, and the person or persons requesting such exchange shall affix any requisite stock transfer tax stamps to the Old Stock Certificates surrendered, or provide funds for their purchase, or establish to the satisfaction of the Transfer Agent that such taxes are not payable. If more than one Old Certificate shall be surrendered for the account of the same stockholder, the number of whole shares of New Common Stock for which a New Stock Certificate shall be issued shall be computed on the basis of the aggregate number of shares represented by the Old Stock Certificates surrendered. In the event that the Transfer Agent determines that a holder of Old Stock Certificates has not tendered all such certificates for exchange, the Transfer Agent shall carry forward any fractional share until all certificates of such holder have been presented for exchange such that rounding up of fractional shares as to any one stockholder shall not exceed one share. Effective at the Effective Time, every share of Class B Common Stock of the Corporation either issued and outstanding or held in treasury by the Corporation immediately prior to the Effective Time shall automatically, and without any action on the part of the holder thereof or otherwise, be reconstituted as one share of Class B Common Stock. C. The Preferred Stock. The Board of Directors of the Corporation (the "Board") is authorized without stockholder approval, subject to limitations prescribed by law and the provisions of this Article IV and Article VI, to provide for the issuance of the shares of Preferred Stock in one or more series, and by directing an officer of the Corporation to file a certificate pursuant to the applicable law of the State of Delaware, to establish from time to time the number of shares to be included in each such series, and to fix the designation, powers, preferences and rights of the shares of each such series and the qualifications, limitations or restrictions thereof. The authority of the Board with respect to each series shall include, but not be limited to, determination of the following: (1) The number of shares constituting that series and the distinctive designation of that series; (2) The dividend rate on the shares of that series, whether dividends shall be cumulative, and, if so, from which date or dates, and the relative rights of priority, if any, of payment of dividends on shares of that series; (3) Whether that series shall have voting rights, in addition to the voting rights provided by law, including without limitation the authority to confer multiple votes per share, voting rights as to specified matters or issues such as mergers, consolidations or sales of assets, or voting rights to be exercised either together with holders of Common Stock as a single class, or independently as a separate class, and, if so, the terms of such voting rights; (4) Whether that series shall have conversion privileges, and if so, the terms and conditions of such conversion, including provision for adjustment of the conversion rate in such events as the Board shall determine; (5) Whether the shares of that series shall be redeemable, and, if so, the terms and conditions of such redemption, including the date or dates upon or after which they shall be redeemable, and the amount per share payable in case of redemption, which amount may vary under different conditions and at different redemption dates; (6) Whether that series shall have a sinking fund for the redemption or purchase of shares of that series, and, if so, the terms and amount of such sinking fund; (7) The rights of the shares of that series in the event of voluntary or involuntary liquidation, dissolution or winding up of the corporation, and the relative rights of priority, if any, of payment of shares of that series; and (8) Any other relative rights, preferences and limitations of that series as shall be determined from time to time by the Board and shall be stated in a resolution or resolutions providing for the issuance of such Preferred Stock (a "Preferred Stock Designation"). Except as may be provided by the Board in a Preferred Stock Designation or by law, shares of any series of Preferred Stock that have been redeemed (whether through the operation of a sinking fund or otherwise) or purchased by the Corporation, or that, if convertible or exchangeable, have been converted into or exchanged for shares of stock of any other class or classes shall have the status of authorized and unissued shares of Preferred Stock and may be reissued as a part of the series of which they were originally a part or may be reissued as part of a new series of Preferred Stock to be created by resolution or resolutions of the Board or as part of any other series of Preferred Stock. The designations, powers, preferences and relative rights of the shares of each series of Preferred Stock and the qualifications, limitations and restrictions thereof, may, to the extent permitted by law, be similar to or differ from those of any other series. All shares of the Preferred Stock of any one series shall be identical to each other in all respects, except that shares of any one series issued at different times may differ as to the dates from which dividends thereon, if cumulative, shall be cumulative. D. The Common Stock and Class B Common Stock. Except as otherwise provided in this Article IV or as otherwise required by applicable law, all shares of Common Stock and Class B Common Stock shall be identical in all respects and shall entitle the holders thereof to the same rights and privileges, subject to the same qualifications, limitations and restrictions. (1) Rights Upon Liquidation. In the event of any voluntary or involuntary liquidation, dissolution or winding-up of the affairs of the Corporation, the holders of Common Stock and Class B Common Stock shall be entitled to share ratably, in accordance with the number of shares held by each such holder, out of the assets of the Corporation legally available for distribution to its stockholders, an amount equal to the par value per share of such Common Stock and Class B Common Stock. After the payment in full of the amount described in the immediately preceding sentence to the holders of the Common Stock and Class B Common Stock, the holders of the Common Stock shall be entitled to receive ratably, in accordance with the number of shares held by each such holder, in all of the remaining assets of the Corporation available for distribution to the holders of Common Stock and the holders of Class B Common Stock shall not be entitled to share in the distribution of such remaining assets. (2) Voting. Except as provided in Article VI.A.2, and except as may be provided by the Board in a Preferred Stock Designation or by applicable law, the holders of Common Stock and Class B Common Stock, voting together as a single class, shall have the exclusive right to vote for the election of directors of the Corporation and on all other matters requiring, or otherwise submitted, for the approval of the stockholders of the Corporation. (a) Each holder of Common Stock shall be entitled to one vote for each share of Common Stock held by such holder. (b) Each holder of Class B Common Stock, with respect to each share of Class B Common Stock held by such holder, shall be entitled to a number of votes equal to (i) the total number of shares of Common Stock issuable, pursuant to the Exchange Agreement, upon the exchange of all limited partnership interests (regardless of the class thereof) in Trump Entertainment Resorts Holdings, L.P. (formerly Trump Hotels & Casino Resorts Holdings, L.P.) ("Trump Holdings") held by such holder and (without duplication) its controlled Affiliates (other than the Corporation and its Subsidiaries) that are not also holders of Class B Common Stock as of the record date set by the Board for stockholders entitled to vote on the matter(s) in question, divided by (ii) the number of shares of Class B Common Stock held by such holder; provided, however, that, in the event that at such time there are no shares of Common Stock outstanding, each holder of Class B Common Stock shall be entitled to one vote for each share of Class B Common Stock held by such holder. (3) Dividends. The Board shall have power to cause dividends to be paid to the holders of shares of Common Stock from time to time out of funds legally available therefor and to fix the date or dates for the payment of dividends. When and as dividends are declared, they may be payable in cash, in property or in shares of Common Stock. Holders of Class B Common Stock are not entitled to the payment of dividends. In addition, (a) Upon the exercise of an Option (as defined in the Exchange Agreement), the Corporation shall promptly call a meeting of the Board. The Board shall make a good faith determination whether, as of the date of such exercise, the Corporation has assets that would constitute a Special Dividend Amount in excess of $1 million. If such a Special Dividend Amount exists, the Board shall determine whether to declare and pay a dividend of the Special Dividend Amount (a "Special Dividend") or, alternatively, adjust the Conversion Number (as defined in the Exchange Agreement) of the Person exercising the Option as provided in the Exchange Agreement. If the Board decides to declare and pay a Special Dividend, it shall take and cause the Corporation to take such actions as may be required to (i) declare a cash dividend on the Common Stock in an amount equal to the Special Dividend Amount, (ii) set a record date for the stockholders of the Corporation entitled to the payment of the Special Dividend, which shall be a date no later than three (3) business days after such meeting or such longer period of time as required by applicable law or by the applicable rules of any exchange or trading market on which equity securities of the Corporation are listed, and (iii) set a payment date for such Special Dividend, which shall be a date no later than fifteen (15) business days after such meeting or such longer period of time as required by applicable law or by the applicable rules of any exchange or trading market on which equity securities of the Corporation are listed. (b) In the event that either (i) the Corporation, after taking all reasonable, good faith ministerial actions (which shall not require the expenditure of a material sum) to permit the Special Dividend, is advised by counsel that by virtue of any applicable law, regulation, order or Permitted Contractual Restriction, the Corporation is not permitted to pay all or any portion of the Special Dividend, or (ii) the Special Dividend is in an amount in excess of the cash, cash equivalents and marketable securities of the Corporation as determined in good faith by the Board, the Corporation shall not declare and pay the Special Dividend (or, in the case of clause (i), shall not declare such prohibited portion, and, in the case of clause (ii), shall not declare such excess portion of the Special Dividend); provided, however, that, in the case of an exercise of an Option, the Corporation shall take reasonable steps to the extent permitted by applicable law to afford the holders of the Common Stock immediately prior to the exercise of such Option (and no other Person) with the economic equivalent of the Special Dividend, which may include a distribution of Preferred Stock, the holders of which Preferred Stock, among other things, upon any dissolution, liquidation or winding up of the Corporation, may be entitled to receive, out of the remaining assets of the Corporation available for distribution to its stockholders, an amount equal to the amount of such foregone Special Dividend before any distribution shall be made to the holders of any other class or series of Capital Stock. (c) For purposes of the foregoing, "Special Dividend Amount" shall mean the excess, if any, of (a) the sum of (i) all distributions other than Tax Distributions (as defined in the Trump Holdings Partnership Agreement) received directly or indirectly by the Corporation from Trump Holdings since March 28, 1995 (the "Incorporation Date"), and (ii) the excess, if any, of all Tax Distributions received directly or indirectly by the Corporation from Trump Holdings since the Incorporation Date, over all federal, state and local income tax liability and other tax liability (to the extent not included in General Partner Expenses (as defined in the Trump Holdings Partnership Agreement)) of the Corporation for such period, over (b) the sum of (i) all expenses and liabilities of the Corporation, to the extent not included in General Partner Expenses, since the Incorporation Date, and (ii) dividends or other distributions previously declared, paid or distributed by the Corporation to its stockholders since the Incorporation Date. (4) Fractional Shares. The Class B Common Stock may be issued or transferred in fractions of a share equal to one-thousandth (.001) of a share or any integral multiple thereof. (5) Redemption. Upon the purchase or exchange, pursuant to the Exchange Agreement, of all limited partnership interests in Trump Holdings held by a holder of Class B Common Stock, the Corporation shall redeem all shares of Class B Common Stock of such holder at an amount equal to the par value per share thereof. (6) Certain Class B Ownership and Transfer Restrictions. Without the prior written consent of the Required Partners, the Corporation shall not have the power to issue any shares of Class B Common Stock to any Person other than a holder of limited partnership interests in Trump Holdings that are exchangeable for shares of Common Stock pursuant to the Exchange Agreement. As a condition to the transfer of the Class B Common Stock, each transferee of Class B Common Stock shall agree, in writing, to waive all rights, except those provided for in Article VI hereof, to vote such Class B Common Stock separately as a class. ARTICLE V STOCKHOLDER QUALIFICATION A. New Jersey Qualification. All Securities (as defined by the Casino Control Act) of the Corporation are held subject to the condition that, if a holder thereof is found to be disqualified by the Commission pursuant to the provisions of the Casino Control Act, such holder shall, to the extent required by the Casino Control Act and/or the Commission: (a) dispose of the Securities of the Corporation held thereby; (b) not receive any dividends or interest upon any such Securities; (c) not exercise, directly or through any trustee or nominee, any voting right conferred by such Securities; and (d) not receive any remuneration in any form from the casino licensee for services rendered or otherwise. If any such unsuitable or disqualified holder fails to so dispose of it Securities of the Corporation within 180 days following such disqualification, (i) such Securities shall be subject to redemption by the Corporation, as provided in Section C of this Article V, provided further that the redemption price of such Securities shall be payable only in cash and not in Redemption Securities or any combination thereof, and (ii) such unsuitable or disqualified holder shall indemnify the Corporation for any and all direct or indirect costs, including attorneys' fees, incurred by the Corporation as a result of such holder's continuing ownership or failure to promptly divest such Securities to the extent required by the Casino Control Act and/or the Commission. B. Indiana Qualification. No Person may become the Beneficial Owner of five percent (5%) or more of any class or series of the Corporation's issued and outstanding Capital Stock unless such Person agrees in writing to: (i) provide to the IGC information regarding such Person, including without limitation thereto, information regarding other gaming-related activities of such Person and financial statements, in such form, and with such updates, as may be required by the IGC; (ii) respond to written or oral questions that may be propounded by the IGC; and (iii) consent to the performance of any background investigation that may be required by the IGC, including without limitation thereto, an investigation of any criminal record of such Person. The Corporation shall not issue any voting securities or other voting interests except in accordance with the provisions of the Indiana Riverboat Act and the rules promulgated thereunder. The issuance of any voting securities or other voting interests in violation thereof shall be void and such voting securities or other voting interests shall be deemed not to be issued and outstanding until one (1) of the following occurs: (1) The Corporation shall cease to be subject to the jurisdiction of the IGC. (2) The IGC shall, by affirmative action, validate said issuance or waive any defect in issuance. No voting securities or other voting interests issued by the Corporation and no interest, claim, or charge therein or thereto shall be transferred in any manner whatsoever except in accordance with the provisions of the Indiana Riverboat Act and rules promulgated thereunder. Any transfer in violation thereof shall be void until one (1) of the following occurs: (1) The Corporation shall cease to be subject to the jurisdiction of the IGC. (2) The IGC shall, by affirmative action, validate said transfer or waive any defect in said transfer. If the IGC at any time determines that a holder of voting securities or other voting interests of the Corporation shall be denied the application for transfer, then the issuer of such voting securities or other voting interests may, within thirty (30) days after the denial, purchase such voting securities or other voting interests as provided in Section C of this Article V, unless such voting securities or other voting interests are transferred to a suitable Person (as determined by the IGC) within thirty (30) days after the denial of the application for transfer of ownership. Until such voting securities or other voting interests are owned by Persons found by the IGC to be suitable to own them, the following restrictions must be followed: (1) The Corporation shall not be required or permitted to pay any dividend or interest with regard to the voting securities or other voting interests. (2) The holder of such voting securities or other voting interests shall not be entitled to vote on any matter as the holder of the voting securities or other voting interests, and such voting securities or other voting interests shall not for any purposes be included in the voting securities or other voting interests of the Corporation entitled to vote. (3) The Corporation shall not pay any remuneration in any form to the holder of the voting securities or other voting interests as provided in this Article V, other than dividends and distributions payable pro rata to all holders of such voting securities or voting interests. C. Disqualified Holders. Notwithstanding any other provision of this Certificate of Incorporation, but subject to the provisions of any Preferred Stock Designation or any other class or series of stock which has a preference over Common Stock or Class B Common Stock with regard to dividends and amounts receivable upon dissolution, liquidation and winding up of the Corporation, outstanding shares of Capital Stock held by a Disqualified Holder shall be subject to redemption at any time by the Corporation by action of the Board, pursuant to this Article V, Section C as follows: (1) the redemption price of the Capital Stock to be redeemed pursuant to this Article V, Section C shall be equal to the lesser of the Fair Market Value of such Capital Stock or the price at which such Capital Stock was purchased by the holder thereof, or such other redemption price as required by pertinent state or federal law pursuant to which the redemption is required; (2) the redemption price of such shares may be paid in cash, Redemption Securities or any combination thereof; (3) if less than all the shares held by Disqualified Holders are to be redeemed, the shares to be redeemed shall be selected in such manner as shall be determined by the Board, which may include selection first of the most recently purchased shares thereof, selection by lot, or selection in any other manner determined by the Board; (4) at least thirty (30) days' written notice of the Redemption Date shall be given to the record holders of the shares selected to be redeemed (unless waived in writing by any such holder); provided, however, that the Redemption Date shall be deemed to be the date on which written notice shall be given to record holders if the cash or Redemption Securities necessary to effect the redemption shall have been deposited in trust for the benefit of such record holders and subject to immediate withdrawal by them upon surrender of the stock certificates representing their shares of Capital Stock to be redeemed; (5) from and after the Redemption Date or such earlier date as mandated by pertinent state or federal law, any and all rights of whatever nature, which may be held by the Beneficial Owners of shares of Capital Stock selected for redemption (including without limitation any rights to vote or participate in dividends declared on stock of the same class or series as such shares), shall cease and terminate and they shall thenceforth be entitled only to receive the cash or Redemption Securities payable upon redemption; and (6) such other terms and conditions as the Board shall determine. ARTICLE VI AMENDMENT OF CORPORATE DOCUMENTS A. Certificate of Incorporation. (1) Whenever any vote of the holders of Voting Stock is required by applicable law to amend, alter, repeal or rescind any provision of this Certificate of Incorporation (by certificate of amendment, certificate of designation, merger, consolidation, operation of law or otherwise), then in addition to any affirmative vote required by applicable law and in addition to any vote of the holders of Preferred Stock provided for or fixed pursuant to the provisions of Article IV or of the Preferred Stock Designation therefor, such alteration, amendment, repeal or rescission (a "Change") must be approved by at least a majority of the then-authorized number of directors of the Corporation and by the affirmative vote of the holders of at least a majority of the combined voting power of the then-outstanding shares of Voting Stock, voting together as a single class; provided, however, that if any such Change relates to this Article VI.A., in addition to any other approval required by applicable law or this Certificate of Incorporation, such Change must also be approved by the affirmative vote of the holders of at least a majority of the combined voting power of the then outstanding shares of Voting Stock, voting together as a single class and, if at the time there exists one or more Related Persons, such Change must also be approved by the affirmative vote of the holders of at least a majority of the combined voting power of the Disinterested Shares; provided, further, however, that the votes(s) required by the immediately preceding clause shall not be required if, in addition to any other approval required by applicable law or this Certificate of Incorporation, such Change has been first approved by at least two thirds of the then authorized number of directors of the Corporation and, if at the time there exist one or more Related Persons, by a majority of the Continuing Directors of the Corporation then in office. (2) So long as: (a) shares of both Common Stock and Class B Common Stock remain outstanding, in addition to any other approval required by applicable law or this Certificate of Incorporation, any Change of (i) Article IV.D(2), (ii) the liquidation or dividend rights afforded to the holders of Class B Common Stock in Article IV.D(1) and (3) (other than subparagraphs (a), (b) and (c) of Article IV.D(3)), (iii) this Article VI.A(2), or (iv) any of the related definitions, shall require the affirmative vote of the holders of a majority of the Class B Common Stock, voting as a separate class; or (b) no shares of Class B Common Stock are outstanding but limited partnership interests in Trump Holdings are outstanding that are exchangeable for shares of Common Stock pursuant to the Exchange Agreement, in addition to any other approval required by applicable law or this Certificate of Incorporation, any Change of (i) Article IV.D(2), (ii) the liquidation or dividend rights afforded to the holders of Class B Common Stock in Article IV.D(1) and (3) (other than subparagraphs (a), (b) and (c) of Article IV.D(3)), (iii) this Article VI.A(2)(b), or (iii) any of the related definitions, shall require the affirmative vote of all shares of Common Stock held by holders who constitute the Required Partners, voting as a separate class. (3) So long as shares of Common Stock remain outstanding, in addition to any other approval required by applicable law or this Certificate of Incorporation, any Change of subparagraph (a), (b) or (c) of Article IV.D(3) shall require the affirmative vote of the holders of a majority in voting power of the Common Stock (other than any such holder who is also a holder of limited partnership interests in Trump Holdings that are exchangeable for Common Stock pursuant to the Exchange Agreement). (4) Subject to the provisions hereof, the Corporation reserves the right at any time, and from time to time, to amend, alter, repeal or rescind any provision contained in this Certificate of Incorporation in the manner now or hereafter prescribed by applicable law, and other provisions authorized by the laws of the State of Delaware at the time in force may be added or inserted, in the manner now or hereafter prescribed by applicable law; and all rights, preferences and privileges of whatsoever nature conferred upon stockholders, directors or any other persons whomsoever by and pursuant to this Certificate of Incorporation in its present form or as hereafter amended are granted subject to the rights reserved in this Article. B. Bylaws. In furtherance and not in limitation of the powers conferred by statute, the bylaws of the Corporation may be made, altered, amended or repealed by the stockholders or by a majority of the entire Board. ARTICLE VII DIRECTORS A. Authorized Number. The authorized number of directors as of the Effective Time is not less than nine (9) nor more than ten (10). Except as otherwise provided for or fixed pursuant to the provisions of Article IV of this Certificate of Incorporation relating to the rights of the holders of any series of Preferred Stock to elect additional directors, the number of directors shall be fixed from time to time by a resolution duly adopted by the Board or the stockholders of the Corporation. B. Classes and Term. Subject to the Voting Agreement and applicable law, the Board shall be and hereby is divided into three classes, Class I, Class II and Class III, each of which classes shall initially be comprised of three directors. Subject to the Voting Agreement and applicable law, each director shall serve for a term ending at the third annual meeting following the annual meeting at which such director was elected; provided, however, that the directors named as of the Effective Time to Class I shall serve for a term ending at the first annual meeting next following the Effective Time, the directors named as of the Effective Time to Class II shall serve for a term ending at the second annual meeting next following the Effective Time, and the directors named as of the Effective Time to Class III shall serve for a term ending at the third annual meeting next following the Effective Time. Subject to the foregoing, Article VII.E and applicable law, from and after the date hereof, the Board shall be constituted as provided in the Voting Agreement (so long as the Voting Agreement is in effect). Notwithstanding anything otherwise to the contrary, Donald J. Trump ("DJT") shall initially be named and appointed as of the Effective Time as a member of Class III of the Board, and so long as (a) DJT serves as a member of the Board, and (b) the DJT Services Agreement is not terminated by the Corporation for "Cause" (as defined therein), DJT shall be entitled to serve as Chairman of the Board until the third (3rd) anniversary of the Effective Time. C. Increase or Decrease. In the event of any increase or decrease in the authorized number of directors, (a) each director then serving as such shall nevertheless continue as a director of the class of which he is a member until the expiration of his current term, or his prior death, retirement, resignation or removal, and (b) the newly created or eliminated directorships resulting from such increase or decrease shall be apportioned by the Board so that the number of directors in each class of the Board shall be as equal as possible. D. Removal; Vacancies. Notwithstanding any of the foregoing provisions of this Article, each director of the Corporation shall serve until his successor is duly elected and qualified or until his death, retirement, resignation or removal. Subject to the Voting Agreement (so long as the Voting Agreement is in effect) and except as otherwise required by applicable law, any or all of the directors of the Corporation may be removed, with or without cause, by the holders of a majority in voting power of the shares of stock outstanding and entitled to vote for the election of directors of the Corporation. Should a vacancy occur or be created, subject to Article VII.E. and the Voting Agreement (so long as the Voting Agreement is in effect), and except as otherwise required by applicable law, the remaining directors (even though less than a quorum) may fill the vacancy for the full term of the class in which the vacancy occurs or is created. E. Certain Provisions Regarding Directors. (1) In accordance with the terms of the Plan, one Class I director, two Class II directors and two Class III directors of the Corporation shall collectively be designated as "Class A Directors". The initial Class A Directors shall be Edward H. D'Alelio as a Class I director, Cezar M. Froelich and Michael Kramer as Class II directors and James B. Perry and Morton H. Handel as Class III directors. Subject to applicable law and stock exchange and securities market rules applicable to the Corporation, during the Class A Nomination Period (as defined below), the Class A Directors, as a group, shall have the sole authority and power to nominate on behalf of the Corporation persons to serve as Class A Directors, provided there are any Class A Directors. During the Class A Nomination Period, each Class A Director then serving as a Class A Director shall be re-nominated to serve for successive terms as a Class A Director unless such Class A Director declines or is unable to be so re-nominated. Subject to applicable law and stock exchange and securities market rules applicable to the Corporation, if a Class A Director declines or is unable to be so re-nominated as a Class A Director for any reason, the Class A Directors shall, as a group, nominate a person to serve as a Class A Director (in lieu of such Class A Director who declines or is unable to be so re-nominated). The Class A Directors shall be entitled to serve on the committees of the Board as provided in the Voting Agreement (so long as the Voting Agreement is in effect). Subject to applicable law and stock exchange and securities market rules applicable to the Corporation, any vacancy in the position of Class A Director, shall be filled by a majority of Class A Directors then serving as directors of the Corporation. For the purposes hereof, "Class A Nomination Period" shall mean the period commencing on the Effective Date (as defined in the Plan) and ending on the earlier of (a) the day immediately following the date on which the sixth annual meeting of stockholders of the Corporation following the Effective Date shall be held and (b) such time as the stockholders of the Corporation shall fail to elect DJT as a director of the Corporation (provided that DJT has voted all shares of Common Stock Owned (as defined in the Voting Agreement) by him to elect DJT as a director of the Corporation). During the Class A Nomination Period, in addition to any vote required by applicable law, the affirmative vote of the holders of a majority in voting power of the then outstanding shares of Common Stock not Owned by the Stockholders (as defined in the Voting Agreement) shall be required to amend this Article VII.E(1). (2) In accordance with the terms of the Plan, one Class I director, one Class II director and one Class III director of the Corporation shall collectively be designated as "Investor Board Members". The initial Investor Board Members shall be Wallace B. Askins as a Class I director, Don M. Thomas as a Class II director and DJT as a Class III director. The number of Investor Board Members that may serve as directors of the Corporation at any given time shall be determined as provided in the Voting Agreement (so long as the Voting Agreement is in effect). Subject to applicable law and stock exchange and securities market rules applicable to the Corporation, each person who shall serve as an Investor Board Member shall be designated, nominated and elected as a director of the Corporation as provided in the Voting Agreement (so long as the Voting Agreement is in effect). DJT shall be entitled to serve on the committees of the Board as provided in the Voting Agreement (so long as the Voting Agreement is in effect). During the Investor Nomination Period (as defined in the Voting Agreement), this Article VII.E(2) may be amended, and the Corporation's noncompliance with the provisions of this Article VII.E(2) may be waived, in addition to any vote of the Board required by applicable law, solely with the affirmative vote or written consent of the holders of a majority in voting power of the then outstanding shares of Class B Common Stock (it being understood that, to the fullest extent permitted by applicable law, and unless otherwise required by applicable law, the approval of the holders of no other class or series of capital stock of the Corporation shall, or shall be required to, vote on any such amendment or waiver); provided, however, that, in the event that at such time there are no shares of Class B Common Stock outstanding, in addition to any vote required by applicable law, the affirmative vote of the Board (including a majority of the Investor Board Members then serving as directors of the Corporation) and the affirmative vote of the holders of a majority in voting power of the then outstanding shares of Common Stock (which majority must including the Stockholders so long as they collectively Own 10% of the then outstanding shares of Common Stock) shall be required to amend this Article VII.E(2). (3) In accordance with the terms of the Plan, one Class I director of the Corporation shall be designated as the "Mutual Board Member". The initial Mutual Board Member shall be James J. Florio. Subject to applicable law and stock exchange and securities market rules applicable to the Corporation, during each of the Investor Nomination Period and the Class A Nomination Period (as applicable), the person who shall serve as the Mutual Board Member shall be designated, nominated and elected as a director of the Corporation as provided in the Voting Agreement (so long as the Voting Agreement is in effect). (4) In the event that, at any time during the Class A Nomination Period, none of the then serving Class A Directors or Investor Board Members is, or the then serving Mutual Board Member is not, also the then serving Chief Executive Officer of the Corporation, in addition to the Class A Directors, the Investor Board Members and the Mutual Board Member designated to serve as directors of the Corporation as provided herein and in the Voting Agreement (so long as the Voting Agreement is in effect), subject to the Voting Agreement (so long as the Voting Agreement is in effect), the single individual then serving as the Chief Executive Officer of the Corporation (and only such individual) shall be designated to serve as a director of the Corporation as the "CEO Director," provided that such then serving Chief Executive Officer agrees to serve as the CEO Director. Any CEO Director may be removed from service as a director of the Corporation with or without cause, and (for the avoidance of doubt, and without limiting any other cause for such removal) the failure (for any reason) of any CEO Director to simultaneously serve as such and as the Chief Executive Officer of the Corporation shall be deemed sufficient cause for such removal. ARTICLE VIII INDEMNIFICATION A. Indemnification. The Corporation shall indemnify to the fullest extent permitted under and in accordance with the laws of the State of Delaware (as the same exists or may hereafter be amended, but only to the extent any such amendment permits the Corporation to provide broader indemnification rights than said law permitted the Corporation to provide prior to such amendment) any Person who was or is a party or is threatened to be made a party to any threatened, pending or completed action, suit or proceeding, whether civil, criminal, administrative or investigative (other than an action by or in the right of the Corporation) by reason of the fact that the Person is or was a director or officer of the Corporation, or is or was serving at the request of the Corporation as a director, officer, trustee, employee or agent of, or in any other similar capacity with, another corporation, partnership, joint venture, trust or other enterprise, against expenses (including attorneys' fees), judgments, fines and amounts paid in settlement actually and reasonably incurred by the Person in connection with such action, suit or proceeding if the Person acted in good faith and in a manner the Person reasonably believed to be in or not opposed to the best interests of the Corporation, and, with respect to any criminal action or proceeding, had no reasonable cause to believe the Person's conduct was unlawful. The termination of any action, suit or proceeding by judgment, order, settlement, conviction, or upon a plea of nolo contendere or its equivalent, shall not, of itself, create a presumption that the Person did not act in good faith and in a manner which the Person reasonably believed to be in, or not opposed to, the best interests of the Corporation, and, with respect to any criminal action or proceeding, shall not, of itself, create a presumption that the Person had reasonable cause to believe that the Person's conduct was unlawful. B. Additional Indemnification. The Corporation shall indemnify to the fullest extent permitted under and in accordance with the laws of the State of Delaware (as the same exists or may hereafter be amended, but only to the extent any such amendment permits the Corporation to provide broader indemnification rights than said law permitted the Corporation to provide prior to such amendment) any Person who was or is a party or is threatened to be made a party to any threatened, pending or completed action or suit by or in the right of the Corporation to procure a judgment in its favor, by reason of the fact that such Person is or was a director or officer of the Corporation, or is or was serving at the request of the Corporation as a director, officer, trustee, employee or agent of another corporation, partnership, joint venture, trust or other enterprise against expenses (including attorneys' fees) actually and reasonably incurred by such Person in connection with the defense or settlement of such action or suit if the Person acted in good faith and in a manner the Person reasonably believed to be in or not opposed to the best interests of the Corporation and except that no indemnification shall be made in respect of any claim, issue or matter as to which such Person shall have been adjudged to be liable to the Corporation unless and only to the extent that the Court of Chancery or the court in which such action or suit was brought shall determine upon application that, despite the adjudication of liability but in view of all the circumstances of the case, such Person is fairly and reasonably entitled to indemnity for such expenses which the Court of Chancery or such other court shall deem proper. C. Payment of Expenses. Expenses (including reasonable attorneys' fees and disbursements) incurred in defending any civil, criminal, administrative or investigative action, suit or proceeding shall (in the case of any action, suit or proceeding against a director or officer of the Corporation) or may (in the case of any action, suit or proceeding against a trustee, employee or agent) be paid by the Corporation in advance of the final disposition of such action, suit or proceeding as authorized by the Board upon receipt of an undertaking by or on behalf of the indemnified Person to repay such amount if it shall ultimately be determined that he is not entitled to be indemnified by the Corporation as authorized in this Article VIII. D. Nonexclusivity of Provision; Termination. The indemnification and other rights set forth in this Article VIII shall not be exclusive of any provisions with respect thereto in the Bylaws of the Corporation or any other contract or agreement between the Corporation and any officer, director, employee or agent of the Corporation or any rights entitled pursuant to a vote of stockholders or disinterested directors or otherwise. Any of the indemnification and other rights provided for in this Article VIII shall not terminate solely because an indemnified Person has ceased to be a director, officer, employee or agent of the Corporation, or has ceased to serve at the request of the Corporation as a director, officer, trustee, employee or agent of, or in any other similar capacity with, another corporation, partnership, joint venture, trust or other enterprise and shall inure to the benefit of such Person's heirs, executors and administrators. E. Limitation on Liability. No director or officer shall be personally liable to the Corporation or any stockholder for monetary damages for breach of fiduciary duty as a director or officer, except for any matter in respect of which such director or officer (i) shall be liable under Section 174 of the DGCL or any amendment thereto or successor provision thereto, or (ii) shall be liable by reason that, in addition to any and all other requirements for liability, such director or officer: (1) shall have breached his or her duty of loyalty to the Corporation or its stockholders; (2) shall not have acted in good faith or, in failing to act, shall not have acted in good faith; (3) shall have acted in a manner involving intentional misconduct or a knowing violation of law or, in failing to act, shall have acted in a manner involving intentional misconduct or a knowing violation of law; or (4) shall have derived an improper personal benefit. If the DGCL is amended after the date hereof to authorize corporate action further limiting or eliminating the personal liability of directors or officers, then the liability of a director or officer of the Corporation shall be further limited or eliminated to the fullest extent permitted by the DGCL, as so amended. F. Effect of Repeal. Neither the amendment nor repeal of any provision of this Article VIII, nor the adoption of any provision of this Certificate of Incorporation inconsistent with any provision of Article VIII, shall eliminate or reduce the effect of this Article VIII in respect of any matter occurring before such amendment, repeal or adoption of an inconsistent provision or in respect of any cause of action, suit or claim relating to any such matter which would have given rise to a right of indemnification, right to receive expenses or limitation of liability pursuant to this Article VIII if such provision had not been so amended or repealed or if a provision inconsistent therewith had not been so adopted. G. Severability. If any provision of this Article VIII shall be held to be invalid, illegal or unenforceable for any reason whatsoever: (1) the validity, legality and enforceability of the remaining provisions of this Article VIII (including, without limitation, each portion of any subparagraph of this Article VIII containing any such provision held to be invalid, illegal or unenforceable, that is not itself held to be invalid, illegal or unenforceable) shall not in any way be affected or impaired thereby; and (2) to the fullest extent possible, the provisions of this Article VIII (including, without limitation, each portion of any subparagraph of this Article VIII containing any such provision held to be invalid, illegal or unenforceable) shall be construed so as to give effect to the intent manifested by the provision held invalid, illegal or unenforceable. ARTICLE IX MEETINGS OF STOCKHOLDERS AND STOCKHOLDER CONSENT A. Meetings of Stockholders. Meetings of stockholders of the Corporation may be held within or without the State of Delaware, as the Bylaws of the Corporation may provide. Except as otherwise provided for or fixed pursuant to the provisions of Article IV, relating to the rights of the holders of any series of Preferred Stock, special meetings of stockholders of the Corporation, except as provided for under Delaware law or in the Bylaws of the Corporation, may be called only by the Board or by the President and shall be called by the President or the Secretary at the request in writing of one director or at the request in writing by stockholders owning a majority in voting power of the shares issued and outstanding. Such request shall state the purpose or purposes of the proposed meeting. Business transacted at a special meeting shall be confined to the purposes stated in the notice. B. Actions by Written Consent. Except as otherwise provided for or fixed pursuant to the provisions of Article IV, relating to the rights of the holders of any series of Preferred Stock, no action that is required or permitted to be taken by the stockholders of the Corporation at any annual or special meeting of stockholders may be effected by written consent of stockholders in lieu of a meeting of stockholders, unless the action to be effected by written consent of stockholders and the taking of such action by such written consent have expressly been approved in advance by the Board and, if such matter involves a "business combination" as defined under Section 203 of the DGCL, such written consent shall have expressly been approved in advance by the affirmative vote of at least a majority of the Continuing Directors then in office. ARTICLE X BUSINESS COMBINATIONS A. Section 203 of the DGCL. The Corporation is not is subject to the provisions of Section 203 of the DGCL. ARTICLE XI DEFINITIONS In addition to the terms defined elsewhere herein, for the purpose of this Certificate of Incorporation, the following terms shall have the respective meanings set forth below: A. Definitions. A. "Affiliate" shall have the meaning ascribed to such term in Rule 12b-2 under the General Rules and Regulations under the Exchange Act. The term "registrant" as used in said Rule 12b-2 shall mean the Corporation. B. "Associate" shall have the meaning ascribed to such term in Rule 12b-2 under the General Rules and Regulations under the Exchange Act. The term "registrant" as used in said Rule 12b-2 shall mean the Corporation. C. "Beneficial Owner" shall mean any Person who, singly or together with any of such person's Affiliates or Associates, directly or indirectly, has "beneficial ownership" of Capital Stock (as determined pursuant to Rule 13d-3 of the Exchange Act). D. "Capital Stock" shall mean any common stock, preferred stock, special stock, or any other class or series of stock of the Corporation. E. "Casino Control Act" shall mean the New Jersey Casino Control Act, N.J.S.A. 5:12-1 et seq. F. "Certificate of Incorporation" shall mean this Restated Certificate of Incorporation, as amended from time to time. G. "Closing Price" shall mean, on any day, the reported closing sales price or, in case no such sale takes place, the average of the reported closing bid and asked price on the composite tape for the New York Stock Exchange-listed stocks, or, if stock of the class or series in question is not quoted on such composite tape on the New York Stock Exchange, or, if such stock is not listed on such exchange, on the principal United States securities exchange on which such stock is listed, or, if such stock is not listed on any such exchange, the last sale, or if not available, the highest closing sales price or bid quotation for such stock on the National Association of Securities Dealers, Inc., Automated Quotation System (including the National Market Systems) or any similar or other system then in use, or, if no such prices or quotations are available, the fair market value on the day in question as determined by the Board in good faith. H. "Commission" shall mean the New Jersey Casino Control Commission. I. "Continuing Director" shall mean, as to any Related Person, any member of the Board who (i) is unaffiliated with and is not the Related Person and (ii) became a member of the Board prior to the time that the Related Person became a Related Person, and any successor of a Continuing Director who is recommended to succeed a Continuing Director by a majority of Continuing Directors then on the Board. J. "Disinterested Shares" shall mean, (1) as to any Related Person, shares of Voting Stock that are Beneficially Owned and owned of record by stockholders other than such Related Person, and (2) as to the Class B Common Stock, Shares of Voting Stock that are Beneficially Owned and owned of record by Stockholders other than Beneficial Owners of Class B Common Stock. K. "Disqualified Holder" shall mean any Beneficial Owner of shares of Capital Stock of the Corporation or any of its Subsidiaries found to be disqualified by any governmental or quasi-governmental authority with applicable jurisdiction over the business, affairs, securities, or properties of the Corporation or any of its subsidiaries, including, without limitation, the Commission, the IGC, and, pursuant to the provisions of the Casino Control Act, the Indiana Riverboat Act, or other applicable provision or whose holding of shares of Capital Stock may result or, when taken together with the holding of shares of Capital Stock by any other Beneficial Owner, may result, in the judgment of the Board, in the inability to obtain, loss or non- reinstatement of any license or franchise from any governmental agency sought or held by the Corporation or any Subsidiary to conduct any portion of the business of the Corporation or any Subsidiary, which license or franchise is conditioned upon some or all of the holders of Capital Stock possessing prescribed qualifications. L. "DJT Services Agreement" shall mean the Services Agreement, dated as of May 20, 2005, by and among the Corporation, DJT and Trump Holdings, as such agreement may be amended pursuant to its terms from time to time. M. "Exchange Agreement" shall mean the Third Amended and Restated Exchange and Registration Rights Agreement, dated as of May 20, 2005, by and among the Corporation, Trump Holdings, DJT and Trump Casinos, Inc., as such agreement may be amended pursuant to its terms from time to time. N. "Exchange Act" shall mean the Securities Exchange Act of 1934, as amended. O. "Fair Market Value" shall mean (a) in the case of shares of Capital Stock, the average Closing Price for such Capital Stock for each of the forty-five (45) most recent days during which shares of stock of such class or series shall have been traded preceding the day on which notice of redemption shall have been given pursuant to Section C, Paragraph (4) of Article V; provided, however, that if shares of Capital Stock of such class or series are not traded on any securities exchange or in the over-the-counter market, "Fair Market Value" shall be determined by the Board in good faith; and provided further, however, that "Fair Market Value" as to any stockholder who purchases any stock subject to redemption within one hundred twenty (120) days prior to a Redemption Date shall not (unless otherwise determined by the Board) exceed the purchase price paid for such shares and (b) in the case of property other than stock or other securities, the fair market value of such property on the date in question as determined by the Board in good faith. P. "IGC" shall mean the Indiana Gaming Commission. Q. "Indiana Riverboat Act" shall mean the Indiana Riverboat Gambling Act, Ind. Code § 4-33-1-1 et seq. R. "Permitted Contractual Restrictions" shall mean restrictions imposed on the Corporation's ability to make all or any portion of the Special Dividend contained in the instruments governing any indebtedness of the Corporation, which indebtedness (x) had initial gross proceeds of $50 million or more to the Corporation, and (y) was sold through an underwritten offering by or privately placed by an investment bank or loaned or placed by a commercial bank or other similar financing source, to Persons who, at the time, were not Affiliates of the Corporation. S. "Person" shall mean any natural person, corporation, firm, partnership (general or limited), limited liability company, association, government, governmental agency, or any other entity, whether acting in an individual, fiduciary, or any other capacity. T. "Plan" shall mean the Plan of Reorganization under Chapter 11 of the Bankruptcy Code of the Company and subsidiaries that took effect at the Effective Time, as confirmed by order of the United States Bankruptcy Court for the District of New Jersey in case nos. 04-46898-ALL through 04-46924-ALL. U. "Redemption Date" shall mean the date fixed by the Board for the redemption of any shares of stock of the Corporation pursuant to Article V. V. "Redemption Securities" shall mean any debt or equity securities of the Corporation, any Subsidiary or any other corporation, or any combination thereof, having such terms and conditions as shall be approved by the Board and which, together with any cash to be paid as part of the redemption price, in the opinion of any nationally recognized investment banking firm selected by the Board (which may be a firm which provides other investment banking, brokerage or other services to the Corporation), has a value, at the time notice of redemption is given pursuant to Section C, Paragraph (4) of Article V, at least equal to the Fair Market Value of the shares to be redeemed pursuant to Article V (assuming, in the case of Redemption Securities to be publicly traded, such Redemption Securities were fully distributed and subject only to normal trading activity). W. "Related Person" shall mean and include (1) any Person or any group of two or more Persons that act together or have agreed to act together, that together with its or their Affiliates or Associates, Beneficially Owns, directly or indirectly, in the aggregate, ten percent (10%) or more of the combined voting power of the then outstanding shares of Voting Stock, and any Affiliate or Associate of any such Person or Persons; (2) an Affiliate of the Corporation that at any time within two years prior thereto Beneficially Owned, directly or indirectly, ten percent (10%) or more of the combined voting power of the outstanding shares of Voting Stock; or (3) an assignee of or successor to any shares of Capital Stock of the Corporation that were at any time within two years prior thereto Beneficially Owned by any Related Person, if such assignment or succession shall have occurred other than pursuant to a "public offering" within the meaning of the Securities Act of 1933, as amended; provided, however, that the term "Related Person" shall not include (i) the Corporation, any Subsidiary, any employee benefit plan or employee stock plan of the Corporation or of any Subsidiary, or any person or entity organized, appointed, established or holding Voting Stock for or pursuant to the terms of any such plan, nor shall such term encompass shares of Voting Stock held by any of the foregoing (whether or not held in a fiduciary capacity or otherwise) and (ii) DJT and any of his heirs or any Affiliate of DJT or his heirs (but only for so long as such Affiliate remains Affiliate of DJT or his heirs, respectively) nor shall such term encompass shares of Voting Stock held by them. X. "Required Partners" shall mean, so long as there are any outstanding limited partnership interests in Trump Holdings that are exchangeable pursuant to the Exchange Agreement for Common Stock, the holders of limited partnership interests in Trump Holdings that are then exchangeable pursuant to the Exchange Agreement for a majority of the Common Stock issuable upon exchange of all limited partnership interests in Trump Holdings that are then exchangeable for Common Stock pursuant to the Exchange Agreement. Y. "Subsidiary" shall mean any company which a majority of any class of equity securities is beneficially owned by the Corporation and/or another Subsidiary of the Corporation, or in the case of a partnership, in which the Corporation or any subsidiary is a general partner. Z. "Trump Holdings Partnership Agreement" shall mean the Fourth Amended and Restated Agreement of Limited Partnership of Trump Entertainment Resorts Holdings, L.P., dated May 20, 2005, by and among the Corporation, DJT, Trump Casinos, Inc. and TCI 2 Holdings, LLC, as such agreement may be amended pursuant to its terms from time to time. AA. "Voting Agreement" shall mean the Voting Agreement, dated as of May 20, 2005, by and among the Corporation and the stockholders identified therein, as such agreement may be amended pursuant to its terms from time to time. BB. "Voting Stock" shall mean all outstanding shares of Capital Stock of the Corporation that pursuant to or in accordance with this Amended and Restated Certificate of Incorporation are entitled to vote generally in the election of directors of the Corporation, and each reference herein, where appropriate, to a percentage or portion of shares of Voting Stock shall refer to such percentage or portion of the voting power of such shares entitled to vote. The outstanding shares of Voting Stock shall not include any shares of Voting Stock that may be issuable by the Corporation pursuant to any agreement, or upon the exercise or conversion of any right, warrants or options or otherwise. B. Additional Definitions. Term Place Defined Bankruptcy Code Preamble, Third Board Art. IV, Sec. C CEO Director Art. VII, Sec. E Change Art. VI, Sec. A Class A Directors Art. VII, Sec. E Class A Nomination Period Art. VII, Sec. E Class B Common Stock Art. IV, Sec. A Common Stock Art. IV, Sec. A DJT Art. VII, Sec. B Effective Time Preamble, Fifth Incorporation Date Art. IV, Sec. D Investor Board Members Art. VII, Sec. E Investor Nomination Period Art. VII, Sec. E New Common Stock Art. IV, Sec. B New Stock Certificate Art. IV, Sec. B Old Common Stock Art. IV, Sec. B Own Art. VII, Sec. E Preferred Stock Art. IV, Sec. A Preferred Stock Designation Art. IV, Sec. C Reverse Stock Split Art. IV, Sec. B Special Dividend Art. IV, Sec. D Special Dividend Amount Art. IV, Sec. D Stockholder Art. VII, Sec. E Transfer Agent Art. IV, Sec. B Trump Holdings Art. IV, Sec. D [Remainder of page intentionally left blank] IN WITNESS WHEREOF, the Corporation has caused this Restated Certificate of Incorporation to be signed by its Executive Vice President and Corporate Treasurer on this 19th day of May, 2005. TRUMP HOTELS & CASINO RESORTS, INC. By: /s/ JOHN P. BURKE Name: John P. Burke Title: Executive Vice President and Corporate Treasurer