Beautiful certificate from the Utah & Salt Lake Canal Company issued in 1891. This historic document was printed by and has an ornate border around it with a vignette of a farming scene. This item is hand signed by the Company's President (Peter Reid) and Secretary ( Elias A. Smith ) and is over 116 years old. The certificate was issued to Van T. Brown and was endorsed by him on the verso.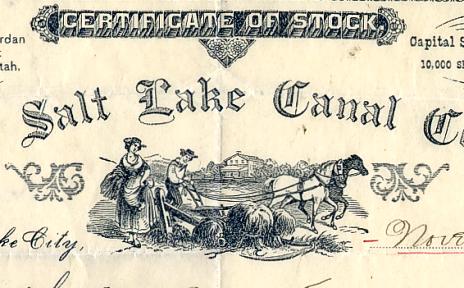 Certificate Vignette
The company was operating in the West Jordan Irrigation District, Salt Lake County. In 1886, the twenty-seventh session of the Utah legislature convened in the City Hall, Salt Lake City, and organized by electing Elias A. Smith, president of the Council, and Wm. W. Riter speaker of the House.