Beautiful RARE uncancelled stock certificate from the Victoria Copper Developing Co. of Arizona issued in 1882. This historic document was printed by Corliss Macy & Co Stationers, New York. and has an ornate border around it with a vignette an underground mining scene . This item has the hand signed signatures of the Company's President, D. D. T. Marshall and Secretary, J. V. Rich and is over 129 years old. Incorporated in New York on June 19, 1882.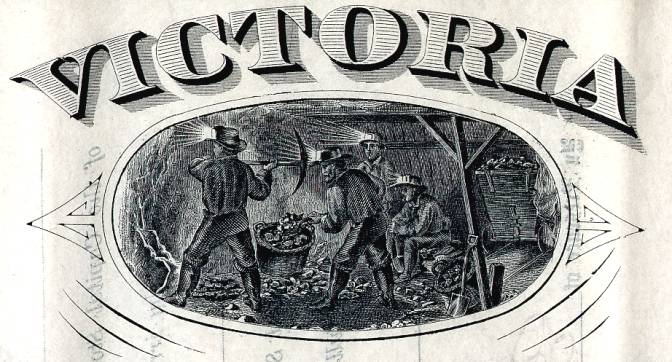 Certificate Vignette
In 1882, there were records of at least three different Victoria mines in Arizona, but at least two of them were strictly gold mines. The only one without mention of the metal was the Victoria in the Pioneer District, which was only mentioned in Burchard 1881 volume. D. D. T. Marshall was also the president of the Homeopathic Life Ins. Co. of New York. J. V. RICH. MT Vernon. N. Y. was the General Agent for the Westchester Co.