Beautiful engraved stock certificate from the Washington Post Company issued in 1971. This historic document was printed by American Bank Note Company and has an ornate border around it with a vignette of the capitol building and President George Washington. This item has the printed signatures of the Company's President, Katharine Graham and Secretary, Alan Fineburg and is over 47 years old.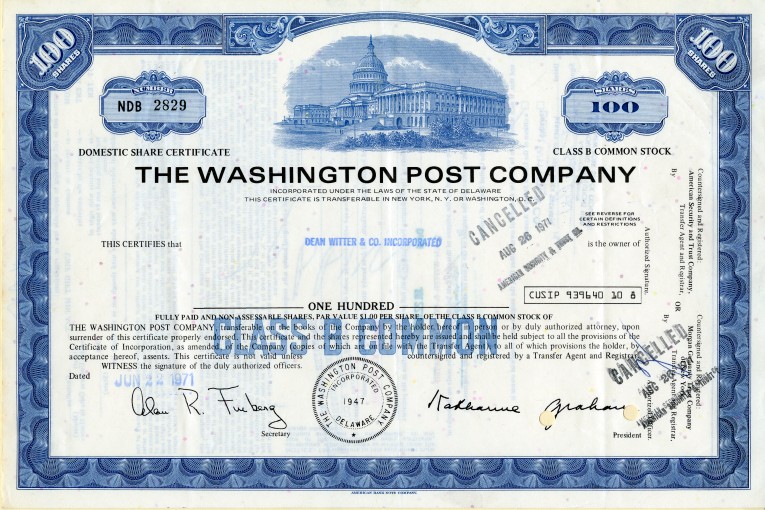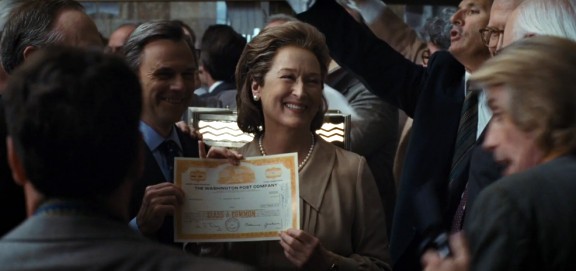 Meryl Streep stars as Post publisher Katharine Graham in the movie "The Post"
The Washington Post Company is an American media company, best known for owning the newspaper it is named after, The Washington Post, and Newsweek magazine. It also owns or partly owns a number of television stations, web sites, a suburban Maryland chain of community newspapers, cable-television companies, government-oriented IT technology magazines and Kaplan, a company that provides educational and testing material. The Washington Post Company history dates back to 1877, when the Post was first published. The Washington Post Company was incorporated in the District of Columbia in 1889, and remained a District of Columbia corporation until it changed its state of incorporation to Delaware in 2003. It is a public company, trading on the New York Stock Exchange under the ticker symbol WPO, and went public in 1971. It is headquartered in Washington, D.C. near the corporate offices of Scripophily.com. Apart from the family of Katharine Graham, Berkshire Hathaway is also a substantial shareholder. Katharine Graham June 16, 1916 - July 17, 2001 Katharine Graham one of the most powerful women in American media. Her mother, Agnes Meyer, was an educator and her father, Eugene Meyer, was a publisher. He purchased The Washington Post in 1933, and Katharine Meyer began working for the Post five years later. She married Philip Graham in 1940, and in 1945 left the Post to raise her family. In the next few years Philip Graham became publisher of the Post and bought out Eugene Meyer's voting stock. During this time the Washington Post Company also acquired the Times-Herald and Newsweek magazine. In 1963, Philip Graham committed suicide and Katharine Graham assumed control of the Washington Post Company. From 1969 to 1979 she was also publisher of the newspaper. From 1973-1991 Graham, known to many as "Kay," was board chairman and chief executive officer of the Washington Post Company, and remained Chairman of the Executive Committee until her death. In 1997, she published her memoirs as Personal History. The book was lauded for its honest portrayal of her husband's mental illness. She was awarded the Pulitzer Prize in 1998 for this autobiography. Under Katharine Graham's leadership, The Washington Post became known for its hard-hitting investigations, including the publication of the secret Pentagon Papers against the advice of lawyers and against government directives, followed by the Woodward and Bernstein investigation of the Watergate scandal. For these reasons, she and the newspaper are sometimes credited with bringing about the fall of Richard Nixon.