Beautiful engraved specimen certificate from the Washington Post Company printed in 1971. This historic document was printed by American Bank Note Company and has an ornate border around it with a vignette of the capitol building and President George Washington. This item has the printed signatures of the Company's President, Katharine Graham and Secretary, Alan Fineburg and is over 47 years old.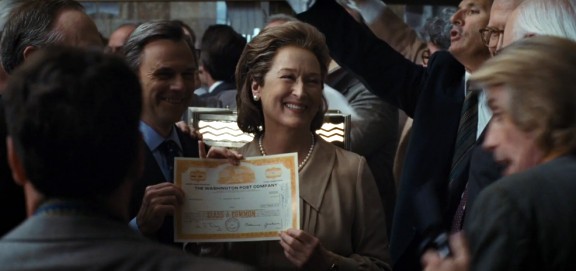 Meryl Streep stars as Post publisher Katharine Graham in the movie "The Post"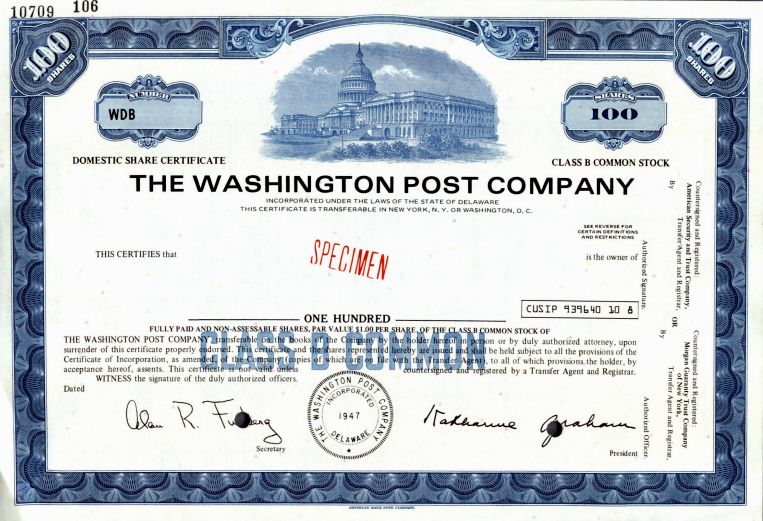 Certificate
The Washington Post Company is an American media company, best known for owning the newspaper it is named after, The Washington Post, and Newsweek magazine. It also owns or partly owns a number of television stations, web sites, a suburban Maryland chain of community newspapers, cable-television companies, government-oriented IT technology magazines and Kaplan, a company that provides educational and testing material. The Washington Post Company history dates back to 1877, when the Post was first published. The Washington Post Company was incorporated in the District of Columbia in 1889, and remained a District of Columbia corporation until it changed its state of incorporation to Delaware in 2003. It is a public company, trading on the New York Stock Exchange under the ticker symbol WPO, and went public in 1971. It is headquartered in Washington, D.C. near the corporate offices of Scripophily.com. Apart from the family of Katharine Graham, Berkshire Hathaway is also a substantial shareholder.
---
About Specimens
Specimen Certificates are actual certificates that have never been issued. They were usually kept by the printers in their permanent archives as their only example of a particular certificate. Sometimes you will see a hand stamp on the certificate that says "Do not remove from file". Specimens were also used to show prospective clients different types of certificate designs that were available. Specimen certificates are usually much scarcer than issued certificates. In fact, many times they are the only way to get a certificate for a particular company because the issued certificates were redeemed and destroyed. In a few instances, Specimen certificates we made for a company but were never used because a different design was chosen by the company. These certificates are normally stamped "Specimen" or they have small holes spelling the word specimen. Most of the time they don't have a serial number, or they have a serial number of 00000.