Beautiful certificate from the Wilt Chamberlain's Restaurants Company. This historic document has an ornate border around it with a vignette of legs with tennis shoes on the side, company header and a basketball underprint. This item has the printed signatures of the Company's Chairman of the Board, Wilt Chamberlain and Secretary. The certificate was also hand signed by Wilt Chamberlain with the word "Peace" above his signature.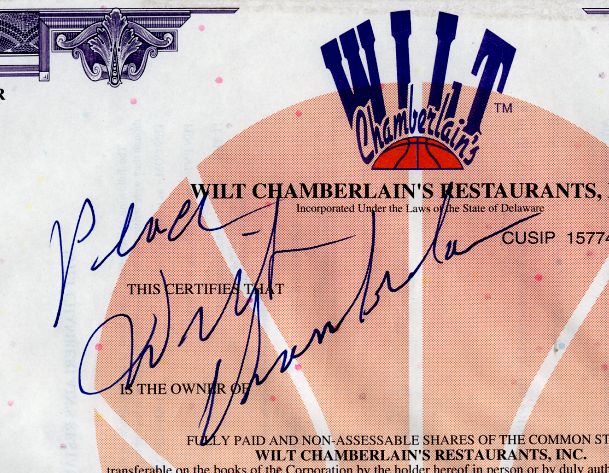 Certificate Vignette

Certificate Vignette
Wilton Norman "Wilt" Chamberlain (August 21, 1936 October 12, 1999), nicknamed Wilt the Stilt, The Big Dipper, and Chairman of the Boards, was an American professional NBA basketball player for the Philadelphia/San Francisco Warriors, the Philadelphia 76ers and the Los Angeles Lakers; and also played for the Harlem Globetrotters. The 7 foot 1 inch Chamberlain, who weighed 250 lb as a rookie before bulking up to 275 lb and eventually over 300 lb with the Lakers, played the center position and is widely considered one of the greatest and most dominant players in the history of the NBA. Chamberlain holds numerous official NBA all-time records, setting records in many scoring, rebounding and durability categories. Among others, he is the only player in NBA history to average more than 40 and 50 points in a season or score 100 points in a single NBA game. He also won seven scoring, nine field goal percentage, and eleven rebounding titles, and once even led the league in assists. Although suffering a long string of professional losses, Chamberlain had a successful career, winning two NBA titles, earning four regular-season Most Valuable Player awards, the Rookie of the Year award, one NBA Finals MVP award, and being selected to 13 All-Star Games and ten All-NBA First and Second teams. Chamberlain was subsequently enshrined in the Basketball Hall of Fame in 1978, elected into the NBA's 35th Anniversary Team of 1980, and chosen as one of the 50 Greatest Players in NBA History of 1996. After his basketball career, Chamberlain played volleyball in the short-lived International Volleyball Association, was president of this organization and enshrined in the IVA Hall of Fame for his contributions. Chamberlain was also a successful businessman, authored several books and appeared in the movie Conan the Destroyer. He was a lifelong bachelor, but became notorious for his claim to have had sex with 20,000 women, a statement which has entered popular culture. History from Wikipedia and OldCompany.com (old stock certificate research service).