Beautiful RARE stock certificate from the American Televue Company issued in 1906. This historic document was has an ornate border around it with a gilt vignette of Miss Daisy purchasing a hat over the Televue.. This item has the signatures of the Company's President, Cyrus F Willard and Secretary, Chas L Holcomb and is over 115 years old.. The company's business office was locate in San Diego, California.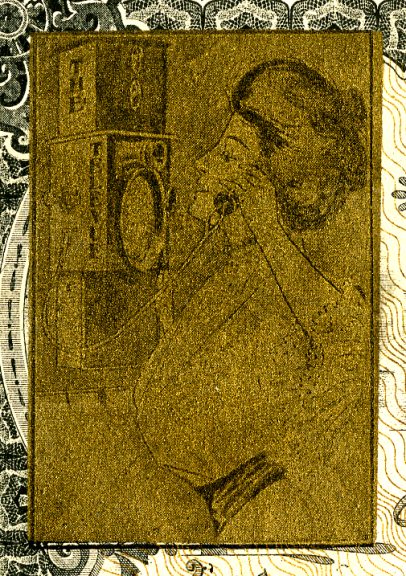 Certificate Vignette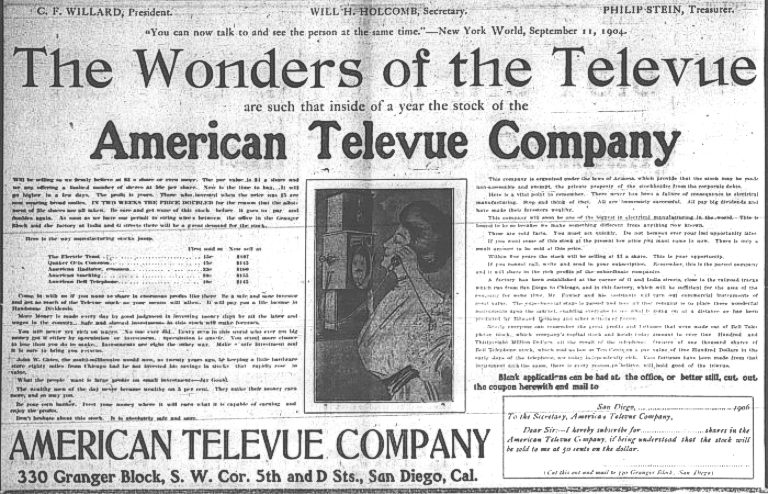 Stock Offering Advertisement Shown for Illustrative Purposes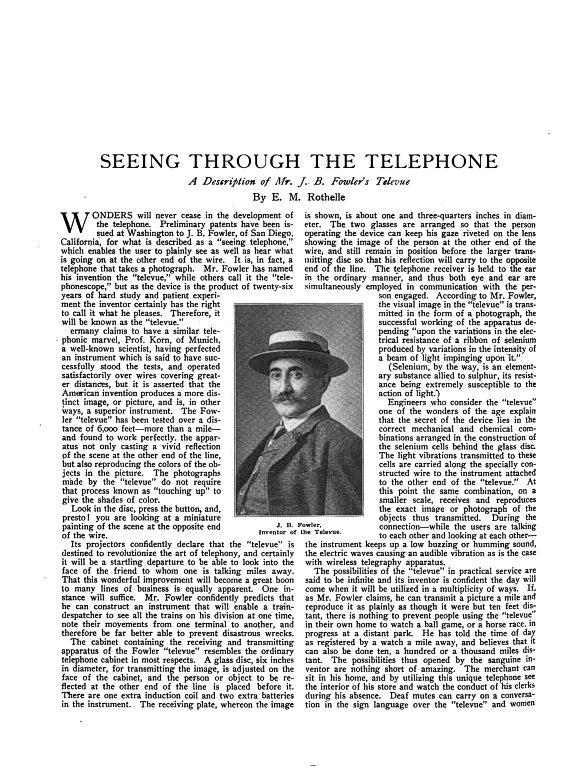 Telephony Magazine Article 1906 - Shown for Illustrative Purposes
Telephony Magazine Article 1906 - Shown for Illustrative Purposes
Reported in The Electrical Magazine and Engineering Monthly - 1906 THE problem of transmitting a visual image is stated to have been solved at last, and to the fulness which warrants the placing of the apparatus on the market. The American Televue Company, of San Diego, Cal., has been founded for this purpose, and to exploit the invention of a Mr. J. B. Fowler, of Portland, Ore. We can only speak very reservedly of the new device, considering that no definite matter is yet available as to the principles upon which the instrument works. It is stated to be a combination of an ordinary telephone with a small lens to transmit, and a disc to receive, the image which is presented faithfully in motion and in colour. The inventor maintains that his device has been repeatedly tried, and is perfectly successful over distances of a mile or more. A peculiar feature of this "discovery' is that the televue has also been invented by a Mr. William B. Thompson, of Richmond, Va., who apparently acknowledges Mr. Fowler's invention, but who claims to be able to improve upon it. He states that "the idea embodied is the transmission of a visual image in the form of a photograph, and the apparatus depends for its efficiency on the variations in the electrical resistance of a ribbon of selenium, the variations being produced by varying intensity of a beam of light infringing upon the ribbon." We are, of course, unable to express any opinion as to whether this is either a genuine and useful invention or not. It will interest our readers, however, to quote from an American contemporary, which has, at all events, the advantage of being near the field of operations. Acknowledging the great value such apparatus would certainly have, they continue --"It is a question whether a sight telephone has been really invented, as the details given are so scanty, and the company seems to be engaged at the present time in selling stock to the confiding public." History from Wikipedia and
OldCompany.com
(old stock certificate research service)
American Televue Co. Stock Certificate

I'm always looking for the "unusual" and this certainly qualifies. I'm very pleased with the certificate and found it to be properly described on the Web site. I have done business with scripophily.com in the past and have always been VERY happy with my interactions with them. They're interested in my wants and keep a lookout for me.