Beautifully engraved uncancelled $1,000 Gold Bond certificate from the Colonial Colliery Company issued in 1924. This historic document was printed by the American Banknote Company and has an ornate border around it with a vignette of a group of miners working underground. This item has the signatures of the Company's Officers and is over 65 years old. Coupons attached on top (now shown in scan).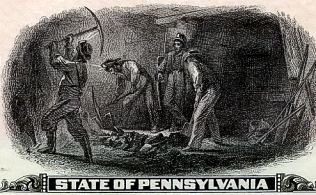 Certificate Vignette
Charters of Corporations in Pennsylvania - COLONIAL COLLIERY CO.--Philadelphia, Pa., April 24, 1916. Capital $150,000. Purchasing, leasing and otherwise acquiring, exchanging, holding and developing coal lands and other real estate and property necessary and convenient for the purpose of the organization and business of the corporation, and of mining and preparing coal and such other minerals as may be incidentally developed, and manufacturing coke and other products of such minerals, and of shipping and selling the same, and of purchasing, acquiring, erecting, hiring and maintaining all rolling stock, boats, barges, plants, buildings, houses, machinery and other property necessary and convenient for the carry- ins on of said business, with the right to sell, lease or release any or all of its real estate by vote of its directors without the consent of its stockholders.