Beautifully printed certificate from the Confederate States of America dated February 10, 1862. This historic document was printed by Hoyer & Ludwig of Richmond, Virginia has an ornate border around it with a vignette of four boys carrying food. It was issued under the Act of August 19, 1861. This certificate has been hand signed by Robert Tyler, Register of the Treasury. There were only 1199 of these bonds issued but it is unknown how many survived over the years. 5 coupons attached. Amsterdam tax stamps affixed to face. Toning, minor folds. Fine.
Certificate Vignette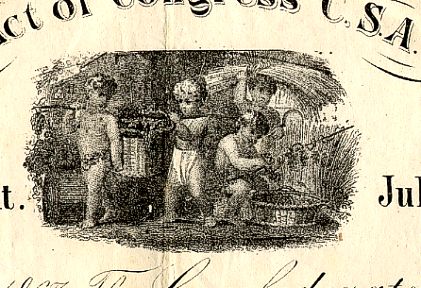 Certificate Vignette
Robert Tyler (1816-1877), the Registry of the Treasury, was a son of U.S. President John Tyler by his first wife. Tyler was head of the Democratic party in Pennsylvania and a personal friend of President James Buchanan before he had to flee to the Confederacy. Through his father's influence, he procured the post of Register of the Treasury, which he held from August 13, 1861 to the end of the war. After the war Tyler moved with his family to Alabama, where he became a newspaper editor. He also became the head of the Democratic Party in Alabama.