Beautifully engraved RARE Specimen Depository Share Certificate from the Deutsche Telekom printed in 1996. This historic document has an ornate block border with a vignette of an eye and the company's founders. This item has the printed signatures of the Company's Registrar.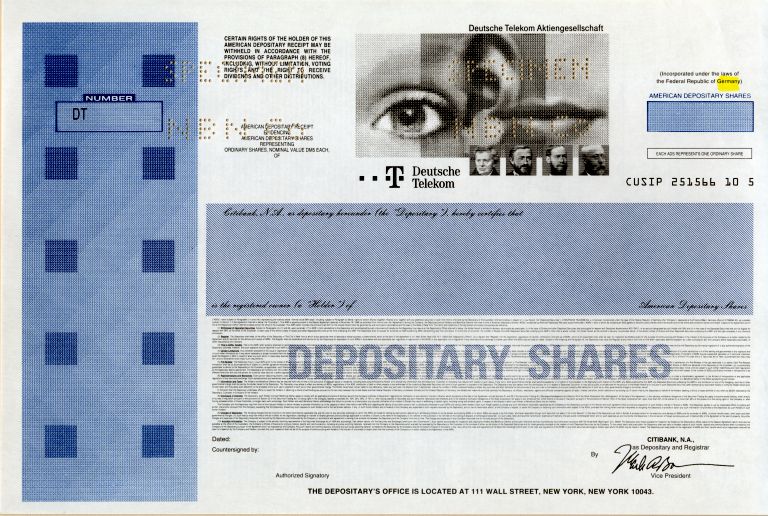 Certificate
Deutsche Telekom AG (abbreviated DTAG, English: German Telecom) is a German telecommunications company headquartered in Bonn, North Rhine-Westphalia, Germany. Deutsche Telekom was formed in 1996 as the former state-owned monopoly Deutsche Bundespost was privatized. As of June 2008, the German government still holds a 15% stake in company stock directly, and another 17% through the government bank KfW. The Deutsche Bundespost was the federal German government post office created in 1947 as a successor to the Reichspost. On July 1, 1989, as part of a post office reform, Deutsche Bundespost was split into three entities, one being Deutsche Bundespost Telekom. On January 1, 1995, as part of another reform, Deutsche Bundespost Telekom became Deutsche Telekom AG, and was privatized in 1996. As such, it shares a common heritage with the other privatized Deutsche Bundespost companies, Deutsche Post (DHL) and Deutsche Postbank. Deutsche Telekom was the monopoly internet service provider (ISP) for the German Internet until its privatization in 1995, and the dominant ISP thereafter. Until the early 21st century, Deutsche Telekom controlled almost all Internet access by individuals and small businesses in Germany, as they were one of the first German telekom units. In April 2013, Deutsche Telekom and MetroPCS merged their operations in the United States. In October 2012, Deutsche Telekom and Orange created a 50-50% joint venture named BuyIn for regrouping their procurement operations and benefiting from scale effect. T-Home, the division aimed at private customers, providing landline telephone, broadband internet, mobile telephony, and IPTV services T-Systems, a business division focused on providing services to the public sector as well as businesses T-Mobile, its international mobile telephone division T-Online, providing internet access to small businesses and individual customers On January 1, 2005, Deutsche Telekom implemented a new company structure. The two organizational business units of T-Com and T-Online were merged into the Broadband/Fixed Network (BBFN) strategic business unit (T-Online merged with parent Deutsche Telekom in 2006). It provides around 40 million narrowband lines, over 9 million broadband lines and has 14 million registered Internet customers. In 2008, the structure was changed again. T-Online was separated from Deutsche Telekom and merged with T-Com to form the new unit T-Home. In 2010, Orange parent France Télécom and T-Mobile parent Deutsche Telekom merged their UK operations to create the largest mobile network in Britain now known as EE. In April 2010, T-Mobile was merged with T-Home to form Telekom Deutschland GmbH. This unit now handles all products and services aimed at private customers. Deutsche Telekom also holds substantial shares in other telecom companies, including Central European subsidiaries Slovak Telekom (Slovakia), Magyar Telekom (Hungary), and T-Hrvatski Telekom (Croatia), which are now fully consolidated into T-Com/T-Home. Furthermore, Magyar Telekom holds majority shares in Makedonski Telekom (Macedonia), and Crnogorski Telekom (Montenegro) all of which have also been rebranded and included under the T-Com/T-Home umbrella. DT also holds shares in the Hellenic telecommunication operator OTE, which also have shares in several other companies like the mobile operators Cosmote Greece, Cosmote Romania, Globul Bulgaria, AMC Albania, the IT&C retailer Germanos, and the Romanian telecommunication operator Romtelecom. History from OldCompany.com, wikipedia and
SavingsBonds.pro
(collectible Savings Bonds website)
About Specimen Certificates
Specimen Certificates are actual certificates that have never been issued. They were usually kept by the printers in their permanent archives as their only example of a particular certificate. Sometimes you will see a hand stamp on the certificate that says "Do not remove from file". Specimens were also used to show prospective clients different types of certificate designs that were available. Specimen certificates are usually much scarcer than issued certificates. In fact, many times they are the only way to get a certificate for a particular company because the issued certificates were redeemed and destroyed. In a few instances, Specimen certificates were made for a company but were never used because a different design was chosen by the company. These certificates are normally stamped "Specimen" or they have small holes spelling the word specimen. Most of the time they don't have a serial number, or they have a serial number of 00000. This is an exciting sector of the hobby that has grown in popularity over the past several years.