Beautiful uncancelled RARE certificate from the Dubuque Mining and Tunnel Company - Colorado printed in 1905. This historic document has a vignette of men working underground and the company's name in fancy print. This item has the signatures of the Company's President, Judge Ernest A. Colburn and A. Secretary, D. C. Waugh and is over 105 years old.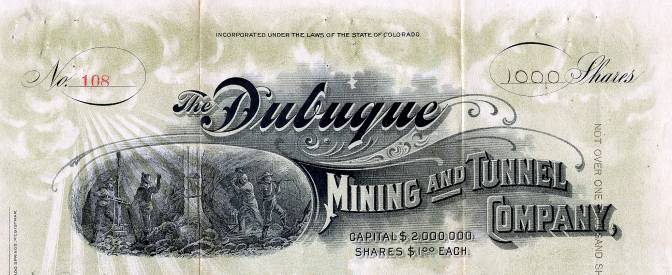 Certificate Vignette
Colburn Automobile Company was founded in 1906 by Judge E.A. Colburn. The Colburn Automobile Company was a Brass Era car manufacturer in Denver, Colorado. The company produced cars from 1906-1911 in their factory at 15th Street and Colfax Avenue. Colburns were built as a roadster, and later as a touring car (Model 35). They were fashioned after the French Renault with the radiator positioned behind the sloping hood. The Model 30 and Model 40 roadsters were fast with a top speed of 72 miles per hour and often competed in road races and track events around the Denver area. The roadster featured a 4-cylinder, 40HP engine and 4 speed transmission and sold for $4,500.00. A large shiny brass "C" emblazened the front of the automobiles. No Colburn automobiles are known to exist today. Herbert C. Colburn and Ernest A. Colburn Jr. were the sons of Judge Ernest A. Colburn (E.A. Colburn). The Judge was a very wealthy man, having made his fortune as a mine owner in the Cripple Creek, Colorado mining district. The Judge was the financial backer of the automobile; it was designed and built by his sons. There was a falling out between the Judge and his sons, possibly over Judge Colburn's divorcing the boys' mother and remarrying another woman. This dispute resulted in the Judge closing the factory and putting an end to the Colburn automobile.
---
Dubuque Mining and Tunnel Company Located near Idaho Springs, Clear Creek County, Colorado. Two claims. Gold and copper. Incorporated December 4th, 1905, Colorado laws; capitalized at $2,000,000--2,000,000 shares, par $1. Developing by tunnel. Office: Colburn B., Denver, Colo. Mine office: Idaho Springs, Clear Creek Co., Colo. E. A. Colburn, president; W. W. Kirby, vice-president; J. A. Wright, secretary and treasurer; preceding officers, B. L. Gorich and D. C. Waugh, directors. Organized Dec. 4, 1905, under laws of Colorado, with capitalization $2,000,000, shares $1 par. Lands, 2 claims, known as the Dubuque mine, opened by a 4(50' tunnel, said to show a 6' vein carrying a 3' paystreak showing copper carbonates and melaconite, with good gold values Officers: E. A. Colburn, President; W. W. Kirby, Vice President, and J. A. Wright, Secretary and Treasurer. Main office, Colburn, Building, Denver, Colorado. History from Wikipedia and
OldCompany.com
(old stock certificate research service)