Beautiful certificate #4 from the The Glen Mills issued in 1880. This historic document has an ornate border around it with a vignette of the Pennsylvania state seal and a side vignette of a manufacturing plant and a railroad This item has the signatures of the Company's President, C. H. Mimson and Secretary, H. Hornbeck and is over 129 years old.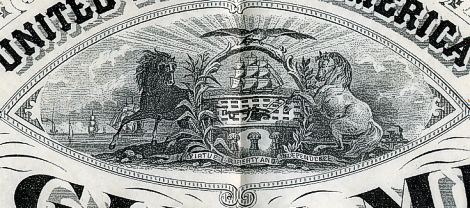 Certificate Vignette
Glen Mills is an unincorporated community in Concord Township and Middletown Township, Delaware County, Pennsylvania, United States about 17 miles from Philadelphia. Glen Mills is known for its gardens and its golf course. Major offices include the Deloitte with a headcount of about 100 people operating from there. The zip code for Glen Mills is 19342. The area around Glen Mills was part of the original land grant given to William Penn in 1681. George Cheyney was the first settler here, for which the nearby town of Cheyney is named. Later, this land was sold and divided. Nathaniel Newlin built a mill at Glen Mills in 1704, providing growth and a name for the town. A blacksmith shop was built of the former property in 1975.