Beautifully engraved uncancelled certificate from the Grigsby-Grunow Company no later than 1933. This historic document was printed by the American Banknote Company and has an ornate border around it with a vignette of an allegorical man. This item is hand signed by the company's vice-president and secretary and is over 83 years old.
Certificate Vignette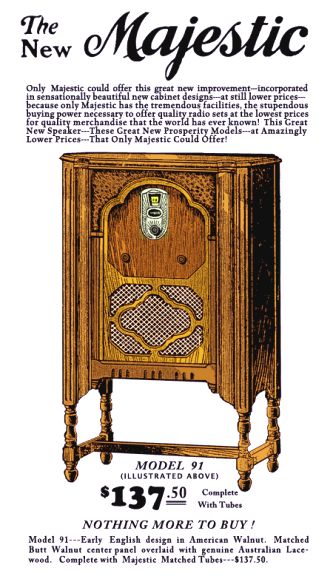 Old Majestic Radio Ad Shown for Illustrative Purposes
The Grigsby-Grunow Company was formed in 1928. The company's radio sales were extraordinary due to the superiority of their speakers over that of others on the market. However, the Depression soon caught up with Grigsby-Grunow, and by 1933, the company was bankrupt. The business was re-formed into the Majestic Radio & Television Corporation which made the Majestic line and General Household Utilities which made the Grunow line until 1937.