Beautiful certificate from the McClure Land Company issued in 1924. This historic document was printed by the Goes Company and has an ornate border around it with a vignette the Michigan State Seal. This item has the signatures of the Company's President, James G. Pierce and Secretary, Robert L. Townley and is over 68 years old.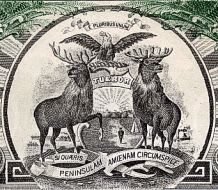 Certificate Vignette
The City of Detroit Michigan 1701-1922 VOLUME III DETROIT--CHICAGO THE S. J. CLARKE PUBLISHING COMPANY JAMES G. PIERCE. Various corporations have felt the stimulus of the enterprise of James G. Pierce and profited by his cooperation. He has accomplished so much within a comparatively short space of time that almost by leaps and bounds has he seemed to have reached his present position as a prominent figure in the business circles of Detroit. He was born at Owosso, Michigan, April 7, 1870, and is a son of George and Eliza (King) Pierce. He was quite young when his parents removed to Lorain, Ohio, where in the public schools he continued his education that had begun in the common schools of Owosso. He afterward learned the machinist's trade in Cleveland and displayed such thoroughness, capability and loyalty that he had risen to the position of department manager in a big manufacturing plant of Cleveland before coming to Detroit in 1893, when but twenty-three years of age. His business career in this city has been a notable one. In connection with his brother, George W. Pierce, he organized the Pierce Brothers Company, which was incorporated in 1903 and of which he has always been the president. He is also the president of fifteen building and land development companies and of the Union Insurance Company of Detroit. Thus he has constantly broadened and expanded his business connections, which, becoming wider and wider in their scope and importance, have placed him in the front rank of the business men of this city. No resident of Detroit has been more active in the development of the great metropolitan center which Detroit has become, winning a place among the four largest cities of the country. The efforts of Mr. Pierce have been a potent element in meeting the conditions of Detroit's growth. He has developed many subdivisions and has carried on extensive building operations, principally in the matter of erecting homes. His offices embrace the entire twelfth floor of the Vinton building, where he has gathered about him an able corps of assistants, who recognize the fact that promotion depends upon efficiency and cooperation. From the beginning of his residence in Detroit Mr. Pierce has closely studied business conditions here and his prescience and sagacity have enabled him to foretell something of what the future had in store, and thus he has been able to aid in meeting the growing needs in the matter of housing. His reputation is built not only upon industry and enterprise but also upon unassailable integrity and reliability. In May, 1899, Mr. Pierce was united in marriage to Miss Emma Allen and they have become the parents of four children: Alline, James, Bobert and Donald. Fraternally Mr. Pierce is a well known Mason, having attained the thirty-second degree of the Scottish Rite. He is a man of pleasing personality, always courteous and affable, and his geniality arises from a true appreciation of the best in his fellowmen. His life history contains much that is of inspirational value, indicating what may be accomplished through individual effort when there is a will to dare and to do.