New Jersey Volunteer Commission issued to William Geary to the rank of Second Lieutenant in Company I 33rd Regiment of New Jersey Volunteers and is handsigned by Governor Joel Parker issued in 1865. This document has a vignette of the New Jersey State Seal and is handsigned by New Jersey Governor, Joel Parker and Secretary of State, W. S. Johnson. This historic item is over 143 years old.
Joel Parker and Secretary of State, W. S. Johnson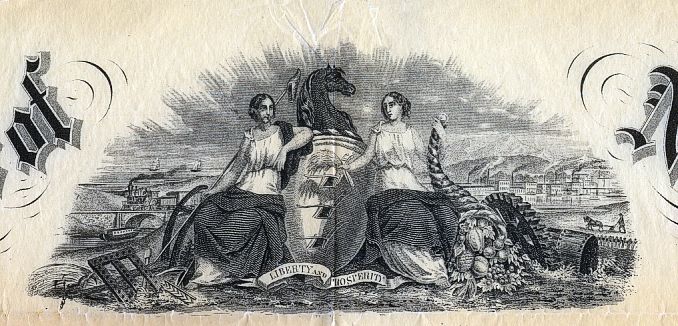 Vignette
Joel Parker (November 24, 1816 January 2, 1888) was an American Democratic Party politician, who served as the 20th Governor of New Jersey from 1863-1866 and from 1871-1874. Born near Freehold, New Jersey to Charles and Sarah (Coward) Parker, he attended the College of New Jersey (later known as Princeton University), graduating in the class of 1839. He worked in the law office of Henry W. Green and was admitted to the bar in 1842. He married Maria Mott-Gummere in 1843 and the couple had two sons and a daughter. A Democrat, he was elected to the New Jersey General Assembly in 1847, where he served until 1851 when he was appointed the "prosecutor of pleas" of Monmouth County. He continued to be active in politics and served as a New Jersey elector in the 1860 presidential election, casting his vote for Stephen A. Douglas. In 1860, New Jersey Governor Charles Smith Olden appointed Parker Major General of the New Jersey militia. He was nominated for Governor by the Democratic Party in 1862, and ran as a "War Democrat" who supported a military solution to the American Civil War rather than accommodation of the Confederacy. He defeated Marcus L. Ward by the largest margin in State history up to that time. Although staunchly in favor of the war, Parker was also highly critical of the Lincoln Administration's actions with respect to curtailing civil liberties in the name of the war effort, castigating Lincoln for suspending habeas corpus and for what Parker considered the unconstitutional nature of the Emancipation Proclamation. In 1863, Parker attended the ceremonies dedicating the Soldiers' National Cemetery at which Lincoln delivered the Gettysburg Address. He was the "favorite son" candidate supported by New Jersey electors at the Democratic National Conventions in 1868, 1876, and 1884. Parker was re-elected Governor in 1871 and served until 1874. He was then Attorney General of New Jersey in 1875 and later served as a justice on the New Jersey Supreme Court from 1880-1888. After serving as Governor, Parker returned to the practice of law. He is buried in Maplewood Cemetery, in Freehold, New Jersey. History from Wikipedia and OldCompanyResearch.com (old stock certificate research service).