Beautifully engraved uncancelled certificate from the NYNEX Corporation issued no later than 1997. This historic document was printed by the American Banknote Company and has a vignette of an allegorical woman with the World Trade Center in the background. This item has the printed signatures of the Company's Chief Executive Officer and Vice President and Treasurer and is over 20 years old. Minor folds from original mailing otherwise in EF+ condition.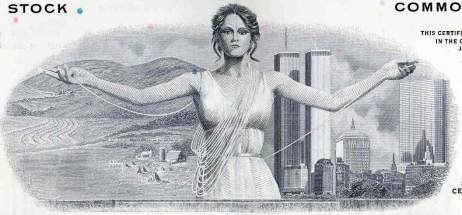 Certificate Vignette
NYNEX Corporation (pronounced Nine-x) was a telephone company which served five New England states (Maine, Massachusetts, New Hampshire, Rhode Island and Vermont) as well as New York. Formed January 1, 1984 as a result of the Bell System Divestiture, NYNEX was a Regional Bell operating company made up of former AT&T subsidiaries New York Telephone Company and New England Telephone. Hence, the name NYNEX stood for New York/New England, with the X representing the unknown future (or "the uneXpected"), according to advertising material, but the X is also widely believed to mean eXchange. NYNEX acquired Bell Atlantic on August 14, 1997, at which time it took the Bell Atlantic name. On June 30, 2000, Bell Atlantic acquired GTE to form Verizon Communications. NYNEX is now known as Verizon's "Northeast Bureau". Nynex also operated cable television and telephone services in the United Kingdom, with offices in Waterlooville, Hampshire, and Leatherhead, Surrey, England. In 1997 it was merged with Mercury Communications and cable operators Videotron and Bell Cablemedia and renamed Cable & Wireless Communications. Cable & Wireless's cable assets were sold to NTL in 2000. History from Wikipeida and OldCompanyResearch.com.