Beautifully engraved Certificate from the Packard Motor Car Company issued in the 1930's. This historic document was printed by the American Banknote Company and has an ornate border around it with a vignette of three allegorical figues. This item has the printed signatures of the company's officers and is over 70 years old.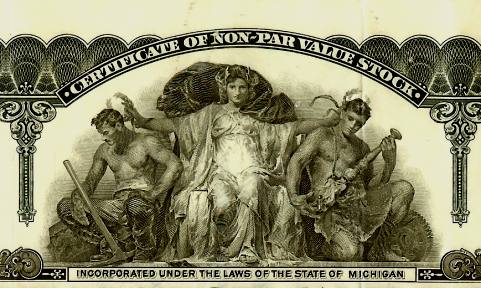 Certificate Vignette
The first Packard automobile was built in 1899 in Warren, Ohio, at the Packard Electric Company's subsidiary plant, the New York and Ohio Company. This successful automobile brought about the formation of the Ohio Automobile Company which evolved into the Packard Motor Car Company in 1902. Production of the Packard automobiles ran until 1958. Today, the Packard Automobile Museum is located in Warren, Ohio.
Old Packard Advertisement
Initially, the Packard sons, William Doud Packard and James Ward Packard, established the Packard Electric Company in 1890 in Warren, Ohio. Once the Packard automobile became successful, Warren became the first city in the United States to light its streets with incandescent light in 1911. Packard Electric Company manufactured incandescent light bulbs and other electrical products. Once the Packard automobile production was established, the Packard brothers established an improved electrical system for the automobile. In 1932, Packard Electric became a division of General Motors Corporation and is called Delphi Packard Electric Systems today. Delphi Packard Electric is recognized worldwide for excellence. The early Packard automobiles were known for their quality construction and handsome styling. The early Packards are recognized for their classic styling and are very popular with today's collectors. Each share Capital Stock $10 par ex- changed for (5) shares Capital Stock no par in 1929 Merged into Studebaker-Packard Corp. in 1954 Each share Capital Stock no par exchanged for (0.2) share Common $10 par Studebaker-Packard Corp. name changed to Studebaker Corp. (Mich.) 6/29/62 which merged into Studebaker-Worthington, Inc. 11/27/67