Beautiful specimen certificate from the Palisades of the Potomac Land Improvement Company dated in the 1890's. This historic document was printed by Gedney & Roberts Company and has an ornate border around it with a vignette of the Potomac River. This item is over 110 years old. The president of the company in the 1890's was Stilson Hutchins, founder of Washington Post.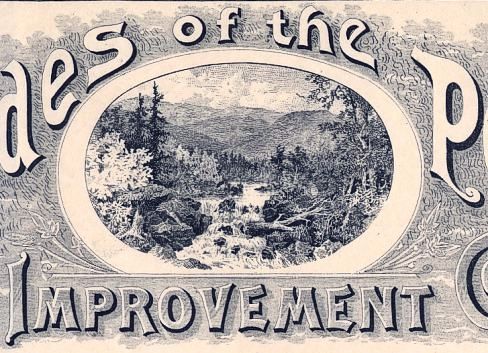 Certificate Vignette
The company was involved with large home subdivisions. They planned it as an expensive suburb with homes of the type then being build on the Hudson above New York and built several large Victorian houses. Stilson Hutchins' home was at the present site of the Army Map Service. Glen Echo Park was also located in the Palisades of the Potomac area. Stilson Hutchins, founder and publisher of the Washington Post in 1877 A native of New Hampshire, Stilson Hutchins edited and owned several newspapers in the Midwest before founding The Washington Post in 1877. After cofounding the St. Louis Times, he bought the Dispatch, then lost his stake in it. Before being forced out by the new owners of the Times, Hutchins gave a foreign-born journalist named Joseph Pulitzer his first job on an English-language newspaper. Later, his friend Pulitzer contributed occasional articles to Hutchins' next venture in journalism, a "Democratic daily journal" he named The Washington Post. On Thursday morning, December 6, 1877, Hutchins published Volume 1, Number 1 -- four pages printed on rag paper and costing 3¢ -- and observed in his first editorial: Twelve years later Hutchins sold his healthy journalistic offspring in order to pursue his interest in the development of the Mergenthaler "linotype" machine which was revolutionizing the printing industry. History is from The Washington Post.
---
About Specimens
Specimen Certificates are actual certificates that have never been issued. They were usually kept by the printers in their permanent archives as their only example of a particular certificate. Sometimes you will see a hand stamp on the certificate that says "Do not remove from file". Specimens were also used to show prospective clients different types of certificate designs that were available. Specimen certificates are usually much scarcer than issued certificates. In fact, many times they are the only way to get a certificate for a particular company because the issued certificates were redeemed and destroyed. In a few instances, Specimen certificates we made for a company but were never used because a different design was chosen by the company. These certificates are normally stamped "Specimen" or they have small holes spelling the word specimen. Most of the time they don't have a serial number, or they have a serial number of 00000. This is an exciting sector of the hobby that grown in popularity over the past several years.