Beautiful RARE certificate from the Trans-National Talent, Inc. signed by Earl Carroll and H.D. Hover issued in 1939. This historic document and has an ornate border around it with a vignette the company's name and of an eagle. This item has the signatures of the Company's President, H. D. Hover ( Herman Hover) and Secretary, Jack Kelly and is over 78 years old. The certificate was issued to Earl Carroll and was signed by him on the left ledger and once again on the verso. It is also signed by Virginia Lear on the verso.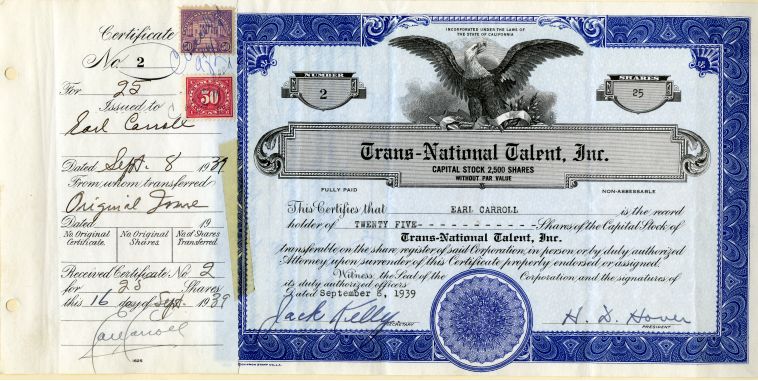 Certificate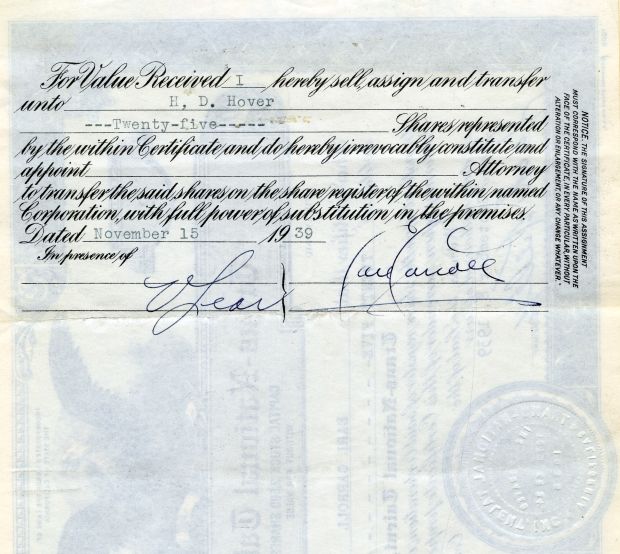 Signatures on verso
Earl Carroll (September 16, 1893 June 17, 1948) was an American theatrical producer, director, songwriter and composer born in Pittsburgh, Pennsylvania. Carroll produced and directed numerous Broadway musicals, including eleven editions of Earl Carroll's Vanities, Earl Carroll's Sketch Book, and Murder at the Vanities, which was also made into a film starring Jack Oakie. Known as "the troubadour of the nude", Carroll was famous for his productions featuring the most lightly clad showgirls on Broadway. In 1922, he built the first Earl Carroll Theatre in New York, which was demolished and rebuilt on a grander scale in 1931. He built a second theatre on Sunset Blvd. in Hollywood, California in 1938. In 1926, Carroll became involved in a scandal due to a party he threw in honor of Harry Kendall Thaw, the Pittsburgh-bred murderer of Stanford White 20 years earlier and a potential investor in Broadway shows. During the private party a bathtub was brought out in which there was a nude young woman bathing in illegal liquor. One of the guests at the party was Philip Payne, editor of the New York Mirror. Although Carroll expected his guests would be circumspect about what happened at the party, Payne published a report. This was noted by federal authorities, and they subpoenaed Carroll to appear (with others) before a grand jury. The authorities were apparently determined to learn the source of the illegal alcohol. Carroll denied the incident happened, but others at the party confirmed it. The federal government prosecuted Carroll for perjury, and he was convicted and sent to the Atlanta Penitentiary for six months. Carroll wrote the scores for Broadway shows including So Long, Letty, Canary Cottage, and The Love Mill for which he also wrote the libretto. As a writer of popular songs, his credits include Isle d'Amour, So Long, Letty, Dreams of Long Ago, Give Me All of You, Just The Way You Are, and Dreaming, for which he supplied lyrics to the waltz by Archibald Joyce. A pair of mid-1940s musical comedy films, Earl Carroll Vanities and Earl Carroll Sketchbook, both starring Constance Moore, were inspired by Carroll's stage revues. Death Earl Carroll died in the crash of United Airlines Flight 624, which also took the life of his girlfriend, Beryl Wallace, on June 17, 1948, in Aristes, Pennsylvania.
---
Ciro's (later known as Ciro's Le Disc) was a nightclub in West Hollywood, California, at 8433 Sunset Boulevard, on the Sunset Strip, opened in January 1940 by entrepreneur William Wilkerson. Herman Hover took over management of Ciro's in 1942 until it closed its doors in 1957. Ciro's combined a luxe baroque interior and an unadorned exterior and became a famous hangout for movie people of the 1940s and 1950s. It was one of "the" places to be seen and guaranteed being written about in the gossip columns of Hedda Hopper, Louella Parsons and Florabel Muir. Among the galaxy of celebrities who frequented Ciro's were Marilyn Monroe, Humphrey Bogart and Lauren Bacall, Frank Sinatra, Ava Gardner, Sidney Poitier, Anita Ekberg, Lucille Ball and Desi Arnaz, Joan Crawford, Betty Grable, Marlene Dietrich, Ginger Rogers, Ronald Reagan, Dean Martin, Mickey Rooney, Cary Grant, George Raft, George Burns and Gracie Allen, Judy Garland, June Allyson and Dick Powell, Mamie Van Doren, Jimmy Stewart, Bob Kerstein, Jack Benny, Peter Lawford, and Lana Turner (who often said Ciro's was her favorite nightspot) among many others. During his first visit to Hollywood in the late 1940s, future President John F. Kennedy dined at Ciro's. In the late 1960s, Ciro's became a Sunset Strip rock and roll club which was called "It's Boss." The Byrds got their start there in 1964. Accounts of the period (reproduced in the sleeve notes to The Preflyte Sessions box set) describe a "church-like" atmosphere, with interpretive dancing. The club also served as the host during the recording of the 1965 Dick Dale album "Rock Out With Dick Dale: Live At Ciro's" Co-founder Wilkerson also opened Cafe Trocadero, in 1934, and the restaurant La Rue, both on the Strip, and later originated The Flamingo in Las Vegas, only to have control of the resort wrested from his control by mobster Benjamin "Bugsy" Siegel. The site of Ciro's became The Comedy Store in 1972. History from Wikipedia and OldCompany.com (old stock certificate research service).