Beautiful certificate from the United States Auto Club Certificate of Performance issued to Raymond Pohn of the Championship Division Officials Team. This historic document has a vignette of a Auto Club Official waving a checkered flag. This item has the signatures of the Auto Club's Director of Competition and President.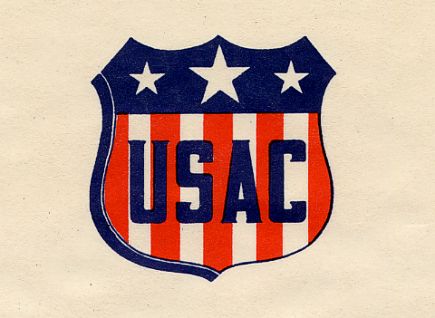 Certificate Vignette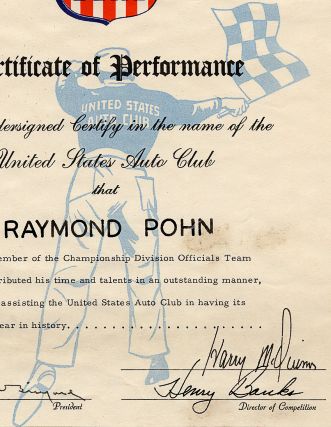 Certificate Vignette
The United States Automobile Club (USAC) is an open-wheel auto racing sanctioning body. From 1956 to 1979, the USAC sanctioned the United States National Championship, and from 1956 to 1997 it sanctioned the Indianapolis 500. USAC is the sanctioning body for the Silver Crown Series, the Sprint Car Series, and the Midget National Championship. USAC was formed by Indianapolis Motor Speedway owner Tony Hulman when the American Automobile Association (AAA) withdrew from auto racing following the 1955 Le Mans disaster. USAC became the arbiter of rules, car design, and other matters for what it termed Championship automobile racing. This term, which sounds rather generic, in fact became a term of art describing a car built to be used in the highest level of USAC racing. For a while there was a separate series of specifications for Championship cars designed to be run on dirt, rather than paved, tracks. USAC also became the sanctioning body for many lower levels of motor racing, including sports cars, sprint cars, midget cars, and others. Some of these series were used somewhat as a developmental league for Championship racing. USAC sanctioned stock car racing from 1956 to 1984. History from Wikipedia and OldCompanyResearch.com (old stock certificate research service).