Beautiful certificate from the Washita Cattle Company dated in 1883. This historic document was printed by A. Gast & Company and has an ornate border around it with a vignette of two cowboys and a group of cattle. This item has the signatures of the Company's President and Secretary and is over 125 years old.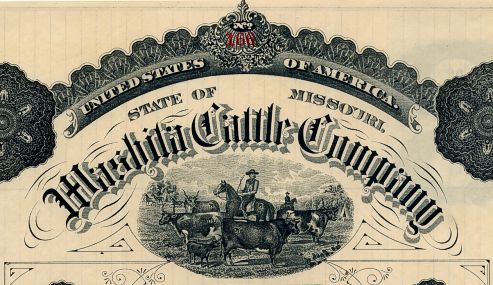 Certificate Vignette
Washita is a Historic Site located in Cheyenne, OK. This Southern Cheyenne village of Peace Chief Black Kettle was attacked by the 7th U.S. Cavalry under Lt. Col. George A. Custer just before dawn on November 27, 1868. The controversial strike was hailed at the time by the military and many civilians as a significant victory aimed at reducing Indian raids on frontier settlements. Washita remains controversial because many Indians and whites labeled Custer's attack a massacre. Black Kettle is still honored as a prominent leader who never ceased striving for peace even though it cost him his life.