Beautiful uncancelled stock certificate #216 from the Fashion Company issued in 1895. This historic document has a vignette of fashionable young lady. This item has been hand signed by Company's President. This item has been hand signed by Company's President, Arthur Baldwin Turnure and Treasurer, Harry W. McVickar and is over 116 years old. The certificate was issued to Fannie E. McVickar.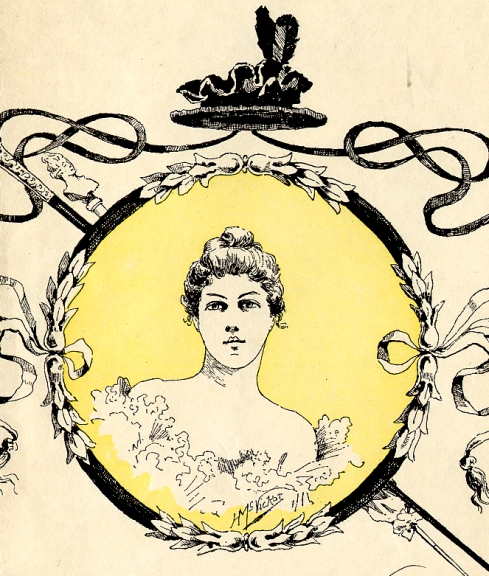 Certificate Vignette
Vogue is a fashion and lifestyle magazine that is published in 18 national and one regional edition by Condé Nast Publications. Each month, Vogue publishes a magazine addressing topics of fashion, life and design. The magazine also operates Vogue.com, its online website. Vogue was founded as a weekly publication by Arthur Baldwin Turnure and Harry W. McVickar in 1892. When he died in 1909, Condé Nast picked it up and slowly began growing the publication. The first change Nast made was that Vogue appeared every two weeks instead of weekly. Nast also went overseas in the early 1910s. He first went to Britain, and started a Vogue there, and it went well. Then he went to Spain, however that was a failure. Lastly, Nast took Vogue to France, and that was a huge success. The magazine's number of publications and profit increased dramatically under Nast. The magazine's number of subscriptions surged during the Depression, and again during World War II. In the 1960s, with Diana Vreeland as editor-in-chief and personality, the magazine began to appeal to the youth of the sexual revolution by focusing more on contemporary fashion and editorial features openly discussing sexuality. Vogue also continued making household names out of models, a practice that continued with Suzy Parker, Twiggy, Jean Shrimpton, Lauren Hutton, Veruschka, Marisa Berenson, Penelope Tree, and others. In 1973, Vogue became a monthly publication. Under editor-in-chief Grace Mirabella, the magazine underwent extensive editorial and stylistic changes to respond to changes in the lifestyles of its target audience. The current editor-in-chief of American Vogue is Anna Wintour, noted for her trademark bob and her practice of wearing sunglasses indoors. Since taking over in 1988, Wintour has worked to protect the magazine's high status and reputation among fashion publications. In order to do so, she has made the magazine focus on new and more accessible ideas of "fashion" for a wider audience. This allowed Wintour to keep a high circulation while discovering new trends that a broader audience could conceivably afford.[2] For example, the inaugural cover of the magazine under Wintour's editorship featured a three-quarter-length photograph of Israeli super model Michaela Bercu wearing a bejeweled Christian Lacroix jacket and a pair of jeans, departing from her predecessors' tendency to portray a woman's face alone, which, according to the Times', gave "greater importance to both her clothing and her body. This image also promoted a new form of chic by combining jeans with haute couture. Wintour's debut cover brokered a class-mass rapprochement that informs modern fashion to this day." Wintour's Vogue also welcomes new and young talent. Wintour's presence at fashion shows is often taken by fashion insiders as an indicator of the designer's profile within the industry. In 2003, she joined the Council of Fashion Designers of America in creating a fund that provides money and guidance to at least two emerging designers each year. This has built loyalty among the emerging new star designers, and helped preserve the magazine's dominant position of influence through what Time called her own "considerable influence over American fashion. Runway shows don't start until she arrives. Designers succeed because she anoints them. Trends are created or crippled on her command." The contrast of Wintour's vision with that of her predecessor has been noted as striking by observers, both critics and defenders. Amanda Fortini, fashion and style contributor to Slate argues that her policy has been beneficial for Vogue: [W]hen Wintour was appointed head of Vogue, Grace Mirabella had been editor in chief for 17 years, and the magazine had grown complacent, coasting along in what one journalist derisively called "its beige years." Beige was the color Mirabella had used to paint over the red walls in Diana Vreeland's office, and the metaphor was apt: The magazine had become boring. Among Condé Nast executives, there was worry that the grand dame of fashion publications was losing ground to upstart Elle, which in just three years had reached a paid circulation of 851,000 to Vogue 's stagnant 1.2 million. And so Condé Nast publisher Si Newhouse brought in the 38-year-old Wintour--who, through editor in chief positions at British Vogue and House & Garden, had become known not only for her cutting-edge visual sense but also for her ability to radically revamp a magazine--to shake things up. The Fashion Company published a weekly newspaper specially and other publications devoted to all departments of fashion. The company was incorported in West Virginia and their principal office was located in New York City. History from Wikipedia and
OldCompany.com
(old stock certificate research service).